As today's landmark decision by the nation's highest court marked a victory for proponents of same sex marriage, leaders within the nation's religious community are preparing to address the topic with their congregants. This is especially true for black Protestants, a group highlighted earlier this month in a Pew Research study as having steadfast opposition to same sex marriage, even in the midst of shifting national numbers.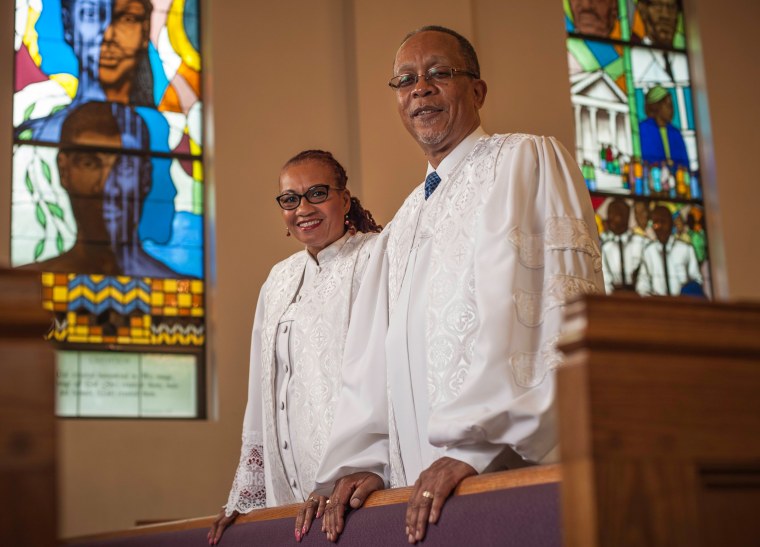 There are, however, predominantly black churches which have embraced marriage equality, including one a few short miles away from the where the Supreme Court rendered its decision. NBCBLK spoke to Pastors Dennis and Christine Wiley, whose congregation was confronted several years ago with the challenge of fulfilling their vision of being an "open and affirming" place of worship.
Covenant Baptist United Church of Christ sits tall and majestic on a tree-lined hill in a quiet section of southeast Washington DC, surrounded by classic brick single-family homes and duplexes. Making the climb to its front doors takes effort as a majority of today's congregation will do this Communion Sunday. For those who walk through its doors, especially those who identify as gay, lesbian, bisexual or transgender, it's well worth the climb.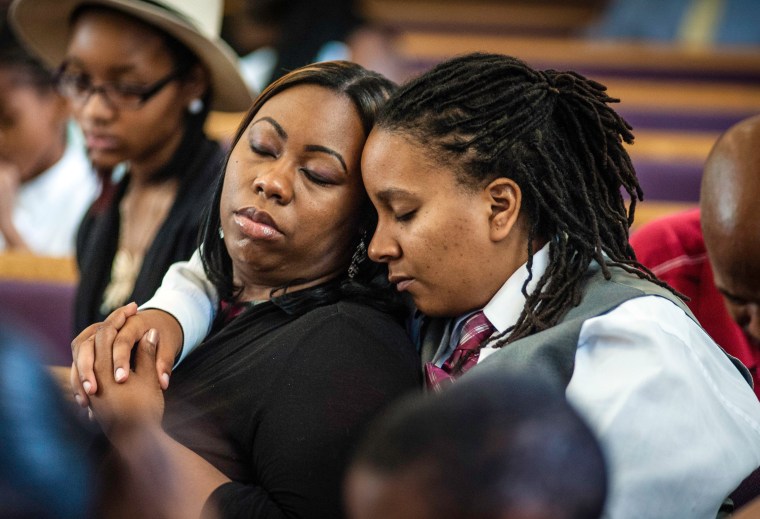 Once inside, a young boy, no more than eight, greets visitors and members with a basket filled with wrapped mint candies half his weight. They enter a spotless sanctuary, with careful attention applied to each upholstered pew and stain-glassed window. Guests are welcomed no less than ten times before a usher seats them. The choir, freshly pressed in black and white begins 'praise and worship' with clapped hands, pounded cymbals and a minister of music at the organ, playing from memory. From the burgundy hymnals, to the mahogany-colored Christ, angels and modern-day saints -- it's pretty clear they have entered a black church.
"Most churches have gay people in position of leadership. Our members are encouraged to be open to who they are."— Pastor Dennis Wiley
The faithful make their way in and it's at that moment, in this ordinary church, that the extraordinary occurs. In the midst of men, women and children in their Sunday best, two men enter hand-in-hand. Color-coordinated and smiles blazing, they are greeted in a tight rocking embrace and seated next to a young mother, keeping her two boys in line with a quick and subtle glance. Two women follow, again hand in hand, only to rush to take what appears to be their usual seat in a sanctuary that's quickly filling up. Once settled, one wraps her arm across the others shoulder, prepared to receive the day's sermon. All under the direction and stewardship of not one, but two pastors, one man and one woman, equal in stature, pastoral care and even compensation.
Through the leadership of Drs. Dennis and Christine Wiley, parents of "Orange is the New Black" actress and model Samira Wiley, this church is regarded in the eyes of its congregation as "The Miracle on South Capitol."
"All churches say 'we are open to all'" says Pastor Christine Wiley, "but particularly we are open and welcoming and loving to the LGBT community and they have the rights and privileges of any other persons who come to be part of this congregation."
"Most churches have gay people in position of leadership," adds Pastor Dennis Wiley, "our members are encouraged to be open to who they are."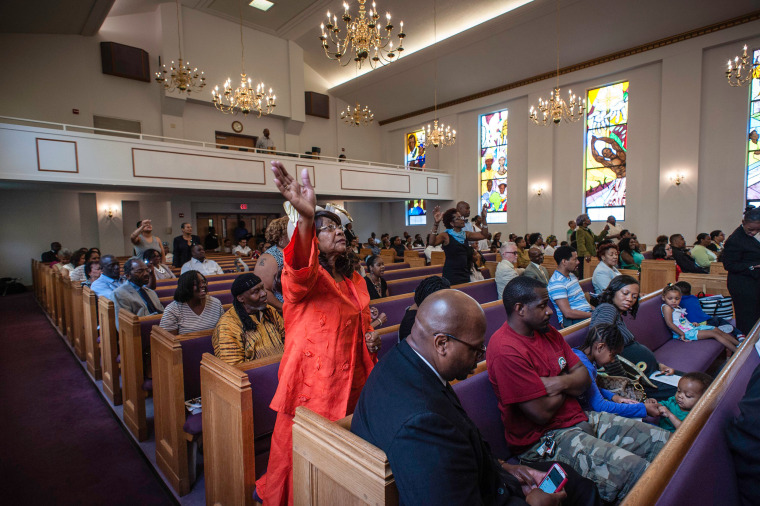 It was that openness which tested their boundaries of inclusion in 2007 when two active members, one gay and one lesbian approached the pastors separately with a request. Both were seeking a higher calling in the church, and required endorsement by an ordained reverend before moving forward to seminary. Being unmarried but with partners proved a concern to Dennis and Christine, who suggested they each take couples therapy and move their relationship to the next level. A union ceremony subsequently took place, first with the two gay men, followed by two women.
While nationwide public support for same sex marriage has risen to its highest approval at 57 percent, according to Pew, African Americans remain the sole racial demographic where a majority oppose the issue.
Following the first ceremony, which was initially taken to, discussed and agreed upon by the congregation, complaints began to stir among members. Ahead of the lesbian couple's exchange of vows, the church agreed on a one year "moratorium" following their scheduled ceremony. This allowed the congregation an opportunity to discuss the issue at length and before the year ends, make a final decision as whether ceremonies would continue in the sanctuary.
For many in the congregation at that time, the appearance of men and women committing themselves in holy matrimony to a same sex partner in a black church was an ideal they could not support. Even today, while nationwide public support for same sex marriage has risen to its highest approval at 57 percent, according to Pew, African Americans remain the sole racial demographic where a majority oppose the issue (51%) versus white (37%) and Hispanic (38%) Americans. Add Black protestants, and the data remains unchanged in their opposition to marriage equality, 57%, compared to white protestants (33%), Catholics (38%), and white evangelicals (70%).
This presents a challenge for church leaders looking to change with the times. Yet for long-time parishioners of Covenant Baptist UCC Church, the only constant within the sanctuary has been change.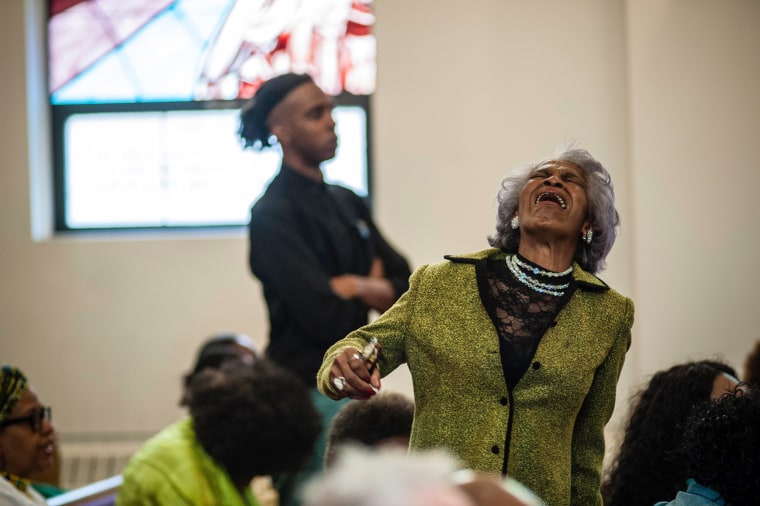 Founded in 1945 as Covenant Baptist Church, with an all-white Southern Baptist congregation, the changing desegregation laws altered the makeup of its surrounding neighbors, their regular attendees. This led to the hiring of Covenant's first black pastor, Dennis' father, the Rev. H. Wesley Wiley. The church, like the neighborhood gradually altered from predominantly white to mostly black.
The 80's resulted in Reverend Wiley's son Dennis taking on the role as pastor, and eventually his wife Christine appointed with the same title (no longer 'co' or 'assistant' in her title, a first among DC churches). It was this change, a woman taking a role of pastor and equal to her husband, which broke the church away from the Southern Baptist Convention.
This at a time when Washington DC was living up to its moniker as the "murder capital" of the nation and its surrounding neighborhood in Ward 8 noted as the poorest section of the city. A statistic which remains to this day. It was in the midst of this change that Covenant Baptist UCC was becoming an "open and affirming" church.
"We are trying to show people how to be authentic, how they can live their lives without a lie, and how they can be all that God has created them to be." — Pastor Dennis Wiley
The church continued to serve the entire community -- offering health services, working to lower the HIV/AIDS rate of infection, feeding over 500 meals a month to those in need and pushing a variety of social justice efforts on behalf of congregants of all races and ethnicities.
The time came when this congregation -- served and fed -- had to decide whether the rights and privileges they share as members of this church should be extended to their gay brothers and sisters.
"Once the vote came, it was great" says Christine of the 60-40 decision by the congregation to allow unions and eventual marriage ceremonies into the church. Within that year of intense and often emotional discussion, the congregation had an opportunity to see one another in ways they never had.
"Some were strong enough to stay and some were not and once that vote came, they knew they wanted to be there. There was no guessing as to 'What do we believe?' or 'How do we interpret the biblical texts?' It was very clear," she says.
That journey toward acceptance started two and a half years before marriage equality became legal in the district making them the region's first Baptist church to perform ceremonies. Once word spread of their inclusive vision, they joined area ministers to form DC Clergy United for Marriage Equality, a collective of religious leaders who advocated for same sex marriage in the District and countered the local and vocal religious opposition.
Then-DC Mayor, Adrian Fenty, signed the Freedom to Marry bill, passed by an overwhelming majority in the DC City Council, which went into effect March 3rd, 2010. That same year, Covenant Baptist added 'The United Church of Christ' to its name and affiliation, a move toward a more progressive religious body, accepting of their inclusive vision. While the church suffered a significant loss of members, word of this new direction inspired others to visit, many of whom eventually joined the church.
For Dr. Alton Pollard, Dean and Professor of Religion and Culture at Howard University School of Divinity, joining Covenant Baptist UCC became a family affair. He and his wife joined eight years ago, amidst the transition. His son and daughter-in-law later joined and are now leaders within the congregation.
"All churches say 'we are open to all', but particularly we are open and welcoming and loving to the LGBT community and they have the rights and privileges of any other persons who come to be part of this congregation."— Pastor Christine Wiley
"When we arrived, it was very much a church in transition," says Alton."There was considerable unrest and uneasiness, Dennis and Christine took their time shepherding the church through regular Bible Study and sermon themes." Their effort was meant to educate and not impose according to Dr. Pollard.
"There are many within the African American community who are just deeply afraid," Alton adds. "We are so concerned that something of who we are and what we have accomplished is going to be lost in this new inclusion. It misses the broader point that we cannot afford to leave any of humanity on the side of the road, which I think are very clear biblical principles."
Today, Covenant Baptist boasts a congregation filled with black, white and Latino members, with a healthy mix of Millennials, Gen X and Baby Boomers, straight and gay, all praying, singing and giving thanks in one accord. On this Communion Sunday service, between announcements for a men's fishing retreat, a ladies tea, and prayers for the infirmed, there is a call for volunteers for the annual DC GLBT Pride parade and festival. All, not some, are welcome to take consecrated bread and wine in Communion.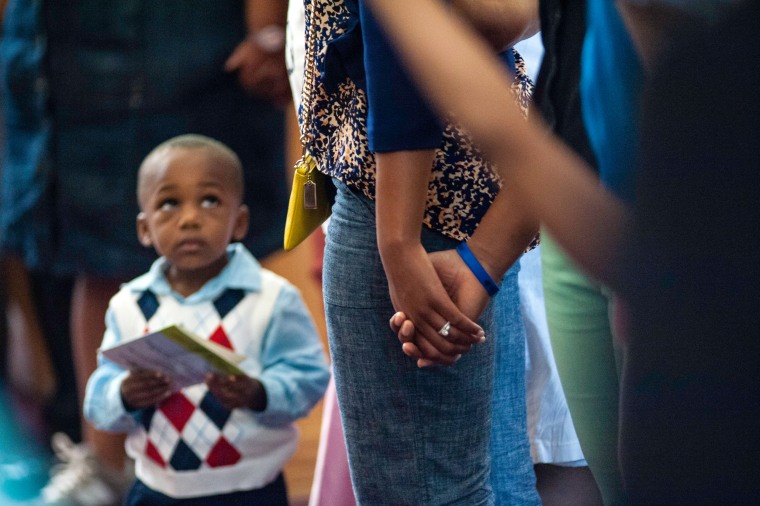 Five years, and a world of change later in the debate over same sex marriage, Dennis and Christine reflect on the future of inclusion in the church, as leaders throughout the country contact them about what they should do within their own congregation following the discussions which will brew after the Supreme Court's decision.
"We don't bring a degree of self righteousness, we go humbly to share our story to generate constructive dialogue", says Dennis. This is all about love and Jesus taught us to love one another. He never said anything about homosexuality, but he did say a lot about hypocrisy. We are trying to show people how to be authentic, how they can live their lives without a lie, and how they can be all that God has created them to be."
"The church should be a model for what happens in the world... where we demonstrate, where we test what we believe God would have us to do. It's like a workshop where we can work out these issues... that's the only way we believe we can have significant impact in the world."