Virginia native Danica Roem is running for a seat in her state's House of Delegates. Should she emerge victorious from the June 13 Democratic primary, the 32-year-old would challenge longtime Republican incumbent Bob Marshall to represent Virginia's 13th district and become the first openly transgender representative in the chamber.
A win in the general election would also make Roem the third transgender state legislator elected in the U.S., and one of only a few openly trans elected officials in the world.
"There is no reason why a transgender person should feel disqualified from office because of who they are," Roem told NBC Out. "Transgender people have as much right to bring their public policy ideas to the table as much as anyone else."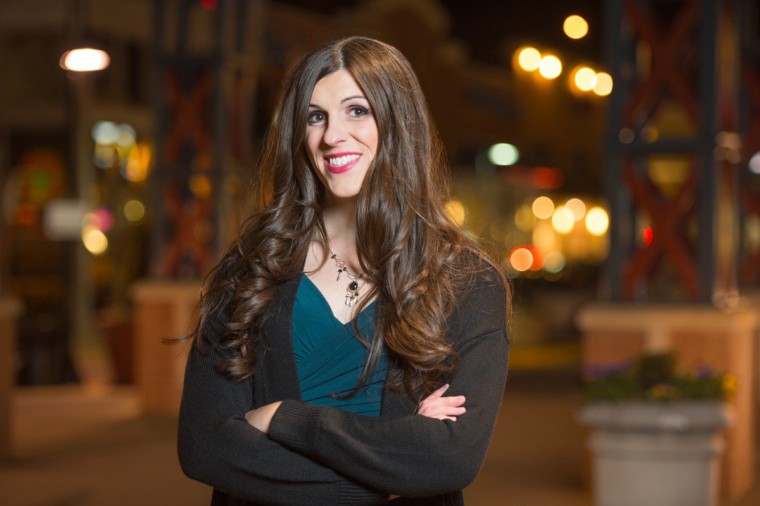 Despite facing three other Democrats in the primary, Roem is optimistic. She has received several endorsements, including one from the Victory Fund, a national LGBTQ political organization.
"We are making 2017 the year of the trans candidate," Victory Fund President Aisha C. Moodie-Mills said. "We have more transgender people running this cycle than almost all other cycles combined."
Roem is one of at least 20 transgender candidates currently running for office across the U.S., according to the LGBTQ Representation and Rights Initiative.
Related: Election of LGBTQ Officials Has Broad Impact, Study Finds
So, what are Roem's chances of victory in the June 13 primary? Stephen Farnsworth, a political science professor at the University of Mary Washington in Virginia, said there's "no effective way to predict" the winner in this four-candidate competition.
"Virginia primaries are low-turnout affairs, and the advantage will go to the candidate who is best at getting their supporters to show up on primary day," he explained. "Roem has been outraised by two of her three opponents, but in a four-candidate primary, money may not turn out to be decisive. She certainly has raised enough money to become a visible and viable candidate."
In terms of the general election, it is likewise difficult to predict, according to Farnsworth, but he noted that "Marshall has been a canny political survivor over the years. He has been a target of Democrats in election after election, but he has consistently survived the challenges he has faced."
Fighting Anti-LGBTQ Legislation
A journalist by trade, Roem's interest in politics started as an undergraduate student at St. Bonaventure University in western New York, where she worked on her college radio station and read three newspapers a day.
"By the time I graduated in 2006, I had developed a keen interest in covering politics and understanding how politics works," she said. She began reporting for Virginia's Gainesville Times, where she understood her job to be holding politicians accountable to their communities.
Public office, she said, would provide her the opportunity to do this by other means. "I have been Delegate Bob Marshall's constituent for 25 years. I am a product of my community, who understands the public polity issues of my community," she said.
Roem is exactly the kind of candidate the Victory Fund is looking to support, according to Moodie-Mills, who called candidates like Roem "antidotes" to the tenor and policies of the Trump administration. The Victory Fund, Moodie-Mills explained, has "recruited candidates to run in state legislatures against current elected officials who would do our community harm."
Related: What the Death of Virginia's 'Bathroom Bill' Means for LGBTQ Rights
Indeed, like most other states in the country, Virginia has seen its share of anti-LGBTQ bills, though none have become law.
"This year, Delegate Marshall filed four anti-LGBT bills; all of them died in committee," Roem said. One of the bills Marshall introduced -- HB 1612 or the Physical Privacy Act -- mandated transgender people in the state use restrooms that correspond with their "original birth certificate," not their gender identity.
"We are constantly on the defensive, [and] our private lives are more dangerous," Roem said of the more than 100 anti-LGBTQ bills that have been introduced across the U.S.
What Winning Means
Marshall's commitment to pushing legislation that many consider to be anti-transgender may turn into a political Achilles heel, according to Moodie-Mills, who said "people just won't tolerate it anymore."
According to Roem, Marshall is "ripe for the picking this year," calling him "one of the most vulnerable Republican incumbents in the state of Virginia."
"I wouldn't have entered this race if I didn't' think I have a more than 50 percent chance of beating him. I've analyzed the numbers. I can win this race," Roem said. "Democrats think I can win this race. I have proven I have the infrastructure to do it. I am a lifelong member of the district who is thoroughly versed on the issues and whose campaign has knocked on 6,000 doors to date."
Related: LGBTQ Community Would Be 'Hard Hit' by Trump's 2018 Budget
All 100 of Virginia's delegates are up for election in November 2017. In order to win back the majority in the Virginia House, Democrats would need to pick up 17 seats. It just so happens that 17 Republican incumbents hold seats in districts that voted for Hillary Clinton in November. With three statewide positions on the ballot this year, including Governor, Roem expects a solid turnout that will help Democrats.
"In order for Democrats to win [the majority of seats in the Virginia House of Delegates] in 2019, we have to get elected this year. We have got to overwhelm them this year." If the party were to do so, the state's Democrats would have a leg up in the redistricting process after the 2020 census.
In addition to these clear political benefits, "symbolically it would be huge" Moodie-Mills said, precisely because of the abundance and severity of anti-transgender bills being debated in statehouses.
"The key thing is that LGBTQ leaders are the antidote to all the madness that we see right now. They are leading the resistance, and we need more of them," she added.