ATLANTA — It's been 20 years since Charles Bennett took the stage to compete in bodybuilding. But at the age of 63 he's now done something he's never done before — compete as a man for the first time in what's billed as the world's only transgender bodybuilding competition.
Bennett and seven fellow competitors went before a crowd Saturday evening in the annual International Association of Trans Bodybuilders competition at a theater in Atlanta.
The competition first started in 2014 and has since drawn competitors from across the country and one from Russia, according to executive director and head judge Bucky Motter. Competitors were judged in the categories of lightweight, middleweight, heavyweight and masters for age 60 and over. There are five disciplines on which they're judged: mass, definition, proportion, symmetry and stage presence.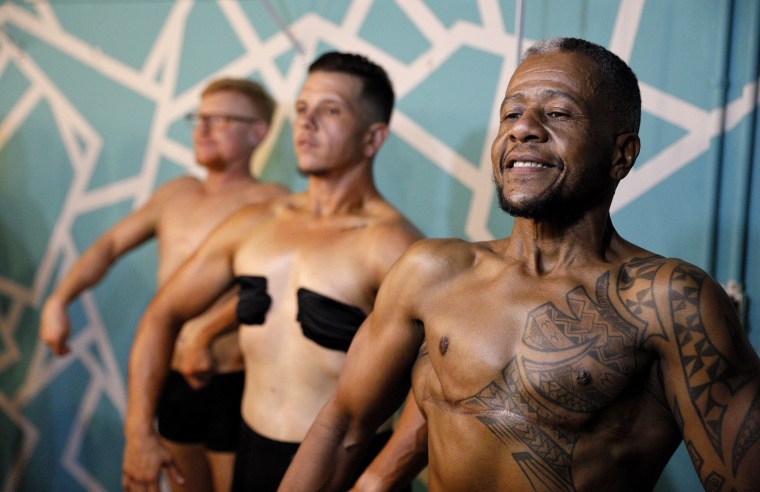 Bennett, who has the most experience, saw his role as more of coach than competitor and sought to help the others practice their poses in the mirror backstage. Before the competition, he offered diet tips, shared his pre-show rituals and helped Peter Moore of Oakland, California, apply fake tan, his hand running over the scars of where Moore had his breasts removed two years ago when he transitioned to male.
For most, this was their first time competing. Sandy Baird, of Oakland, California, decided to try it after seeing the event promoted on Facebook. "I've always been interested in bodybuilding but then there was never a nongender opportunity to do it," Baird said.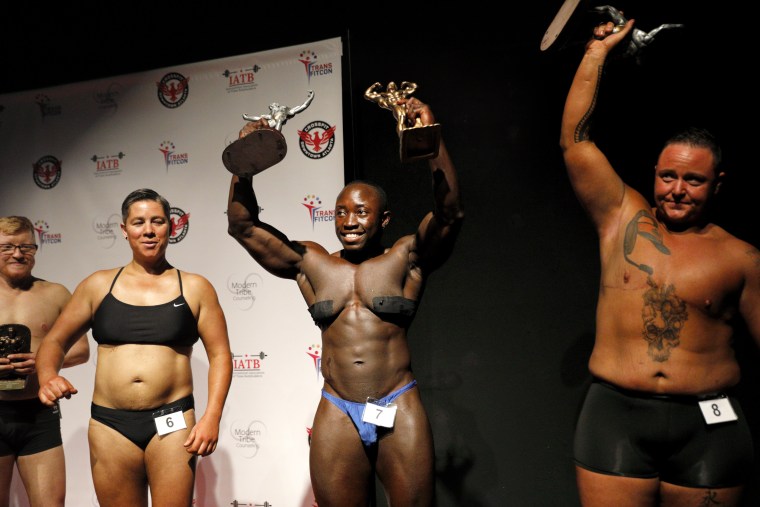 Bennett, who traveled from San Francisco and competed in the competition's Masters class, saw it as an opportunity he couldn't pass up.
"I competed as a woman. This wasn't available to me. We didn't even have the dream of a transgender bodybuilding competition. It's unheard of," said Bennett backstage as he applied fake tan on himself with a hint of glimmer before taking the stage. The evening had special meaning to Bennett as his wife of 31 years, Erica Grace, watched him compete for the first time since he elected to transition and have surgery at the age of 56.
Said Bennett, "I've very proud to compete without a top on. She's seeing me compete for the first time as a man. That's pretty powerful. I had to do it. It means the world to me."
As music pumped through the small theater, each contestant struck a series of poses required by the judges. Grace sat in the front row and cheered her husband on alongside other wives who snapped photos and shouted out words of support. The competition took place before a capacity crowd of dozens.
"I'm so proud of him. He's awesome. He's an inspiration to me," said Grace following the competition.
U.S Navy Petty Officer 2nd Class Wes Phills, of Brooklyn, New York, who performed his routine to Beyonce's "Mine" featuring Drake, won the award for overall winner as well as the middleweight class.