In the year since the Trump administration banned transgender individuals from serving in the military, a number of advocacy groups have challenged the policy and many active service members say they've been forced to choose between continued service and their dignity and basic health care needs.
When the administration implemented the ban on April 12, 2019, it ended an Obama-era policy that allowed trans men and women to serve openly and to receive transition-related medical care while enlisted.
"The Trump-Pence administration has shamefully told thousands of qualified transgender military members that we aren't good enough and our service doesn't matter."
Army Staff Sgt. Patricia King
The current policy allows service members who received a diagnosis of gender dysphoria prior to April 2019 to continue to serve in their preferred gender. Any currently serving troops diagnosed after that date must serve according to their sex as assigned at birth and are prohibited from seeking transition-related care. Prospective recruits who have received a gender dysphoria diagnosis are barred from enlisting or enrolling in military academies.
The Defense Department stands by the year-old policy, and while it is widely viewed and referred to as a "ban," the Pentagon insists it is "not a ban on transgender persons."
"If you are a transgender individual, you are welcome to serve," Jessica R. Maxwell, a Defense Department spokesperson, said in an email, adding that the policy "actually prohibits discrimination on the basis of gender identity for accession, retention or separation."
What the policy does, Maxwell added, is end "presumptive accommodations" for people with gender dysphoria, which she referred to as a "serious health condition."
Ending these "presumptive accommodations," means transgender individuals would have to forgo gender-affirming health care and serve in the military according to their sex assigned at birth, not their preferred gender, a situation that is untenable for many, if not most, trans people.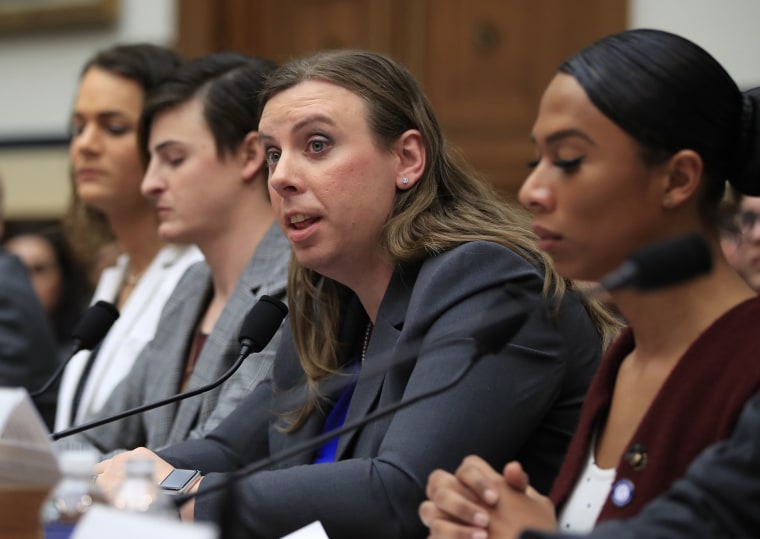 A number of LGBTQ advocacy groups are challenging the Pentagon's policy and its justification for restricting the military service of transgender individuals, and five of these challenges are currently in court.
But as these cases slowly advance in the courts, prospective and active trans service members say they are forced to live with the consequences of the policy.
"The Trump-Pence administration has shamefully told thousands of qualified transgender military members that we aren't good enough and our service doesn't matter," Patricia King, the U.S. Army's first out transgender infantryman, said in a statement shared with NBC News. "Our nation's brave service members and their families deserve better."
History of the ban
On July 26, 2017, President Donald Trump tweeted that the U.S. military would no longer "accept or allow transgender individuals to serve in any capacity."
"Our military must be focused on decisive and overwhelming victory and cannot be burdened with the tremendous medical costs and disruption that transgender in the military would entail," he wrote.
At the time, studies estimated that 2,450 to 15,000 transgender people were serving in the U.S. military, and a 2015 survey of over 27,000 transgender individuals from the National Center for Transgender Equality found trans respondents reported twice the rate of military service as the general population.
In a presidential memo in August 2017, Trump directed the Defense Department to "return to the longstanding policy and practice on military service by transgender individuals that was in place prior to June 2016 until such time as a sufficient basis exists upon which to conclude that terminating that policy and practice would not have the negative effects discussed above."
The memo allowed currently serving trans members to remain, but ordered the cessation of Defense Department or Homeland Security resources to "fund sex reassignment surgical procedures for military personnel, except to the extent necessary to protect the health of an individual who has already begun a course of treatment to reassign his or her sex."
Trump's proposal went against the military's own recommendations regarding transgender service members, which were arrived at as part of a policy review that began in 2015 by the secretary of defense at the time, Ashton Carter. Under Carter, a Pentagon-commissioned study concluded that there were no reasons to exclude trans individuals from military service. The Obama administration then lifted the ban on transgender people serving in the military in June 2016, permitting those already in the armed forces to be open about their gender identities and setting a date to allow the recruitment of openly transgender individuals.
Trump's policy appears to go against public opinion as well. In 2017, more than 50 percent of Americans supported allowing transgender men and women to serve in the military, and a June 2019 poll shows this number had risen to 71 percent. Fifty-six former military generals and admirals along with 15 attorneys general also opposed the ban in 2017.
Democrats came out against the ban, as did some prominent Republicans, including Sen. John McCain of Arizona, a decorated veteran of the Vietnam war and former POW who said in 2017 that any service member who meets appropriate military standards should be permitted to serve.
"When less than 1 percent of Americans are volunteering to join the military, we should welcome all those who are willing and able to serve our country," McCain said.
In addition to the five lawsuits that are still working their way through the courts, lawmakers have introduced legislation and attempted to amend the 2020 National Defense Authorization Act to rescind the ban over the past year.
Legal challenges
Several LGBTQ advocacy organizations have filed lawsuits challenging the ban, and four federal courts issued orders forbidding the government to enforce it.
However, in January 2019, the administration "leapfrogged" to the U.S. Supreme Court, which ruled 5-4 to stay lower court injunctions and allow the ban to go into effect.
"Taking up resources to discharge someone who has incredible things to contribute makes no sense."
Jennifer Levi, GLBTQ Legal Advocates and Defenders
Kara Ingelhart, an attorney at Lambda Legal working on one of the cases, Karnoski v. Trump, called the Supreme Court decision "disappointing" but said the high court has not yet heard the merits of the case. She pointed to U.S. District Judge Marsha Pechman's December 2019 ruling requiring the government to turn over some 35,000 documents cited in its decision to ban trans service members. The judge said the plaintiffs were entitled to all the documents and information used to justify the administration's restrictions on trans service members.
"We are currently in the thick of discovery and moving forward as if we were going to trial," Ingelhart said.
Jennifer Levi, director of the Transgender Rights Project at GLBTQ Legal Advocates and Defenders, or GLAD, saidshe's confident the ban will be found unjustifable.
"We anticipate trials where the court will evaluate and see quite clearly the absence of any rational justification or any legitimate justification of the ban," she told NBC News. "There is no justification for banning a group of people from serving in the military who can meet all the generally applicable standards … It undermines the concerns for the stability and strength of the military."
Last month, GLAD and the National Center for Lesbian Rights filed a new suit on behalf of a Navy officer who has served two extended tours of duty over nine years and is now facing involuntary discharge because she is transgender. She came out as trans after the ban went into effect in April 2019, and is therefore not protected by the "grandfather clause" that permits those already enlisted to continue to serve. The current policy mandates the discharge of any service member who comes out as transgender and seeks to undergo a gender transition.
"It is just an example of just how irrational the ban is," Levi said. "Taking up resources to discharge someone who has incredible things to contribute makes no sense."
Serving under a 'cloud of otherness'
The transgender military ban affects both active personnel and prospective recruits.
"It's disheartening that the president of the United States has taken an opinion on my fitness to serve in the military without knowledge about what makes me, and so many other transgender people, just as good candidates to serve in the military," said Ryan Karnoski, one of the plaintiffs on the suit brought by Lambda Legal.
At 25, Karnoski has an M.A. in social work and is pursuing a Ph.D. in social welfare at the University of California, Berkeley. He hopes to be given the opportunity to apply his skills to a health services career in the military.
"The ban has been frustrating, but I'm refusing to look at it like a setback," he said.
According to Ingelhart, the ban continues to be a source of concern and frustration for clients like Karnoski.
One of the other plaintiffs in the case with Karnoski is a woman known as Jane Doe, who chose anonymity because she remains in active service. She did not come out as transgender prior to the implementation of the ban last April.
"Because she didn't do that within the artificially imposed window, she is now prohibited from doing so without the loss of her career," Ingelhart said. "She is not being able to make that choice for herself without risking her career and the livelihood of her family."
While there are openly transgender people currently serving in the military, Peter Perkowski, legal director of the Modern Military Association of America, a nonprofit organization advocating for LGBTQ service members and veterans, said, "They are doing it under a cloud of otherness."
"That's not healthy for them," Perkowski said. "Even though they were spared, at least for now, discharge or separation, that doesn't mean they are not feeling the effects of this ban."
Perkowsi said these service members are subject to mental health issues as a result, in addition to outright discrimination and even being pressured to leave the military.
Blake Dremann, an active duty lieutenant commander in the Navy and the treasurer of SPART*A, an LGBTQ military group, said those who are grandfathered in are having to deal with a cloud of suspicion as to whether they are fit to serve.
According to the latest Pentagon memo, transgender individuals may seek waivers to be able to enlist or serve in accordance with their gender identity. The waiver process has turned out to be complicated, Dremann said, as one must obtain separate waivers for gender dysphoria, another to serve as one's preferred gender, and another to receive maintenance hormone therapy. "They take a long time," Dremann said.
Further, many active service members he has spoken to worry about the consequences of a denial of the waiver.
"What is the course of action then? Does it go back to the member and they could 'change their mind' or does that immediately start discharge?" Dremann asked.
The current public health crisis highlights the costs of denying qualified people the ability to serve.
"How many trans people have left the military or chose not to join the military that would have gone into critical health care professions?" said Jennifer Peace, a transgender Army captain who has been serving for over 15 years. "With 'don't ask, don't tell,' we spent over $300 million from the early '90s to its repeal. What money are we spending now? It's so unfortunate we are making the same mistakes."
Thousands of military personnel are being called upon to help in the fight against the coronavirus.
"I think about the trans military service members, especially in the medical service corps, that are fighting on the front lines against the coronavirus not just here but overseas as well," Karnoski said.
"It's really frustrating that this issue is something they have to be focusing any amount of attention on," he said of the trans military ban.
Next steps
The policy could be changed through the courts, but the slow nature of litigation and the current composition of the Supreme Court leads some advocates to believe redress is more likely through Congress or the ballot box.
"Our message right now is that the only way this changes is with a change in administration, but that doesn't stop us from working with our members of Congress," Dremann said.
Levi said, "The challenge to this military ban has just highlighted how wrong it is to exclude people because of who they are."