Kristina Turner will never forget the moment doctors at a hospital in Washington state told her something was different about her baby. Shortly after Ori was born in 2007, the medical staff noticed that the infant had abnormal genital swelling. Other than that, doctors assured Turner, everything was fine.
"They identified Ori as being female and told us we had a happy, healthy baby, and we went on our way," Turner told NBC News.
But as a mother, Turner recalled, "I kind of knew something was different."
A specialist later told Turner, a massage therapist, and her husband, Josh, a construction worker, that their infant had a rare intersex condition called partial androgen insensitivity syndrome with mosaicism. The condition caused Ori to have both XX chromosomes and XY chromosomes and genitalia that doctors did not consider clearly "male" or "female."
Ori was perfectly healthy, but Turner said surgeons pressured her to agree to cosmetic surgery to make Ori appear more clearly female. She immediately refused.
"Intersex" is an umbrella term for people whose bodies do not match the strict definitions of male or female. Dozens of intersex variations exist, affecting the reproductive organs in ways that may or may not be visible. While the Trump administration seeks to permanently identify people as "male" or "female" based on their physical appearance at birth — a leaked draft proposal was sharply criticized by LGBTQ advocates this week — at least one in 2,000 people are born with atypical genitalia because of one of these conditions, according to Human Rights Watch, an international research and advocacy group.
"Gender normalizing" surgeries have been performed on intersex babies and children since at least the 1950s, often in secrecy, without ever telling the children. In the following decades, some people who underwent these surgeries as children began to speak out against them as human rights violations. Some said they had been assigned the wrong gender, while others had endured severe complications, including sexual dysfunction and infertility.
As their stories piled up, advocacy groups began calling for better education and support for parents of intersex children, as well as for limits on these types of operations. The advocates do not oppose surgery for intersex people in general, but they believe that if the goal is more cosmetic than medical, it's a choice children should be allowed to make for themselves when they're older.
This view is gaining traction. Three U.S. surgeons general, the United Nations, the World Health Organization, Physicians for Human Rights, the American Academy of Family Physicians, Human Rights Watch and Amnesty International have condemned medically unnecessary surgery on these children. In August, California became the first state to pass a resolution condemning the operations, though they are still legal there.
But within the medical community — and within support groups for these children — opinion is not unanimous. The Societies for Pediatric Urology, which represents the physicians who treat these patients, strongly disagreed with the California legislation. The organization believes parents should have the option of choosing surgery for their baby if they believe it's best for the child's long-term physical and mental health.
In the absence of clear guidance, hundreds of parents in the U.S. each year face a decision that will have a lifelong impact on their child. There are no official figures, but experts believe that while more parents are deciding against surgery, they are still in the minority.
Dr. Yee-Ming Chan, a pediatric endocrinologist at Harvard Medical School, said there is little research to help parents decide.
"There's certainly stories of individuals who found it distressing to have ambiguous genitalia, but we don't know how representative that is," Chan said. "So I think there really is a ton of unanswered questions."
ORI'S STORY
Turner, who lives an hour and a half north of Seattle, faced criticism from some extended family members who believed she was placing an enormous burden on her newborn in choosing not to have the surgery.
"But I just completely disagreed," Turner, 35, said, "because I was like, 'You can't undo surgery.'"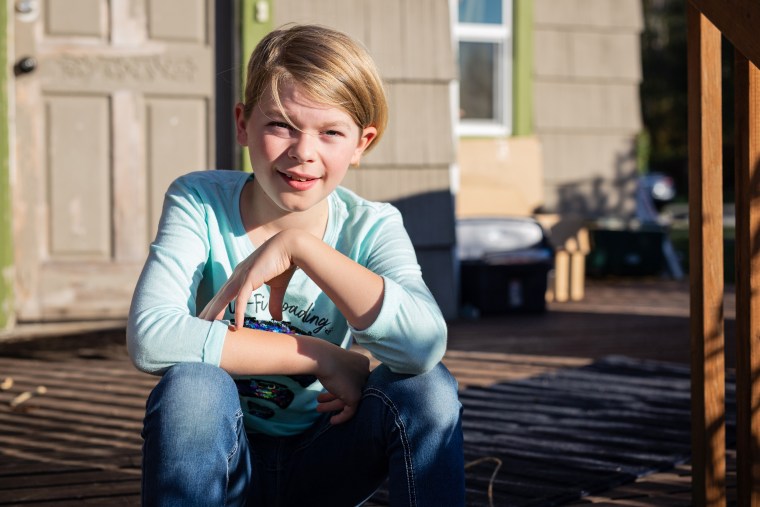 Since she couldn't predict the gender her child would embrace, she said, it didn't seem like her decision to make. And she recalled that none of the doctors could tell her how the surgery, which involved altering sensitive tissue, might affect the baby as an adult.
Based on the advice of medical professionals, Turner and her husband decided to raise Ori as a girl, because they were told that was how the child would likely identify. But the parents always planned to give Ori leeway to explore. If there was a chance that Ori felt male, Turner wanted it to be clear that that was OK. She concocted a bedtime story in which doctors aren't sure what a baby's sex is, so the parents let the baby decide over time.
Around the age of 7, Ori came to Turner one night and said, "I feel like I was supposed to be a boy."
"I was like, 'Oh my God, thank God I didn't make a huge mistake,'" Turner said of her decision not to do the surgery.
For several years, Ori wore boy's clothing and wanted to be called Alex. Then, around fifth grade, Ori started to dress and behave in ways stereotypical of boys and girls — "a cute hair clip with a really masculine outfit," Turner recalled.
In 2017, the Turners took Ori to a gathering of people who are intersex in Phoenix. There, Ori met some attendees who identified as transgender or nonbinary (neither male nor female). Ori decided to stop using the name Alex and asked to be called by gender-neutral they/them pronouns.
Ori, now 11, loves playing video games like Minecraft and is enamored with the movie franchise "How to Train Your Dragon." Ori has not been bullied and said that being intersex is "really fun and awesome."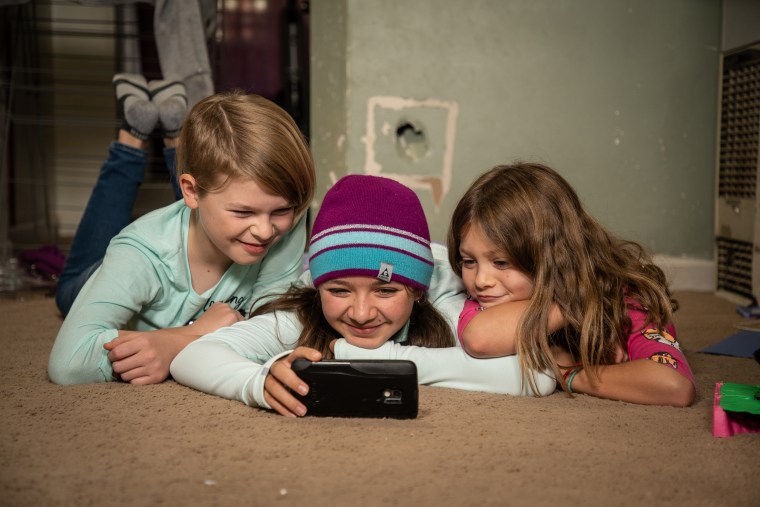 The middle schooler wants to be a lawyer and an actor someday — as well as an activist "so I can help intersex kids and adults." In March, Ori gave a TEDx Talk about growing up intersex. Turner helped with the presentation, but the gregarious preteen did most of the talking.
"I wish that [people] knew that intersex people are just like them," Ori said. "They're human."
THE SURGERY QUESTION
In rare cases, intersex babies need emergency surgery when they are born — for example, if they are unable to urinate properly.
But in the vast majority of cases, the operations are done to prevent a child from suffering presumed psychological distress later in life, experts said. Surgeons prefer to do these operations when children are between 6 and 18 months old — when healing is believed to be optimal and when children are too young to remember, experts said.
"It's a violation of their human rights to choose what they want their bodies to be like."
In these cases, based on assumptions about a child's future desires, "medically necessary" is hard to define, Chan said.
"Ultimately, my concern is that we find that things like doing some of the surgeries in infancy might be really helpful and beneficial for some individuals, and really harmful for others, and how do you balance that out?" he asked.
Parents often say that their decision to agree to surgery was at least partly driven by fear, according to a 2017 Human Rights Watch report on surgery on intersex children. There's a growing acceptance among young Americans for those who identify outside the male-female binary — 56 percent of Generation Z kids know someone who uses gender-neutral pronouns, one survey found — and New York City recently joined four states in allowing gender-neutral birth certificates. But amid the Trump administration's reported push to more stringently define gender identity, parents still worry about bullying, as well as the judgment their child could face in day care centers and locker rooms.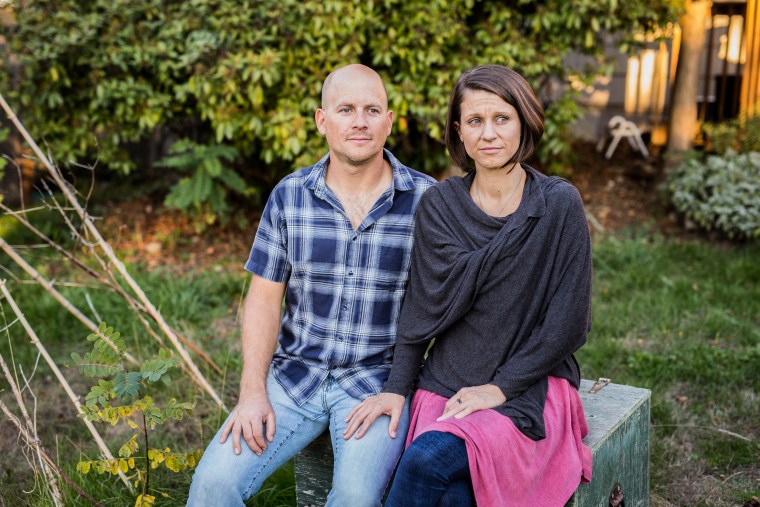 Opponents of surgery say that it is more likely to cause distress than to prevent it. For instance, if a child who undergoes feminizing surgery later identifies as male, "that's really a catastrophe," said Dr. Arlene Baratz, a physician and an advocate at interACT, a group that supports intersex youth.
"To do that before children have a say is, I believe it's a violation of their human rights to choose what they want their bodies to be like," Baratz said.
THE CASE FOR SURGERY
Because of the variety of intersex conditions and the range of medical advice, some experts fear California's legislation and other efforts to restrict surgery could have a negative effect on some intersex children.
Dr. Earl Cheng, a surgeon and urologist with H. Lurie Children's Hospital of Chicago, called the efforts "a catch-all umbrella in which one size fits all."
"One size does not fit all," Cheng said. "You need to have a discussion based upon exactly what that individual has."
Some adults who underwent the surgery as children say they're happy with the results.
Lesley Holroyd, 61, a nurse who lives in Florida, was born with congenital adrenal hyperplasia (CAH), which means she is genetically female but was overexposed to male hormones in utero.
"I've had no issues," Holroyd said of having surgery as a child, adding that the thought of not having done so was "horrifying." She said she has always seen herself as female and does not identify as intersex.
"Parents know their children certainly better than the government does."
A 2018 study found that 79 percent of adult CAH women who received surgery as children were satisfied with surgical outcomes.
The CARES Foundation, an organization that supports families with children with CAH, lobbied to make them exempt from the California resolution, saying surgery should be up to their parents.
"Parents know their children certainly better than the government does," said Dina Matos, the group's executive director.
'JUST LIKE RAISING ANY OTHER KID'
While adults debate what's best for kids like Ori Turner, the sixth-grader has already figured it out. Asked about surgery, Ori replied that it was unnecessary because "I'm perfect."
Ori, who goes to school part time and is home-schooled the rest, is writing a children's book about growing up as an intersex kid, tentatively titled "The Story of Ori." The preteen wants Washington State to outlaw cosmetic surgeries on intersex infants and plans to start a petition with interACT.
Turner said parenting an intersex child has been challenging at times, especially when some relatives have criticized her choices, but she said she has learned to "stand strong" in her beliefs.
"Raising Ori is just like raising any other kid," Turner said. "It's raising the rest of the world that's the problem."