Matthew Shepard's ashes were interred Friday morning at the Washington National Cathedral in D.C. His interment comes two weeks after the 20th anniversary of his death — a death that sparked a new chapter in the country's LGBTQ rights movement.
"It's a place of safety for him, but it's also a place of quiet for our visitors," Matthew's father, Dennis Shepard, said of his son's final resting place. "That gives them a chance to just sit and think their thoughts, whether it's about Matt or about themselves and their own lives."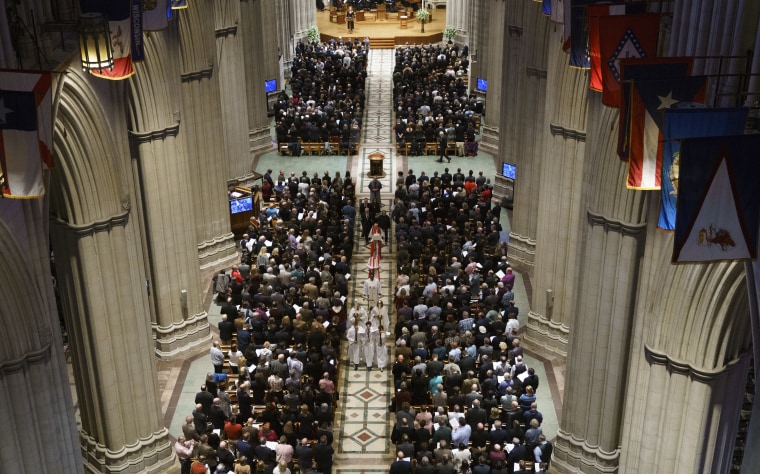 Over 2,000 people attended Friday's service and many more watched online as the country said goodbye to Matthew Shepard, who was just 21 when he was brutally killed. The Right Rev. Marriann Edgar Budde, Episcopal bishop of Washington, and the Right Rev. Gene Robinson, who in 2003 became the first openly gay bishop in the Episcopal Church, presided over the ceremony.
"Gently rest in this place. You are safe now," said a tearful Rev. Robinson. "Matt, welcome home."
The emotion-filled service turned political at times, with Rev. Robinson demanding the crowd get out the vote and fight for the rights of transgender people.
"If you are here just to pay your respects and to remember Matthew, it's not enough," Rev. Robinson told attendees. "Violence takes lots of forms, and right now the transgender community is the target."
Matthew Shepard was a college freshman at the University of Wyoming in Laramie when in 1998 he was brutally attacked in an act of homophobic violence. On Oct. 6 of that year, two local men abducted, bound, robbed and pistol-whipped him before leaving him for dead. He had been tied to a fence in a field outside of town in freezing weather for 18 hours before a bicyclist — who initially mistook him for a scarecrow — discovered him alive but in a coma.
Matthew Shepard died on Oct. 12 in a Colorado hospital, surrounded by family. The two men who attacked him, Aaron McKinney and Russell Henderson, were convicted of first-degree murder and received life sentences.
The attack left the LGBTQ community reeling. Protests and candlelight vigils took place across the country in the days following. A memorial service for in Casper, Wyoming, drew over 700 people and was picketed by the Westboro Baptist Church.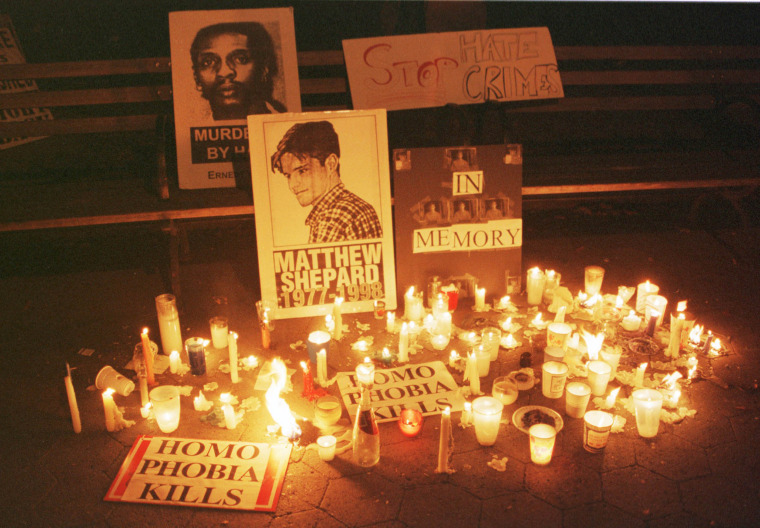 The grieving Shepards wanted a public place for those wishing to pay respects to their son but worried that his grave would be desecrated. The couple held on to his cremated remains until now, settling on the Washington National Cathedral — an Episcopalian home that offered the security they felt his resting place requires.
"Everything about Matt circles around the people who grieve for him and the people who hate him," said Matthew's mother, Judy Shepard. "That's just what it's always been, and I imagine that's what it'll always be."
The Episcopal Church has significance for the Shepards. Matthew Shepard was an acolyte in the Church growing up and loved the community, according to his parents. He will be buried alongside approximately 200 others in the cathedral, including fellow notable Americans Helen Keller and President Woodrow Wilson.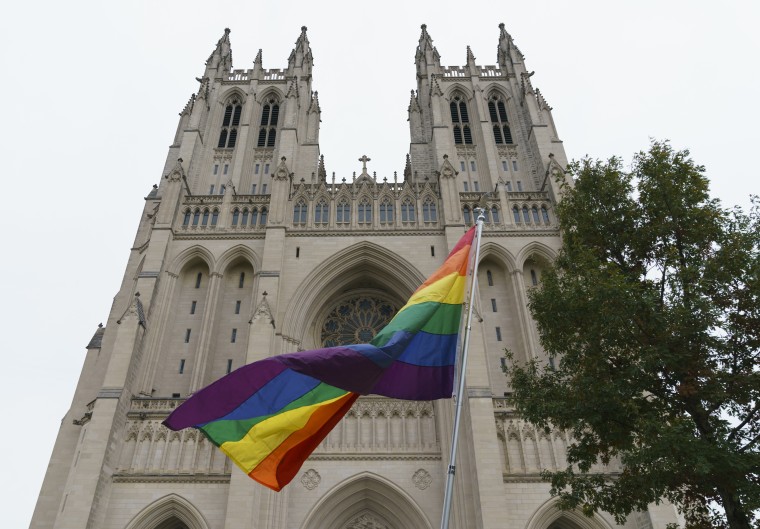 "We had him with us for 21 years, and now we've been without him for 20," Judy Shepard told NBC News on Wednesday. "It feels like what happened to him sometimes was yesterday and sometimes was 100 years ago."
Even though Matthew Shepard died 20 years ago, his story still resonates to this day, and Dennis and Judy Shepard say the need to share it still exists. They tour the globe with the Matthew Shepard Foundation, which they founded in 1998 on what would have been Matthew Shepard's 22nd birthday, in hopes of reducing LGBTQ discrimination. The Shepards also use their platform to advocate for LGBTQ youth by teaching parents to accept them for who they are.
"We loved Matt, and we lost him to violence. You still have your child, please welcome him back into your family. Love them as parents should do," Judy Shepard said about her message to other parents of gay children.
The Shepards' fight for civil rights has expanded in the last two decades. Today, they are outspoken about hate and discrimination against all marginalized communities. The couple say the Trump administration is unraveling progress made in recent years. They point to hate crimes against people of color, the ban on transgender people from serving in the military and a proposal to define gender solely based on a person's genitalia at birth.
"We're talking about equal rights for American citizens — straight, gay, black, white, Muslim, Christian. It doesn't matter," Dennis Shepard said. "It was the diversity and the different ideas and cultures that that brought this country to its greatness. And it's always been great. It didn't have to be made great again."
In addition to their concerns about LGBTQ rights, the Shepards point to the rise in anti-LGBTQ homicides. The Anti-Violence Project tracked 52 reported homicides in 2017, an 86 percent increase in single-incident reports from 2016 and the highest number ever recorded by the group.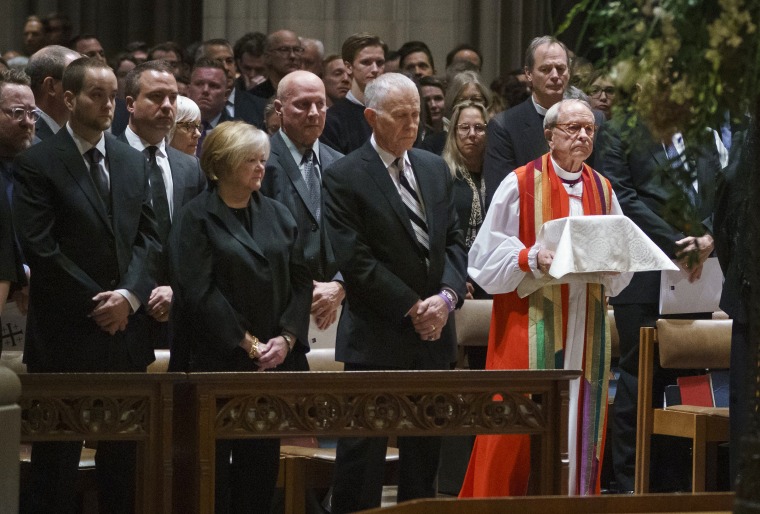 President Barack Obama signed in 2009 the Matthew Shepard and James Byrd Jr. Hate Crimes Prevention Act into law. The act, for which the Shepards lobbied, was the first to grant protections in federal legislation to the LGBTQ community. However, the law did not change laws on a state level — Indiana, South Carolina, Georgia, Arkansas and Matthew Shepard's home state of Wyoming still do not have any legislation protecting against hate crimes.
The Shepards still struggle to reconcile their son's highly publicized death with their private grief over losing their child. They lovingly remember him as an ordinary person and recall his love for drama, his quirks and his commitment to inclusivity of all people. The Shepards aim to live their lives in a way they feel would have made Matthew proud.
"We had two sons, one straight and one gay, and we're proud of both of them," Dennis Shepard said. "Start talking about it. Be proud of your children."