Michael Tubbs, 26, Mayor of Stockton, Calif.
Born in poverty to a teenage mother and an incarcerated father, Michael Tubbs never imagined he would one day be elected mayor of his hometown, or have an award-winning documentary, "True Son," made about his life.
"I've always been interested in political service and community advocacy," said Tubbs, who was elected mayor of Stockton, California this past November. "I knew at an early age that I wanted to make an impact."
After receiving a full scholarship to Stanford University, where he graduated with a bachelor's and master's degree in Policy, Organization and Leadership Studies, Tubbs interned with Google and the White House.
CHECK OUT THE FULL LIST OF THE #NBCBLK28 HERE!
In 2010, as he was finishing his junior year of college, Tubbs received a phone call that would alter his career path. His cousin, Donnell James, was murdered at a Halloween party in Stockton, and Tubbs realized he wanted to help combat the violent crime that had become all too prevalent in his city.
Two years later, Tubbs announced his candidacy for the District 6 seat on the Stockton City Council. He received a surprise endorsement and $10,000 donation from Oprah Winfrey, who he had impressed at a Stanford luncheon.
Tubbs won the election and hit the ground running. He established the Reinvent South Stockton Initiative, focused on improving health, safety, education, housing and job creation. Last year he ran a successful grassroots campaign for mayor, beating out the incumbent. His campaign was focused on renewal.
"I want to bring more opportunities, services and jobs to Stockton," said Tubbs. "I'm committed to helping the residents of Stockton succeed."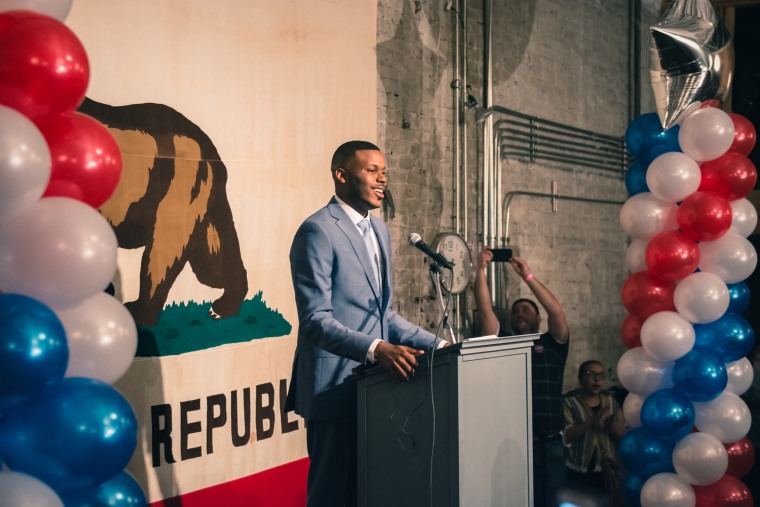 ---
DEFINE YOURSELF IN THREE HASHTAGS #ReinventStockton #ForThePeople #Blessed
FAVORITE SONG TO BLAST AT FULL VOLUME "Show Me Something" by J. Cole
WHO INSPIRED YOU AS A KID? My mom, my aunt and my grandma banded together and gave me a village of support when I was growing up.
WHAT IS YOUR FAVORITE SOCIAL MEDIA PLATFORM? Snapchat. And Facebook for communicating with my constituents.
---