Isaiah Cooper, 17, Pilot
Compton, CA
At an age when most teens are hoping to obtain their driver's license, Isaiah Cooper was making history as the youngest African-American to pilot an airplane across the continental United States.
Accompanied by a co-pilot, the Compton, Calif., native completed the two-week, 8,000-mile cross-country trip at the age of 16 last July, after years of flight training.
CHECK OUT THE FULL LIST OF THE #NBCBLK28 HERE!
"I live a block away from the Compton/Woodley airport and I've always loved airplanes," he said.
When he turned five, his mom enrolled him in an after-school program offered through Tomorrow's Aeronautical Museum (TAM), that teaches inner-city kids about flying while also supporting academics. The program is run by founder and executive director Robin Petgrave, an African-American pilot whose company conducts helicopter tours, charter flights and entertainment industry production work.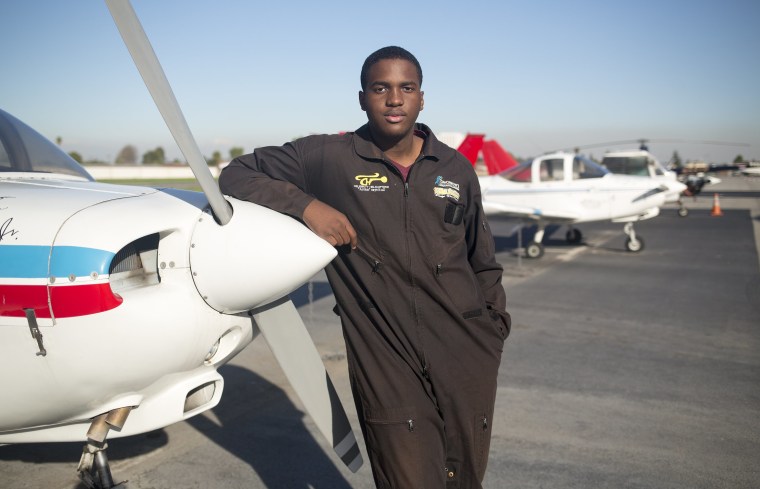 Cooper said he flourished as a pilot until he entered middle school and got involved with the wrong crowd. He left the aeronautical program and his grades dropped.
"I eventually realized that wasn't how I wanted to live my life," Cooper said.
As a high school student, Cooper enrolled in independent study and returned to the TAM program. He recently started a fundraising campaign at gofundme.com to support his next goal: breaking the Guinness World Record for being the youngest person to fly around the world in 2018 at the age of 18.
"I used to think of flying as a hobby," said Cooper. "But I've decided that after college, I want to follow in the footsteps of Robin and make a career as a private helicopter pilot."
---
DEFINE YOURSELF IN THREE HASHTAGS #YoungAviator #BlackExcellence #TheFuture
FAVORITE SONG TO PLAY AT FULL VOLUME "The Sound" by The 1975
MOST PEOPLE WOULD BE SURPRISED TO KNOW THAT I love chocolate, and I hate eggs
---