Muktar Onifade, 26, Detroit
GM Engineer, Fashion Designer
Some might argue that engineers and artists exist on opposite sides of the creative spectrum. But that couldn't be further from the truth, at least not when it comes to Muktar Onifade, who is both a calibrations engineer for General Motors and a fashion streetwear fashion designer.
He usually starts his days at 4 a.m., splitting time between testing car engines for various standards and requirements and his studio, where he designs his minimalist, high-end brand, VIZUVLGVDS. The fashion collection combines Onifade's technical, engineering precision with his Nigerian heritage.
The American-born designer, 26, told NBCBLK a bit more about his dual career personality.
"I realized I became an engineer because it was 'the right thing' to do, and I was good at it," he said. "But I went to a fashion show during my last year in undergrad, and knew I wanted to make clothes."
CHECK OUT THE FULL LIST OF THE #NBCBLK28 HERE!
Growing up in a colorful, stylish family that stressed academic excellence but discouraged art, Onifade became an engineer to fulfill parental expectations. But when he realized he had both a passion and the talent to design clothes, he pursued both. Now he wants to encourage people, especially youth, to embrace their creative genius.
"Believe in yourself and create at a high level," said Onifade. "Regardless of where you're at in this moment, you can create something that can inspire the world."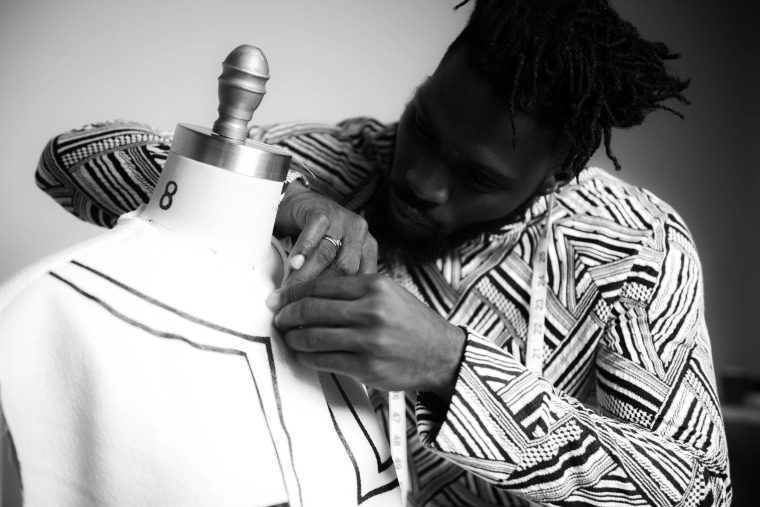 ---
DEFINE YOURSELF, OR YOUR WORK IN THREE HASHTAGS #persistent #determined #philomath
ON HIS FASHION BRAND'S NAME My tribe is Yoruba. We have tribal gods that we all identify by. For my brand, I wanted a name that instantly catches attention, but has depth to it. GVDS: Gifted with Visual Diverse Skills. I wanted to speak to a generation of creative West African kids, who can be a lot more than engineers.
FAVORITE SONG TO PLAY AT FULL VOLUME "Show You Off" by WurlD featuring Shizzi and Walshy Fire of Major Lazer
ONE THING I WISH I KNEW ABOUT THIS INDUSTRY WHEN I FIRST STARTED I wish I knew GM hired individuals with creative and fashion design background.
ON REDEFINING WHAT IT MEANS TO BE BLACK IN AMERICA I put myself in different positions so that I can be uncomfortable. That's how [I] learn, that's how [I] better [my]self.
DETROIT STATE OF MIND I don't have to be in Paris, LA or NY to create valuable garments that are meaningful. In Detroit, you have to be relentless in inspiring generations.
WHO WOULD YOU NOMINATE FOR #NBCBLK28 I would definitely nominate my brother, he is one of the most innovative persons I know.
---