Cam Newton, 26
Quarterback, Carolina Panthers
For Cam Newton, winning the NFC Conference Championship and going to the Super Bowl is like making an authentic bowl of grits and a Sunday dinner pot of collard greens.
"It was a process, it wasn't going to be instant grits, cooked grits; it's going to be like long, slow-cooked collard greens," the Newton said just after his team's divisional win. "I think those collard greens are brewing right now. You can smell them from 100 miles away."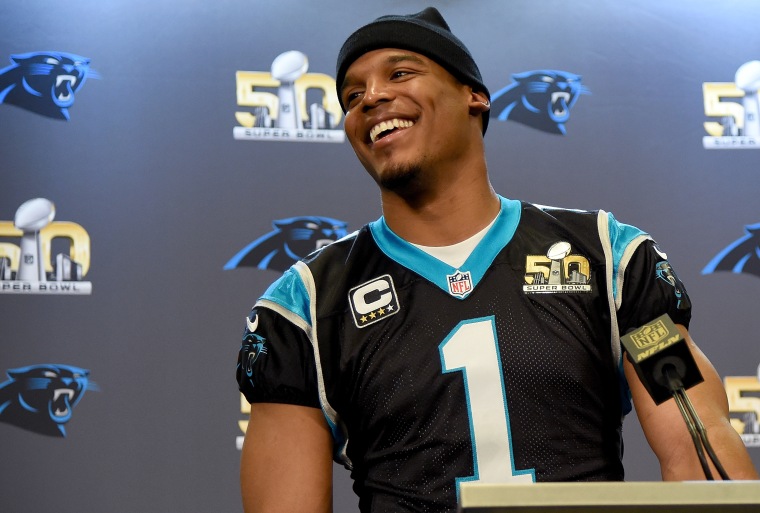 Check out the full list of the #NBCBLK28 HERE
He was named the league's Most Valuable Player at NFL Honors on Saturday night, sweeping up 48 of the 50 possible votes. Accepting the award via video, he closed with, "I would also like to thank every person that has doubted me because you made me better. Dab."
Cam led the Carolina Panthers to a 15-1 regular season. He is in position to be the third African-American quarterback to win the Super Bowl, just two years behind Russell Wilson of the Seattle Seahawks and a few decades after Doug Williams of the Washington Redskins. The son of a pastor, who is well known for his confidence, doesn't shy away from claiming the win.
"I was a millionaire, I was a football player; I was even a Super Bowl winning quarterback way before I won a Super Bowl," he told Michael Strahan during a Fox NFL Sunday one-on-one the day before the NFC Championship. "I haven't won a Super Bowl yet, but I think like a Super Bowl quarterback."
---
REWRITING THE PLAYBOOK FOR BLACK QBs "I'm an African-American quarterback and that may scare a lot of people because they haven't seen nothing that they can compare me to," he said in a recent press conference. "I'm doing what I want to do, how I want to do it, and when I look in the mirror I see me."
YOU PROBABLY DIDN'T KNOW THAT "I don't get nervous," Newton told ESPN.com. "I've been playing football for too long for me to get nervous. I used to dream of being in this type of position."
---