Jessica Williams, 26
Comedian and Correspondent on The Daily Show With Trevor Noah
I am a black woman and I am a feminist and I am so many things. I am truly honored that people love my work. But I am not yours.
This unflinching declaration has been pinned to the top of Jessica Williams' Twitter profile for over a year now.
As the youngest member of the most trusted team in fake news, Jessica has used her platform as a correspondent on Comedy Central's "The Daily Show" to break down issues ranging from sexism, to racism, to classism through an unapologetically black feminist lens.
Oh, and she's also hilarious at it.
Most recently Jessica slayed with her rebuttal to critics who deemed Beyonce's Superbowl performance of "Formation" to be too "unwholesome" for middle America.
To use her words, "not everyone was ready for that jelly."
Besides likening Bey to a "beautiful black Dumbledore" (with all that #BlackGirlMagic going on), she closed her poignant soliloquy with this gem:
"You know what, you're right. The fans deserve wholesome entertainment, like watching 300-pound men give each other concussions while a crowd cheers like we're extras in the movie 'Gladiator.' So what is wrong with Beyonce everyone. Were you not entertained?"
It's just her way of reeling you in with her wit, but then sending you to pause and give a slow clap with introspection.
The writer/performer honed her improv skills in Upright Citizens Brigade's LA outfit. While she was doing improv and studying film and English at California State University, Long Beach, she landed the role of correspondent on "The Daily Show" in 2012.
Jessica gives credit to her supportive parents for making sure she did her homework and driving her to auditions — and she perks up talking about her mom, "I'm lucky to have a wonderful mom in my life who is a strong Black women."
Check out the full list of the #NBCBLK28 here
And speaking of role models, when Jessica recently accepted the Hattie McDaniel Award, the significance of that tribute was not lost on her. "To be able to accept something on behalf of a hero of mine and somebody who came before me. That really means a lot to me," she said.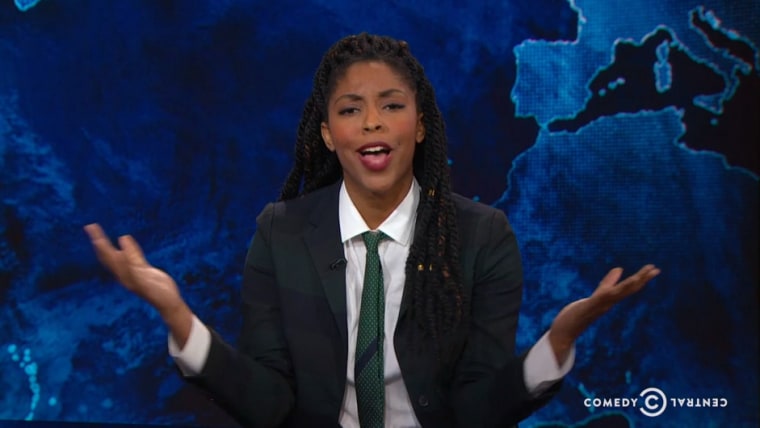 And in the name of these "sheroes" who came before her, Jessica has addressed a less overt form of racism in the entertainment industry. "I think a lot of time in Hollywood, it's just overlooking," she told NBCBLK. "It's just doing what is easy—not trying to rock the boat."
"People always ask me if I would time travel, you know, [but] it's a very exciting time to be a young black woman," she said. "I perform at a lot of colleges and what I try to leave the kids with, 'These stories are getting boring.' These old stories, like that rom-com where there's a clumsy white woman and she's stepped on at work and she really likes this guy — that whole thing is tired. Now there needs to be — and people are crying for and begging for — expressions from people from different points of view."
"Like whoever you are, now is a great time to be alive because you can create your own content, choose your own content and do your own damn thing. There are people out there who are going to want to watch it."
---