Madison Maxey, 22, New York City
Founder The Crated, and wearable technology guru
The prestigious Parsons School of Design was the only college she applied to. But Madison Maxey, 22, quit just one semester in. Turns out that she already knew a lot of what they planned to teach her. And what she didn't know – 3D programming, for example – she taught herself.
Now, after having perfected her passion of creating technology-enabled, wearable textiles (see: the light up LED gown worn by Lupita Nyong'o for a Star Wars event; Madison outfitted the dress with circuitry and electronics for designer Zac Posen) this creative technologist is taking her unique talents to the stratosphere.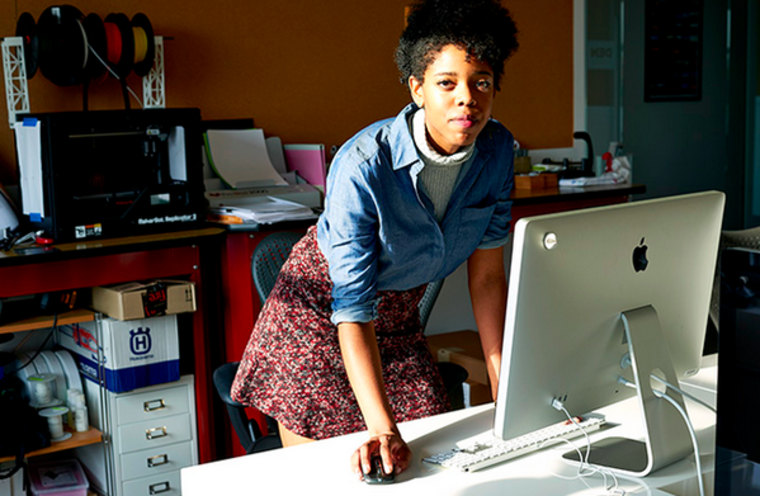 She's already created The Crated, the company that does top secret design research and prototypes for clients such as American Express, Northface and others so hush-hush that they can't be named. The San Diego native and self-proclaimed "maker" hasn't looked back since.
"I realized that a lot of people were at college because they wanted school to give them all the tools and resources to be successful at life," she told NBCBLK. "But I'd been working since I was 15 or 16 in the industry and I felt like I would never be satisfied in a classroom until I failed on my own. So far? It's been fine."
Indeed.
Her products are so difficult to produce that Maddy tells clients upfront that they will pay. Nothing is on sale. "The contingency is that it's gonna be expensive and hard to produce because there is not lot of structure in place to manufacture (it.)"
And, this daughter of a flight attendant and an engineer, who frequently visits Japan, has some interesting ideas on social media: she doesn't fully partake. "I'd rather call my friends on their birthday."
---
DEFINE YOUR WORK IN THREE HASHTAGS: #CuriousCreative #MadMaker #ElementaryAutodidact
LATE NIGHTS OR EARLY MORNINGS? Early mornings
FAVORITE SONG TO PLAY AT FULL VOLUME: A close tie between Beirut's "Ganglar" and all things Charles Mingus.
HER LIFEHACKS: Some women spend an hour getting ready and I don't know how I would fill that hour! And, I feel like everyone becomes more a tiny bit more interesting at a cocktail party if they just read a book.
HOW ARE YOU ELEVATING THE BLACK COMMUNITY: I really like #blkgirlmagic going around. Sometimes the best thing you can do is encourage people. By creating a life you enjoy, it also shows others.
WHAT ADVICE WOULD YOU GIVE YOUR YOUNGER SELF? Get to know my dad better. [Maddy's father died two years ago, but not after they had taken several family trips together.] A lot of kids my age want to go explore the world but I feel like I've done it. When you travel with your family you get to love them and know them.. That's the biggest thing: those experiences.
---