Michael B. Jordan, 28, Los Angeles
Michael B. Jordan isn't worried about elevating Black art. He's more interested in elevating art and being Black while doing it.
Since starring in "Creed" alongside the Golden Globe-winning Sylvester Stallone, and establishing a great actor-director relationship with Ryan Coogler, Michael is poised to become Hollywood's next big commodity. At Friday's NAACP Image Awards, Michael took home awards for Entertainer of the Year and Outstanding Actor in a Motion Picture for his role as Apollo Creed's son.
"I'm just proud to be black and in this room," Michael said, before revealing that he used to sneak into the ceremony as a teen. "And now I'm standing here as the entertainer of the year, which is mind blowing."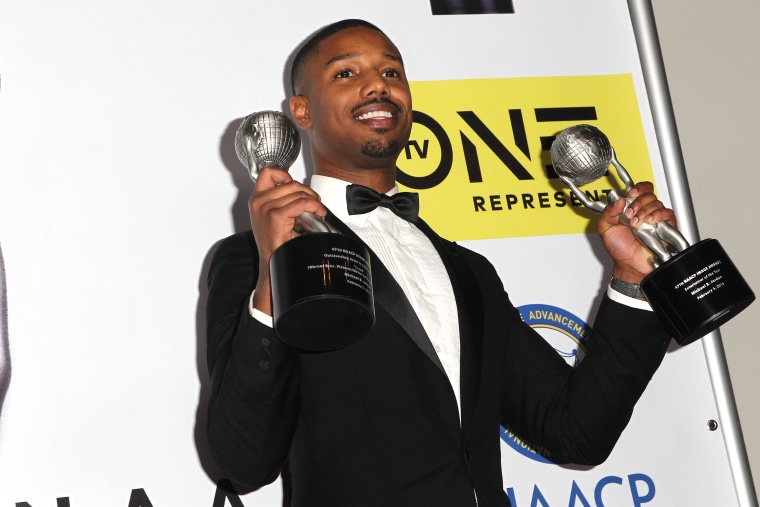 Check out the full list of the #NBCBLK28 here
In addition to other film projects, is co-writing a new comic book, "North," about a super-spy. It's all part of his master plan to rewrite the stereotypical narrative of Hollywood's Black male actor while also giving back. This Newark, N.J., native often talks about how he should be a statistic, but he isn't. He also famously told his managers—post his widely lauded turn in 2013's "Fruitvale Station"— that he's done taking roles where his character dies.
"I love telling the experience of a Black male in America, but modern, not always having to go back to a period piece to remind people where we come from," he told GQ last fall, just months after he starred as Johnny Storm in "The Fantastic Four" reboot. (He caught hell for taking that role since Storm is often cast as White, but it's all part of the plan.) "It's more a modern sense of where we are today, and where we want to go in the future."
The future for Michael also means standing up for reducing violence and standing against the for-profit nature of American mass incarceration. This past December, he sat on a White House criminal justice panel and was blazingly honest about growing up in one of America's toughest cities.
"Statistically I shouldn't be here," he told panelists that day, adding that #stayingwoke is a good idea for any Black man in America. "[But] my parents made sure I knew what was going on in the city of Newark."
---