Rosalyn Gold-Onwude, 28, Oakland, Cali.
Basketball Analyst
In the world of high stakes sports analysis and sideline reporting, women of color can be rare finds. Ros Gold-Onwude is even more of an anomaly because she's a former college basketball star-turned-sideline reporter for Comcast Sportsnet Bay Area where, for the last two years, she has covered the Golden State Warriors.
"As a women of color in sports broadcasting, I want to do good work and have a positive, visible influence," said Ros, a Stanford University grad who is a former Pac 10 defensive player of the year. "I hope other young women will look at what I'm doing and realize they too could have a career in sports media if they desire."
The gig will take her to Rio de Janeiro this summer to report for the Olympic Games. It's an Olympic dream come true after having not qualified for the London Games while playing on behalf of Nigeria, her father's birth country. She hopes to see more reporters like her covering the competitions.
"I'm very comfortable in my own skin and I believe in uplifting others," said Ros. "I don't think there's room for only one black female analyst in basketball. Why does it have to be a competition?"
She credits her own army of strong women with mentoring her and encouraging her to believe she could accomplish anything. Ros' mom, a Russian Jew, is the reason why she took up basketball.
Check out the full list of the #NBCBLK28 here
"My mom was an early backer of women in sports and wrote many articles in support of women in athletics," she said. "Tara VanDerveer, the head basketball coach at Stanford, has given me invaluable advice. She likes to say 'less is more' which applies to both basketball and broadcasting."
After graduating from Stanford with a Bachelor's degree in Communications and a Master's degree in Sociology, Ros met Doris Burke, a color analyst for both men's and women's basketball at the Final Four. After expressing an interest in pursuing a career in sports broadcasting, Burke invited Ros to shadow her at the NBA Finals.
Since then, Ros' career has taken off, making her almost as big of a celebrity in the San Francisco Bay Area as the team she covers. Drake posted photos on social media and raved about meeting her, and then there's that famous YouTube video showing Ros outshooting the Cleveland Cavaliers' LeBron James in the basketball game, Pig.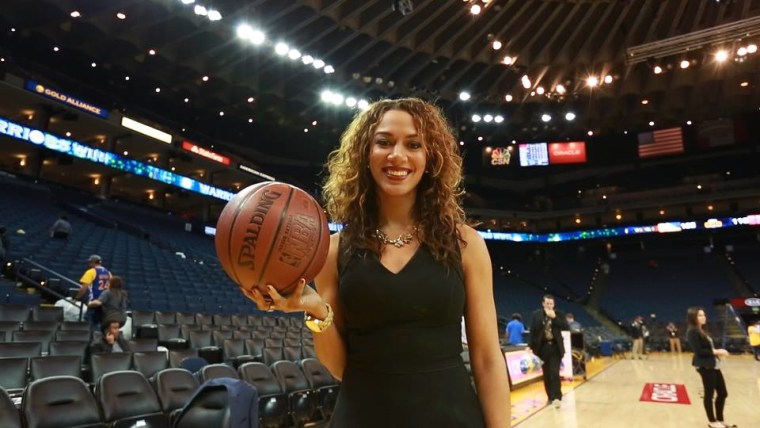 ---
THREE HASHTAGS THAT DESCRIBE MY LIFE: #SweetandSoulful #Thankful #MovingWithAPurpose
FAVORITE SONG: "Rock With You" by Michael Jackson
FAVORITE ALBUM: Beyonce's "4"
ROLE MODELS: My mom and Michelle Obama
PHILOSOPHY ON LIFE: I try to stay present in the moment and I start every morning with prayer and thanks.
---