Simone Biles, 18, Spring, Texas
Team USA Gymnast
When the Rio 2016 Olympic Games kick off in August, you can expect Simone Biles to become a household name.
She already made history at last fall's World Gymnastics Championships when she became the first woman ever to win three all-around titles in a row. She's a premiere member of Team USA gymnastics, having bested her competitors on the balance beam and in floor exercises at the championships and in so doing, bringing the U.S. team to a historic win.
Now, she's heavily favored to replicate that success in Rio De Janeiro, and compete in the very games she watched four years ago as a young teen. "I remember the team winning gold. I remember Gabby [Douglas] winning all around, Aly [Raisman] winning floor. And I was just so happy for them," Simone recalled. "It was just really exciting for me because I know that the path they took, and I was on that same path—just a little behind them."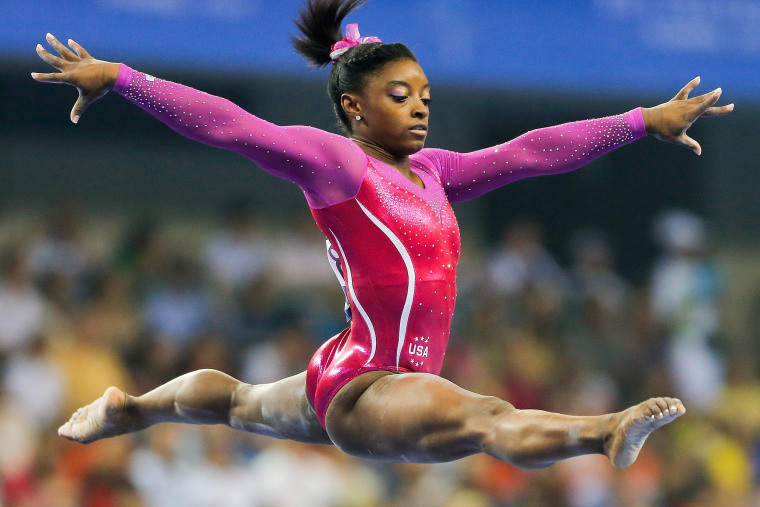 Check out the full list of the #NBCBLK28 here
Simone is fiercely dedicated to her training regimen—only taking Sundays off each week—but she's trying not to think too much about Rio and instead focus on her upcoming competitions.
When she's not in Olympic training mode, Simone is a pretty typical teen, often cutting up with Adria — her 17-year-old sister (also a gymnast), finding solace in her purple-themed bedroom.
She seems to live some intimate parts of her life out loud on social media. On Valentine's Day she tweeted that she didn't have a boyfriend and she was only saying so because everyone was asking. She has no problem sharing Instagram videos of her daily workouts on the uneven bars or her award-winning floor exercise routines.
And, no one can get mad that she reminded fans to read the New York Times article that stated: "She's the best American gymnast since, well, probably ever."
Besides the personal tidbits, what really stands out are her inspirational quotes, this last being one of them: "Your life is your message to the world. Make sure it's inspiring."
---
FAVORITE EVENT: Floor
FAVORITE EXERCISE: Jumping, squats, anything legs.
"CHEAT" FOOD: Pizza
FAVORITE SONG: "Hands to myself" by Selena Gomez
FAVORITE SHOW: "Pretty Little Liars"
---