Stephen Curry, 27, Oakland
Ayesha Curry, 26
Taking up the family business can be arduous, but Stephen Curry, the NBA's reigning MVP, willingly accepted the challenge. "There was a lot of pressure being Dell Curry's son, growing up in Charlotte, being in ACC country," he recently told TIME magazine.
Given his pedigree, you might think that the son of a 16-year NBA veteran would automatically garner looks from top college basketball programs, but superstardom wasn't on autopilot for Steph. "I really desperately wanted to play ACC basketball," he told Time. "Duke, North Carolina, Maryland, Wake Forest, all those schools, I never even got close to a call." Instead of lamenting the passover, the 6-foot (at the time) baller accepted a scholarship to Davidson College, and began his quest to prove his doubters wrong.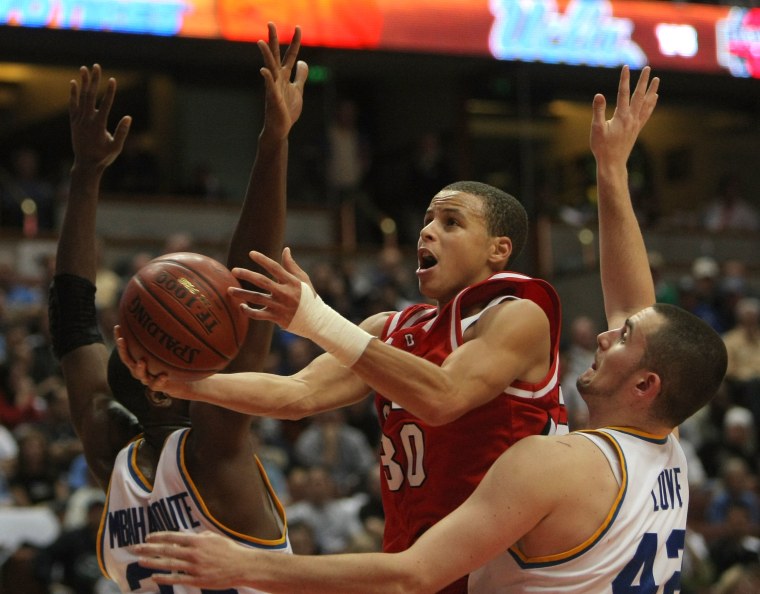 Using the 2008 NCAA tournament as his own coming out party, Steph led the Davidson Wildcats to the Elite 8, dazzling crowds with his long-range shooting skills. He would go on to be selected 7th overall by the Golden State Warriors in the 2009 NBA Draft. Early injury setbacks left doubt as to Steph's effectiveness, but he got stronger, worked on his game and now leads his Warriors this season as they chase the '96 Bulls for the best record ever, and another championship too.
Check out the full list of the #NBCBLK28 here
Steph isn't alone in his success. Wife Ayesha is a successful businesswoman in her own right. She already hosts "Cooking with the Currys," a TV show that airs in the San Francisco Bay area, and she has another food and lifestyle show in development based off of her popular website. Ayesha also boasts her own line of olive oil and aprons, sold through her company, Little Lights of Mine. Her first book "The Seasoned LIfe," a look at faith, food and family, releases in September.
Ayesha is a social media regular and fans love her online recipe videos which also give a glimpse into the life of an NBA power couple. She won't shy away from controversy either, penning an essay for Time magazine last summer in which she defended her husband's decision to bring daughter Riley to a post-game press conference.
In part, she wrote: "Stephen attends practice every day, and gives his all during the games on an almost-nightly basis. When that's over, all he wants is to see his family, and on the day of that press conference, our daughter wanted to be with her father. I thought it was beautiful for him not to push his daddy duties to the bottom of the list just because all eyes were on him. I believe you should let your children be children, and don't be afraid to be a parent, regardless of who's watching."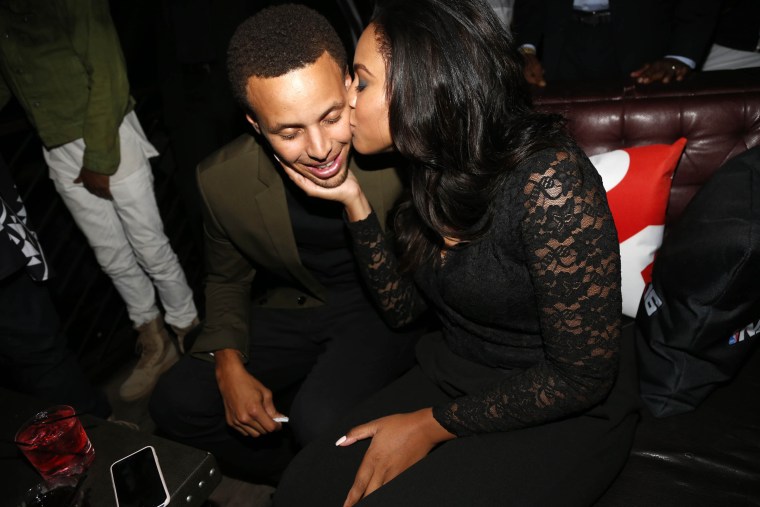 And who can forget the social media respectability firestorm Ayesha inadvertently kicked off last winter when she innocently tweeted that, when it comes to wearing revealing clothing, her goodies are for viewing only by her husband. After that? The Twitterverse exploded with think pieces on black marriage, black feminism (or lack thereof) and the marriagability of black men.
The couple has two daughters, Riley and Ryan, and they openly showcase their love for family and each other. Many people look to them as inspiration. But Steph looks to family and God, to keep him grounded despite his popularity.
"There's more to life than basketball. The most important thing is your family and taking care of each other and loving each other no matter what." he said in his MVP acceptance speech. "I try and use every game as an opportunity to witness… When I step on the floor people should know who I represent, who I believe in."
--With additional reporting by Linda Childers.
---