Zendaya, 19, Los Angeles
Entertainer/Activist
Rather than run from her heritage, Zendaya Coleman is leading the unofficial millennial charge to fully embrace the diverse tapestry of color, culture and background that populates America. And she hopes her celeb platform — and unapologetically Black stance — helps others to do the same.
"Openly loving and accepting ourselves allows others to really see us," the singer, producer and dancer told NBCBLK. "I use my platform as a tool and a way to speak about greater change. I always knew this was what I was supposed to do. Growing up in this industry as a young woman of color has made me want to be more outspoken."
It's easy to speak with Zendaya and forget that she is just 19 years old. That consciousness has been around since elementary school, she said.
"When I was in 5th grade I memorized the poem 'The Black Statue of Liberty' by Jessica Care Moore. I read it in front of the entire (mostly white) school. I used that poem and my knowledge as a tool, and to see people's reactions was amazing."
NBCBLK is using the 28 days in the month of February to honor 28 of the nation's most talented innovators and game changers — all ages 28 years and younger. Check out the full list of the #NBCBLK28 here.
---
LATE NIGHTS OR EARLY MORNINGS? Late nights
MOST PEOPLE PROBABLY DON'T KNOW THAT I hate vegetables even though I am a vegetarian.
---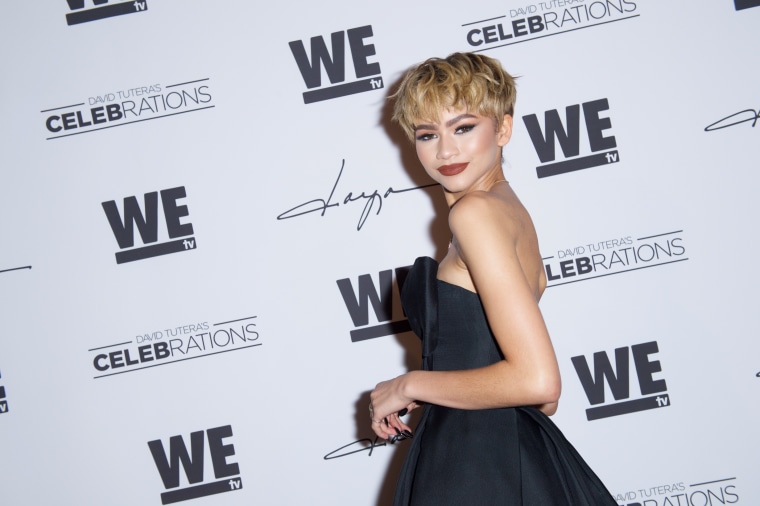 Young, Black & Conscious
Just when you think all hope is lost a fresh crop of thoughtful, black celebrities have burst onto the scene — with triple threat Zendaya Coleman leading the pack. She is part of a new generation of young, gifted, and unapologetically black folk using their platform to inspire and incite; they are working to redefine what it means to be black in America today.
I'm sure you've seen the #StayWoke on Twitter. It spreads awareness and encourages consciousness of the heartbreaking injustices that black people and other people of color must endure in the United States and abroad.
Over the past year several black celebrities have voiced their opinions on the issues. Actress turned Fox News darling, Stacey Dash, foolishly accused BET of racism, Pharrell Williams thinks that we're "post racial" and Raven Symone professes to "not see color" and is "just an American—not African American."
At last year's Oscars, Zendaya, who has a penchant for changing up her hairstyle, donned long beautiful locs on the red carpet while wearing a stunning Vivienne Westwood gown. Sadly, some commentators didn't find her look "appropriate" for the red carpet. Former E! News host and "Fashion Police" host Giuliana Rancic exclaimed that Zendaya's hair looked like it "smelled of patchouli oil and weed."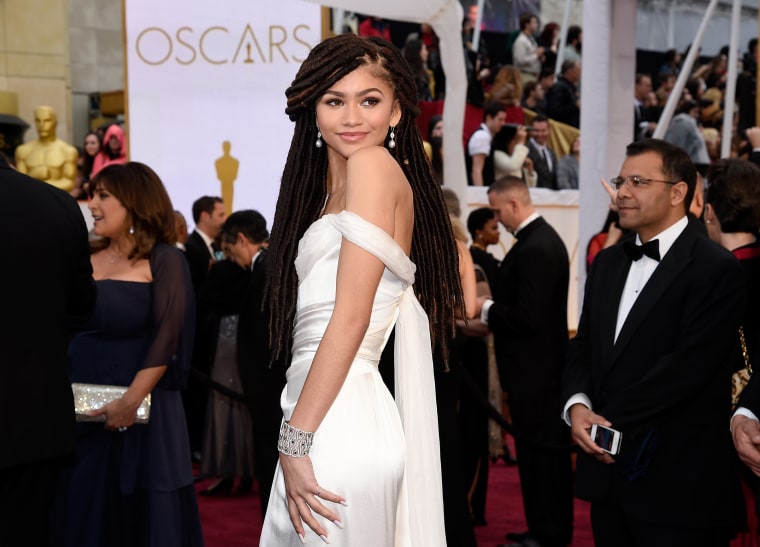 Instead of starting a celebrity Twitter war of words — which seems to be all the rage these days, Zendaya took the opportunity to educate Rancic about "casual racism" and used her enormous social media platform to do just that. She shared her thoughts on Instagram:
"Studies have shown that even though we try to act without prejudice, sometimes it's just hidden inside us due to our past or surroundings. That hidden prejudice is often influential in our actions. It's our job to spot these issues within others and ourselves and destroy them before they become hurtful," she wrote. "I have so many people looking up to me, that I couldn't be scared, wait it out, nor could I just stand up for me; I had to do it for WE."
As the next round of Oscars approach, I talked with Zendaya about her plans for 2016, (as of this writing she is still deciding on whether to attend.) She shared that last year was the perfect way to spread self-love.
"With great power, comes great responsibility. I use my platform as a tool and a way to speak about greater change. I always knew this was what I supposed to do," Zendaya said during our interview.
Last October Zendaya went on Instagram to take on Modeliste magazine after they photoshopped her picture to make her look thinner:
"Had a new shoot come out today and was shocked when I found my 19-year-old hips and torso quite manipulated," she said, adding: "These are the things that make women self-conscious, that create the unrealistic ideals of beauty that we have. Anyone who knows who I am knows I stand for honest and pure self-love. So I took it upon myself to release the real pic and I love it."
As a bi-racial child born to two teachers, (her mother is white, her father is black), Zendaya takes her identity as a black woman and role model to heart saying, "I take pride in the fact that parents look to me with pride — I take that responsibility and love it."
Unlike a lot of young stars that shun the term role model it's refreshing to see that Zendaya recognizes her power while also stating the facts about celebrity.
"Even if I weren't an entertainer I would still be doing this," says the star who got her first big break on The Disney Channel at age 12. "In the real world it's 'to each their own' but I get the frustration that people have with celebrities that don't take the responsibility. I get that its tough but its what I enjoy."
"Openly loving and accepting ourselves allows others to see us."
It's this attitude and connectedness not only to her responsibility as a role model but also to her blackness that leaves fans wanting more. She credits her parents with her astute understanding of the world around her.
"I'm mixed, but my parents were always just my parents to me," she said. "I do remember being 8-years-old and having a conversation with them about what they had experienced being together as an interracial couple." She says her father, who is Black, made her watch the film "Roots" a "million" times, encouraging her to find a connection to the African continent.
There is a fire in her voice when she talks about what it means to be a black woman in the entertainment industry with the ability to empower and inspire people. "I want to continue using my platform for better things — for people of color, women, to discuss body positivity — I want to help people realize how amazing they are." She goes onto to say, "Openly loving and accepting ourselves allows others to see us."
To be visible and fabulous is her ultimate gift.
Zendaya is the epitome of the term #StayWoke. I just hope that her siren call of #BlackGirlMagic and positivity will wake up all those who choose to remain asleep.
---