While many Americans focus on Black Friday and Cyber Monday at this time of year, 12-year old Ethan Moran has been looking forward to this day — Giving Tuesday — for a long time.
Today, he and his mom, Allison Buckholtz, will head to Stepping Stones Homeless Shelter in Rockville, Maryland, to volunteer in the kitchen, play with the kids, read and share a meal with the families.
"All of us on Black Friday just think about ourselves and we don't think about the people who don't have the things we have," said Ethan, a seventh-grader who lives in Potomac, Maryland. "It's important to participate, especially in a homeless shelter because you get to give people something you have, instead of just getting something for yourself."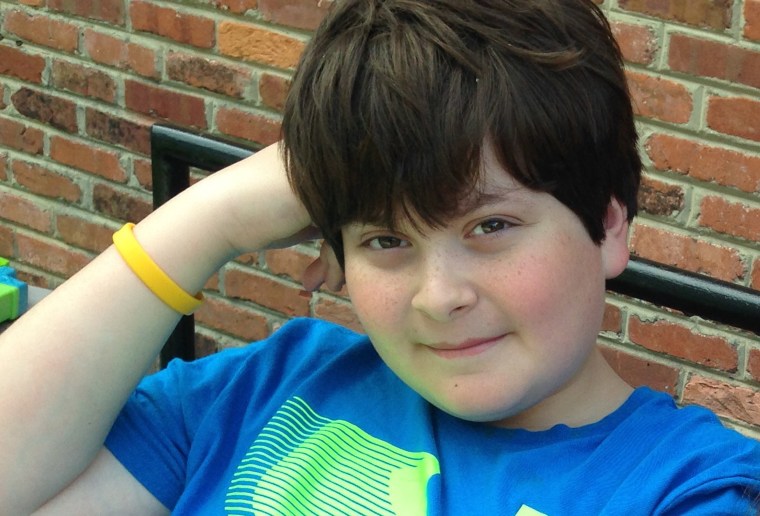 Giving Tuesday is relatively new. Leaders from 92nd Street Y, a nonprofit cultural center in New York City, started the campaign on Dec. 1, 2012, to highlight the charitable giving season.
The day to donate or volunteer has grown steadily since then and now opens the door, "for millions of people to think about how they can convert their passion into impact," says Kim Meredith, executive director of the Stanford Center on Philanthropy and Civil Society.
Related: What One 7-Year-Old Boy Does to Show His Gratitude to the Cops
The impact has been impressive. Buoyed by millions of tweets and social media shares, #GivingTuesday, by one estimate, generated $46 million in donations in 2014. It also can claim some credit for the 470 percent increase overall in online donations to charitable groups since its debut.
There's lots of room for the Giving Tuesday movement to grow, too. A survey by The John Templeton Foundation found just 18 percent of Americans are familiar with Giving Tuesday.
This year 35,000 nonprofits, government agencies, and businesses in almost 70 countries have signed on as Giving Tuesday partners, hoping to capitalize on the trending hashtag and media coverage of the nonprofit sector with unique campaigns.
For example, Dress For Success, a nonprofit that provides interview garb to low-income women to help them land jobs, is promoting #GivingTuesday along with their #GivingShoesDay drive in the hopes that more women will donate their professional shoes for disadvantaged job seekers.
There's also the #UNselfie. That's a picture highlighting a supported cause or organization rather than a selfie of your mug, designed to be shared far and wide on social media.
"It's a win, win for everyone," said Beth Kanter, author of Beth's Blog, a website devoted to helping nonprofits harness the power of social media.
Related: Tributes to 'The Kindest People We Know' Pour In
Meredith says the power of Giving Tuesday lies in its call to action.
"Giving Tuesday really makes it easy for people of all ages to come together and do so much for social good," she said.
For many people, that will mean giving money online to help a charity. But before clicking the donate button, donors should spend time looking for charities that truly resonate with their values and then research their impact, their events, year-end goals, leadership, social media engagement and board members, said Meredith.
It's also advisable to read the group's annual report and review the rating and financial statements on charity screening websites like Charity Navigator, GuideStar or GreatNonprofits, which Kanter describes as "Yelp for nonprofits."
Related: The Best Way to Give Money To Charity This Holiday Season
If the charity is new to you, start with a small donation and then see how the group engages with you following the contribution, Kanter advises.
"I don't want to be treated like an ATM machine," said Kanter. "I recently made a minor donation to a group and received a hand written thank you note from the executive director and that really resonated with me."
But better yet, get involved and volunteer your time, as Moran and his mom, Allison, will be doing Tuesday at the Maryland homeless shelter.
"It's a privilege to see people in need sharing what they have to give with each other, and they are able to do this because Stepping Stones provides them with the space and the resources to get back on their feet again," said Allison Buckholtz.
"As a regular volunteer, I get to see this dynamic every week, and watch the people there getting stronger and more independent."
Related: Complete Coverage of NBC News' Season of Kindness
Meredith hopes that Giving Tuesday will prompt more families to get involved and experience the innumerable benefits that first-person philanthropy provides.
Moran, the charitable seventh-grader, gives one example of the unexpected pay-back that a simple act of kindness can bring, recalling a moment that occurred during a visit to the Stepping Stones shelter.
"One time when I was leaving, the kids were sad that I had to leave and asked if I was coming back," said Moran. "When I told them yes, they cheered."