For years, a mystery enshrouded Gettysburg, Pennsylvania: Who was dropping gold coins into the Salvation Army's red donation kettles?
Each holiday season, a shiny South African Krugerrand showed up in Gettysburg bell-ringers' buckets. Altogether, the coins were worth more than $10,000 — and for 15 years, the generous benefactors managed to hide their identities.
"It made us feel good to give," said Dick Unger, who along with his wife Ruth Jean, revealed himself as the coin donor in December 2012.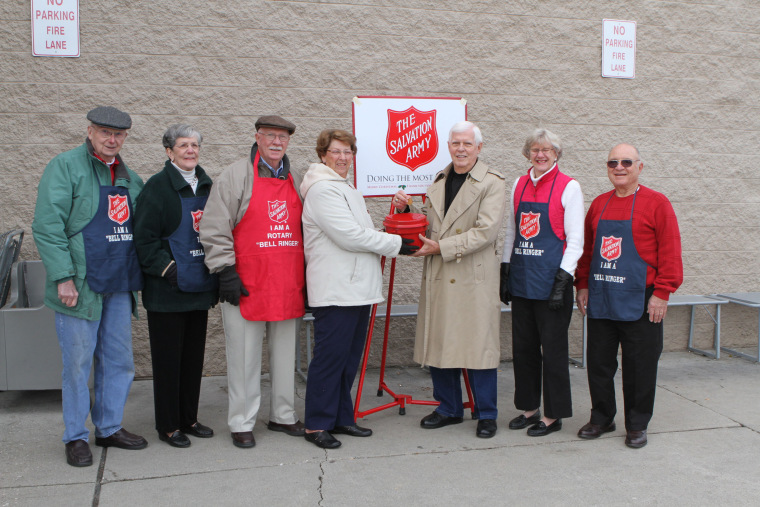 The Ungers, both 83, live in Gettysburg and spend their winters in Florida. Dick Unger, now retired, was in the Air Force and was a chief X-ray technician and a financial planner who had profited from stocks he owned earlier in life. Ruth Jean, his high school sweetheart, was a homemaker who has always been "very supportive" of donating to the Salvation Army and other charities, he told NBC News.
The idea to drop a coin into the Salvation Army kettles came to Unger when he bought six South African Krugerrands in the 1980s as an investment: one for each of his four daughters, one for himself, and one for Ruth Jean.
After a while, instead of keeping them in his safe deposit box, he thought it would be fun to plunk them into the Salvation Army's kettles with no note or any hint as to who had put them there.
When Unger ran out of the original six gold coins, he bought more to donate. As the price of gold skyrocketed, his donations became worth more and more. In 1997, the coin he slipped in the bucket was worth $287; by 2011, the coin was worth $1,700, reported Priority, the magazine of the Salvation Army.
As the monetary value of the coins went up, so did the buzz around Gettysburg.
"It felt real good because a day later or two days later, it was in the paper, so that made you feel good because somebody was making something of it," Unger told NBC News.
"It made us feel good to give."
But living in a quiet town with a population of less than 8,000 meant it was getting harder to keep their identities private.
So the Ungers privately came forward to C.K. "Kib" Roulette, 84 — the longtime Salvation Army kettle coordinator in Gettysburg — but asked him to keep the mystery going.
"We kept it a secret for quite a while, until it became difficult. People in the newspaper and so on, they knew that we had to know who it was. And we kept saying we didn't. And that charade went on to the point of ridiculousness," Roulette told NBC News.
Meanwhile, the Ungers' donations, along with the rest of the donations to the annual kettle campaign, were funding great causes: More than 100 kids got to go to a Salvation Army sleepaway camp in the Poconos each year; other children received 100 dollars' worth of clothes and school supplies; nursing home patients were getting gifts to brighten their days; homeless shelters were getting much needed money.
In 2012, with so many questions about who the mystery donors were, Roulette proposed revealing the Ungers' identities. The Ungers agreed, under one condition: that they could continue to make meaningful donations even after their identities were made public.
Gettysburg residents were "grateful, but not all that surprised," to hear that the Ungers were behind the kind act, Roulette said. Many had suspected all along it was them, since they donate to other charities as well.
Since outing themselves, the Ungers have continued their tradition, just in a different way: Each year since, they have donated the monetary value of a gold coin. They plan to do the same this year (a Kruggerand is now worth about $1,100).
"Some of the specialness has worn off because now it's just the money, but it's still special," Unger said.
Alexandra Ferber, a spokeswoman for the Salvation Army's Eastern Pennsylvania and Delaware Division, said the Salvation Army is "very, very grateful" to the Ungers.
In recent years, Ferber said, donations to the iconic red kettle campaign have gone down, likely because Americans are so reliant on credit cards and ATM cards that they don't carry as much cash in their pockets that they can give.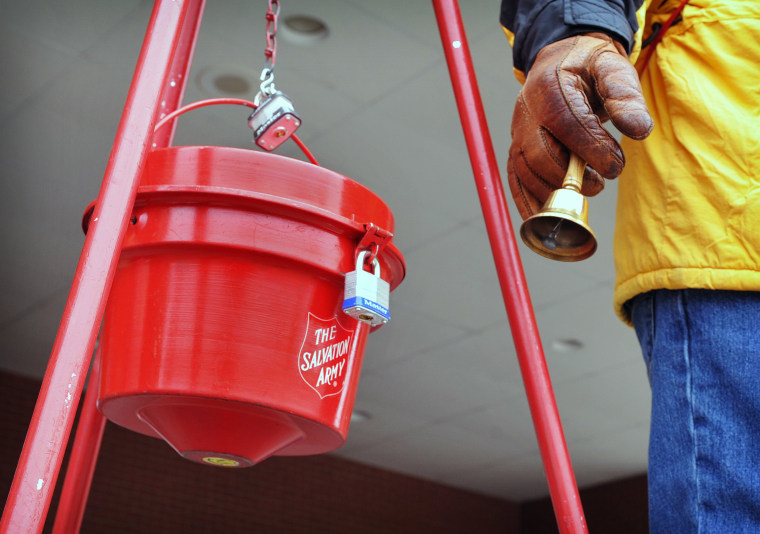 "Without folks like the Ungers, we wouldn't be able to do what we do," she said.
There have been many other instances of gold coins being found in the red kettles. Last year, for example, in Libertyville, Illinois, seven gold coins along with an unsigned note were dropped into a bucket.
For the Ungers, donating to charity has become a family affair. They've set up funds for their children, nine grandchildren, and five great grandchildren that can be used for philanthropic donations of their own.
"It just gives them a reason to look for people to give money to," Unger said.
This story is part of NBCU's Season of Kindness. Follow the series on Facebook,Twitter and Instagram. Read more from NBCNews.com at Season of Kindness. #ShareKindness