It's a classic holiday scene: Volunteers ringing bells — and sometimes singing and dancing — alongside their red kettles on city street corners.
Shoppers across the U.S., and in many countries around the world, are likely to pass such Salvation Army-sponsored acts of kindness this season. They might throw a dollar in the pot and wonder who benefits from the donation — or how much of the money actually goes to helping out the needy.
Here are 10 facts compiled by NBC News about the Salvation Army and their iconic red kettles:
1891: The first red kettle was set up by Salvation Army Capt. Joseph McFee, who was determined to put together a holiday meal for the hungry in his home city of San Francisco. In order to fund the project, he set up a pot at the Oakland Ferry Landing with a sign that read: "Keep the Pot Boiling." Six years later, the kettle idea jumped coasts and pots were set up in Boston. Nowadays, Salvation Army red kettles can be found in Korea, Japan, Chile and all over Europe.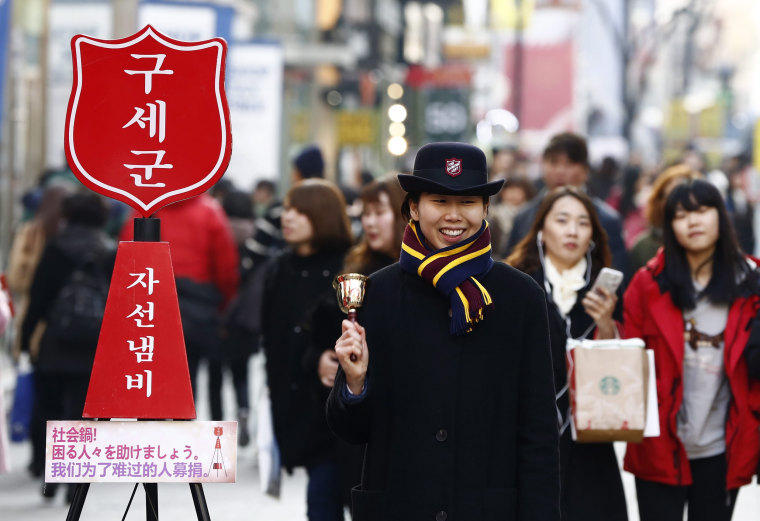 $144.7 million was raised in red kettles on the streets last year, Salvation Army spokeswoman Erin Kanter told NBC News. The money is used year-round by the Salvation Army to provide food for the hungry, disaster relief, assistance for disabled people, outreach to elderly and ill people, shelter and necessities for the homeless and opportunities for underprivileged children.
$24.91 million was raised through online "red kettles" in 2014, Kanter said. The Salvation Army launched online kettle donations and allowed people the opportunity to be "bell ringers" of their own virtual red kettles in 2007.
82 cents of every dollar donated to The Salvation Army goes toward program services. The average charity spends 75 percent of their budget on programs, while the remaining money goes to cover overhead costs like fundraising, Sandra Miniutti, with Charity Navigator, told NBC News. The Better Business Bureau mandates that charities spend at least 65 percent of total expenses on program activities.
Related: Minnesota Couple Drops $500,000 Check Into Salvation Army Kettle
25,000 red kettles are set up in cities and towns across the U.S. from late November to Christmas Eve. Many are attended to by "bell ringers" who work two-hour shifts, and the Salvation Army also offers paid bell ringing positions to people seeking extra income over the holidays, Kanter said.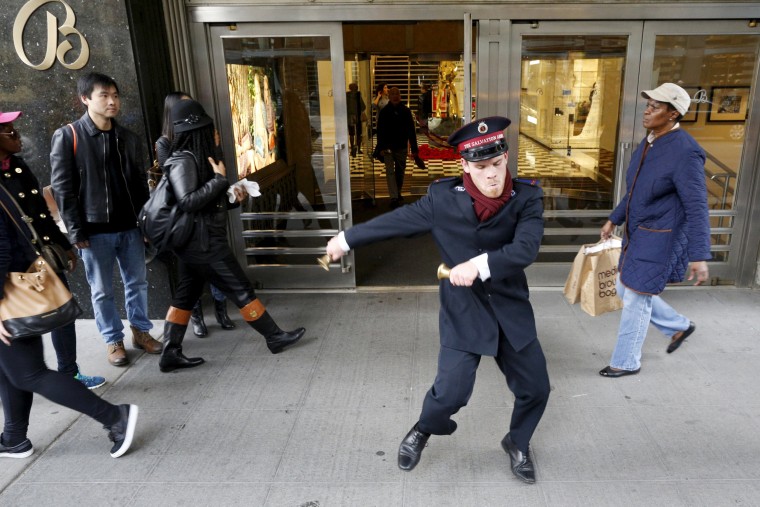 4.5 million families are provided with food, shelter, clothes and gifts by the Salvation Army during each holiday season. Holiday outreach is only a fraction of what the Salvation Army focuses on year-round.
7,600 Salvation Army centers provide aid in 5,000 communities nationwide. The Salvation Army serves in nearly every ZIP code in the U.S., according to the organization. Money raised in each community, in red kettles and throughout the year, stays within those areas to help local people in need. The Salvation Army also has a worldwide presence in 127 countries around the globe.
Related: Mystery Salvation Army Donors Keep Giving, Even After Identities Revealed
27,167,320 people were helped by the Salvation Army in 2014. That's just under one person, every second of every day. The Salvation Army says it meets human needs "regardless of gender, race, sexual orientation, physical disability, age, creed or religion."
3.3 million people volunteer with the Salvation Army, working alongside the charity's 63,000 employees.
100,000-plus #RedKettleReasons were shared this year during the Salvation Army's social media campaign. "Because I've seen firsthand the difference it really makes," tweeted one participant. "Because hunger is curable," tweeted another.