Zachary Becerra loves superheroes. But for this 7-year-old, there are no greater heroes than New York City's police officers.
Zachary was struck by the shocking murders of Officers Wenjian Liu and Rafael Ramos, who were gunned down in cold blood as they sat in their patrol car in Brooklyn's Bedford-Stuyvesant neighborhood in December.
"We went to where it happened, and he actually started to cry," said the boy's mother, Rosa Ortiz. "He said, 'I want to do something.'"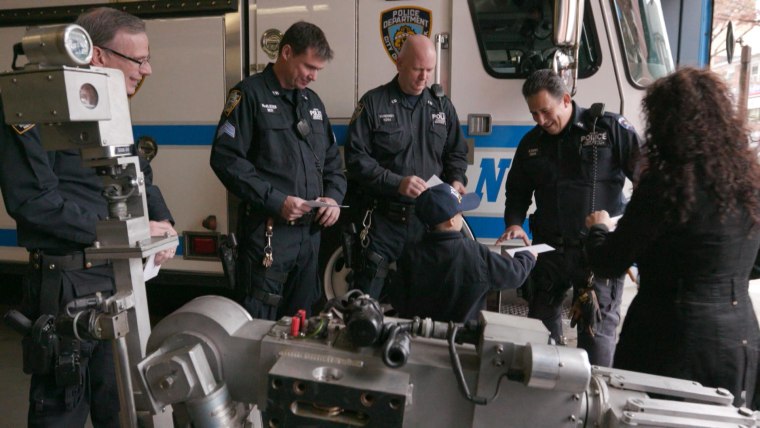 Zachary and his mother started brainstorming how they could show their support for the NYPD. Ortiz thought of making thank you cards. Zachary agreed but only on one condition: that the cards were superhero-themed.
Ortiz thought they'd take the cards to their local precinct, but Zachary had bigger plans. He wanted to take the cards to every precinct in the city, to all of the NYPD's 34,500 officers.
They come with thank you cards for officers, who on a recent trip to the 109th precinct in Queens were thrilled to meet the boy who has become well known amongst the force.
"It's a moving show of gratitude," said Thomas Conforti, commanding officer of the 109th precinct. "It means the world [to police officers]."
When Zachary enters precincts, he is often welcomed with gifts and standing ovations. He looks at the officers the way young boys look at sports stars or entertainers. These are his heroes, and he hopes to be one of them someday.
"As a mother, we try to help our kids and encourage them," said Ortiz. "This is what he wants to do."
This story is part of NBCU's Season of Kindness. Follow the series on Facebook, Twitter and Instagram. Read more from NBCNews.com at Season of Kindness. #ShareKindness