CIRCLE, Mont.—Sally Hickok wasn't planning to spend money on Main Street, even if it was Garage Sale day in this small town on the eastern prairie. The 56-year-old judge had no need for a used prom dress or a second-hand porta potty. But once inside the community center, she started chatting with neighbors, who were selling the town's junk for charity—and she walked out with six half-empty bottles of colored nail polish.
She can't exactly say why, but it isn't so complicated: there's just something different about shopping on Main Street, that wide and inviting roadbed that seems to run through the marrow of America. It's a place where you don't just run errands, you create community. And if you are anything like Sally Hickok, you buy that old toe paint because it's the neighborly thing to do.
The Main Street in Circle is a classic small town commercial strip, one that just so happens to be further from a Starbucks store than any other Main Street in America. But more to the point of what Main Street means today—the subject of a special project by NBC News—Circle is in the middle of not only a local fight for survival, but an explosive debate over the future habitability of the planet. (Yes, the planet).
The town hangs like a charm on the proposed route of the Keystone XL, a pipeline that would double the flow of oil from Canada to American refineries in Texas. This $6 billion steel straw would dive under Montana, South Dakota, and Nebraska, before joining an existing southern leg that connects to the Gulf Coast. This alone requires hundreds of private land owners to sign off, no easy political feat. But because the pipeline also crosses an international border, it requires what has so far eluded TransCanada, the project's developer: a presidential permit.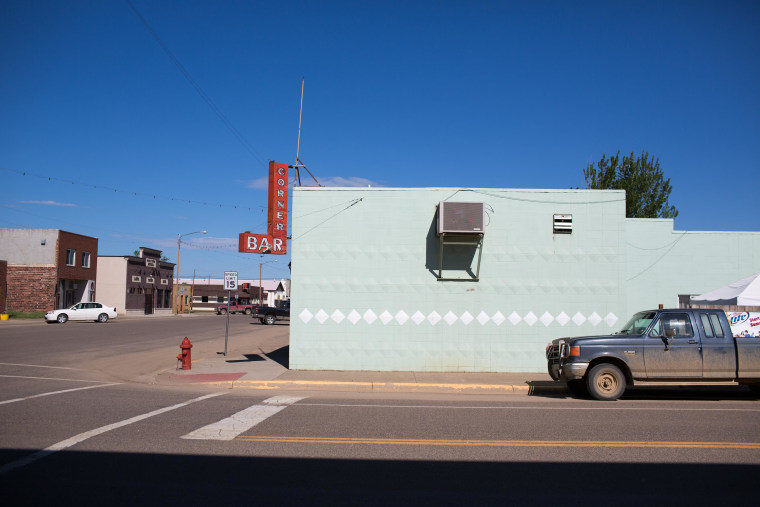 Recently, after a tortured half-decade-long process, the Obama administration pushed off its decision indefinitely. The State Department said it needed more time to review a record number of public comments and watch a Nebraska court case that could redirect the pipeline's path through the state.
Activists rejoiced because to them the pipeline is an attempt at global suicide. It's designed to slurp the tar sands of Alberta, a repository of heat-trapping carbon so large it could tip the earth toward catastrophic climate change, they say. Tap it, in the words of James Hansen, the former NASA climate scientist, and "it's game over for the planet."
If we don't tap it, however, it might well be game over for a whole necklace of small towns and Main Streets along the pipeline's route, Circle chief among them. The eastern part of Montana used to thrive by local standards. Built up by turn of the 20th century homesteaders, it soon supported the country's largest outlet for John Deere farm equipment, according to local lore.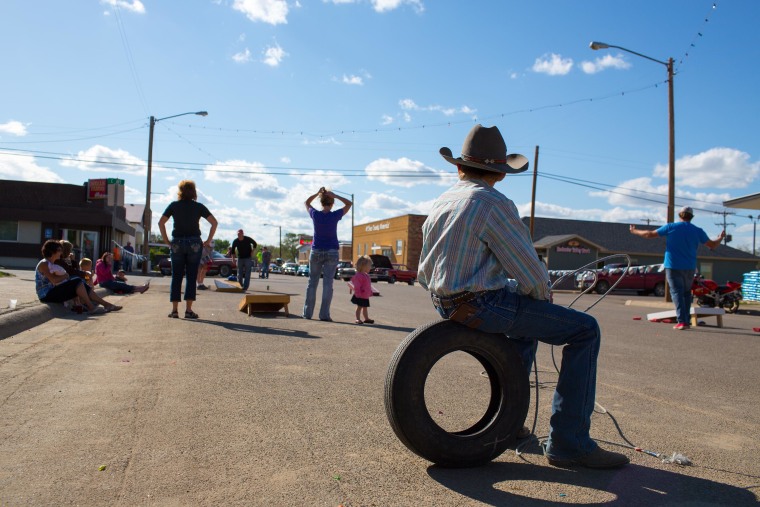 But more recently the area has been caught in a spiral of decline. As costs have risen, farms have grown in an effort gouge out efficiencies and diversify, but fewer people are around to work the extra land and added crops.
Since the 1960s, Circle has lost half of its population to moving vans and the mortuary, and Main Street looks like it's missing a few teeth. From certain angles and when the light is right, the four-block thoroughfare gives off that old, mellow glow. But more often it feels as desolate and lonely as the suburbs on a weekday afternoon. The movie theater is closed. The bowling alley has no lanes. In the center of town, the Gladstone Hotel is a 99-year-old historical landmark with weeds growing through the floor.
"If there is no pipeline, there is no future," said Denny Hogan, the commander of VFW Post 4813. "End of conversation."
As though to make his point, Hogan was sipping a Bud Light alone inside his post's expansive public bar, which sits next to some unused rail-road tracks on the east end of Main Street. A sign outside boasted of "The Coldest Beer in the County," but that was before the bar's prize-winning refrigerator broke down and gained a few degrees. As Hogan talked, the light over the pool table swung gently side to side and the juke box went periodically silent as it searched for another song.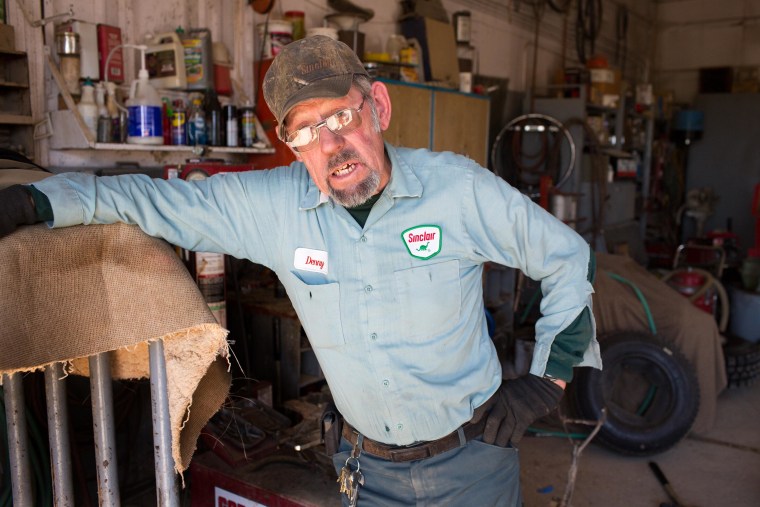 At 63, he is old enough to have seen Circle at its peak, a bustling hub town of 2,000 people, most of them making a living as ranchers and farmers, equipment sellers and mechanics. Every day a train chugged in empty, and chugged out full of grain or wheat or oats. After a mini Montana oil boom in the 1960s, he said, the town had seven churches, seven gas stations, and God knows how many bars. These days, he added, flicking his head once toward the door, it's dead and getting deader.
"Main Street used to be busy," Hogan remembered. "You had to look both ways."
Three blocks west, and up a gentle hill, the county commissioners offered no excuses. "Main Street is gone, and it needs to be rebuilt," said Connie Eissinger, one of three elected executives for McCone County, where Circle is the county seat. Her desk is on the ground floor of an old courthouse, next to an old walk-in safe now used to store office supplies. Her colleagues Jim Moos and Janet Wolff have desks in the same room, and on the wall above them is a small studio portrait of the area's founding father: an enterprising ranch hand who marked cattle with a circular brand. To this day, McCone County has more cattle than people.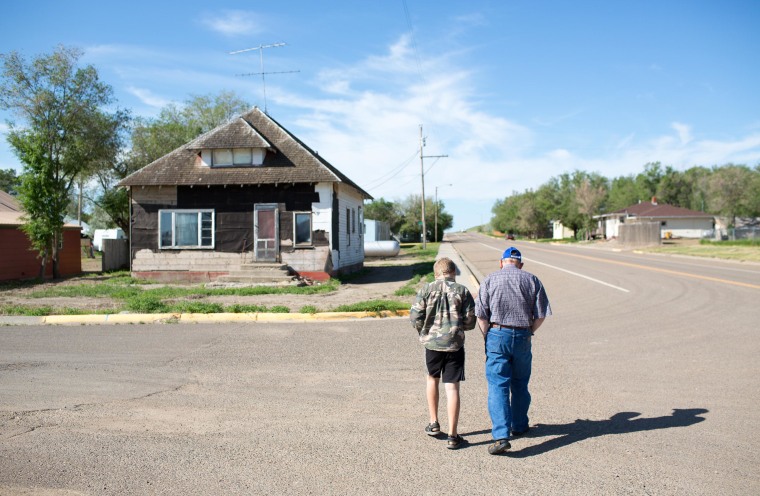 But it's only in the last generation or so that Circle has shown signs of social collapse, the commissioners say. They range in age from 62 to 71, and they remember a Main Street of unlocked doors, cars with the keys in the ignition, and cherry soda at the drug store. Their Circle High graduating classes were at least three times the size of the 2014 cohort, and, they reckon, three times as many of their peers stayed on to work their family farms.
"We've already lost two generations of young farmers," says Moos, who himself is a third-generation rancher and farmer. "They leave and they don't come back."
There's still a John Deere dealership in town, with $150,000 tractors lined up like blue collar Bentleys just a block from Main Street. On a recent afternoon, the manager offered a tour of the inventory. While he's a booster for Circle's future, he mentioned that John Deere is testing automated tractors, essentially drones to do the work of a lost generation of farm boys. "Everyone is moving away," he shrugs. "There ain't enough people to sit in these things."
The commissioners believe the Keystone XL could snap that trend, and they are hardly alone in Montana. The pipeline would part the prairie in six counties, and every one has already endorsed the project. One commissioner calls it a "God-send." Another struggles to come up with single person in his area that opposed the line, which isn't as hyperbolic as it might sound. TransCanada has signed easements with every landowner on the pipeline's proposed path through Montana and South Dakota, according to Bud Anderson, TransCanada's stakeholder relations representative in those states. Nebraska still has cork in the bottle, he said, but the rest of the Northern Plains is all fizz.
In McCone County the tax jackpot would be worth a Montana-high $18 million, according to the state. In other words, TransCanada would instantly become Circle's largest taxpayer, doubling the base in year one, and flooding the prairie with thousands of new jobs, according to the Obama administration.
About 1,500 of those would pipeline-related, mostly in construction, and probably lasting only a year or two. But another 2,200 jobs are expected to grow from those, giving McCone County the equivalent of several years of paydays and clanging cash registers in a single dose. What they do with that influx of wealth will help determine the county's fate.
"I know exactly how to spend that money," said Connie Eissinger, who is looking forward to a black bottom line after almost two decades of hard choices. She would like to put a wheelchair ramp on the courthouse; rehab the town library, which has a basement full of ground water; hire cops and road workers; and still have enough money to truss up the fairgrounds, build a new medical center and recruit new businesses to Main Street.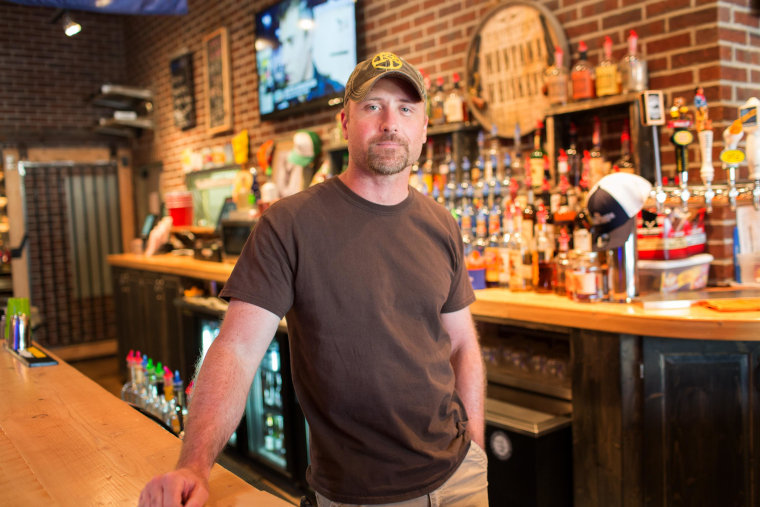 Already, the mere idea of the pipeline has brought home a local golden boy. Terry Pawlowski grew up in a farming family, went to school, and then spent his 30s traveling the country as an engineer. A year ago he opened Round Towne, a shiny new restaurant and bar on Main Street. He said it wasn't only because of the pipeline, but so far business has been so-so, and he can't help but dream of a time when TransCanada's glorified ditch diggers are three-deep at the bar with oil money to spend.
It's the kind of all-money-is-green approach that infuriates opponents of the pipeline, who themselves say the kind of things that infuriates many Montanans. There have been some flares of homegrown opposition to the pipeline in McCone County, most of it from ranchers and farmers, and all of it fair game for debate on Main Street. Is a few years of prosperity worth a planet on the brink? That's the mantra of those who oppose the pipeline from the coasts.
But throughout eastern Montana the opposition seems to be rooted more in a fear of spills and despoiled land than the droughts and downpours of climate change. And even this opposition seems to have receded.
With help from a local organizer, NBC News contacted five Montana landowners, all of whom regret signing easements with TransCanada. None were interested in talking for the record. They still think the pipeline is a bad gamble, likely to leak and devalue the land in the long term. And they still feel like they had to sign or else lose the land in an eminent domain battle (although TransCanada says it did not threaten landowners with legal action). They are, in short, still angry and hope the pipeline dies.
But they know when it's time to let their case rest. They realize that they are in the minority, as a matter of opinion, and that a lot of their neighbors need this pipeline to stay afloat. They are neighbors and friends, in other words, and they know when it's time to be a good one of both.
"Something's got to happen," says Larry Cornelia, Circle's 56-year-old part-time mayor, "because otherwise this little town is going to keep on struggling."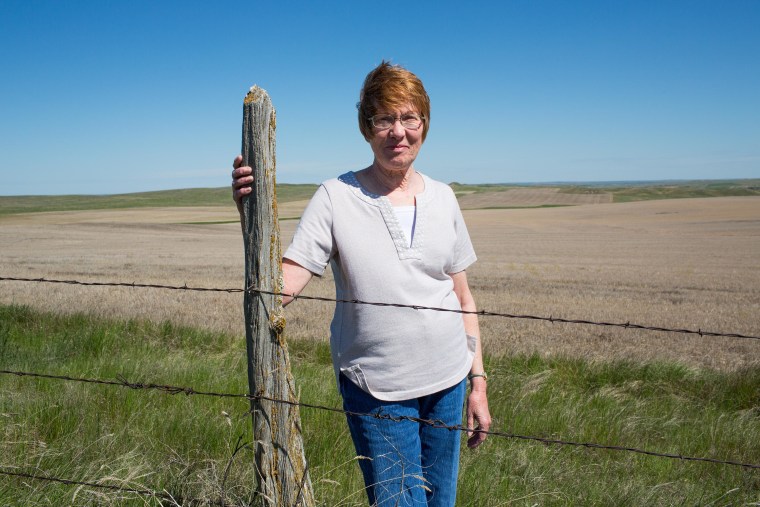 One afternoon Janet Wolff drove out of town, turned down a few miles of dirt road, and stopped her car next to a weather-beaten wooden fence. "There," she said, pointing to a corner of her wheat fields. "The pipeline would come through there, run up under this road, and continue on in that direction."
She's thrilled with the idea, and so is her husband. They signed the easement but not for the money, which TransCanada paid up front, and they don't feel at all duped or mistreated. They live in a cheerful, grandkid-friendly house that wouldn't be out of place if a tornado blew it to any suburb in America. But unlike some parts of America, they think that climate change is "a hoax," and the pipeline is "progress."
Like a lot of issues in the American west, the pipeline debate is about more than the pipeline. For those in favor, the pipeline is about the coasts once again trying to dictate to the middle and then living thousands of miles away where the results of that dictation don't really matter. Save the planet? Ok, sure, say Montanans: but how do we save ourselves in the meantime?
As another long day of blue sky faded to night, traffic closed down on Main Street and a stage sprung up, flanked by hay bales. Kids roamed in packs, and adults drank in pairs, talking and wiping barbecue sauce off their fingers. There, on the same stretch of asphalt that put Sally Hickok under a buying spell, the town of Circle gathered to celebrate the start of summer.
Not so long ago, it might have also been the start of digging. Next year it might be to celebrate the start of something else. As the 79-year-old wife of a rancher put it between twirls along the center stripe: "We've been dancing a long time."