The biggest report in 15 years on the status of America's health is getting a lot of attention today for its findings that Americans are not much healthier than we were a decade ago, and the fact that the U.S. is still far behind other wealthy nations when it comes to health.
What also jumps out in this report is American health and American wealth. The study authors did not mention economic conditions in their report, and making connections is complicated, but consider this:
The study found that people who live in a rich area like San Francisco, Colorado, or the suburbs of Washington, D.C. are likely to be as healthy as their counterparts in Switzerland or Japan, but those who live in Appalachia or the rural South are likely to be as unhealthy as people in Algeria or Bangladesh.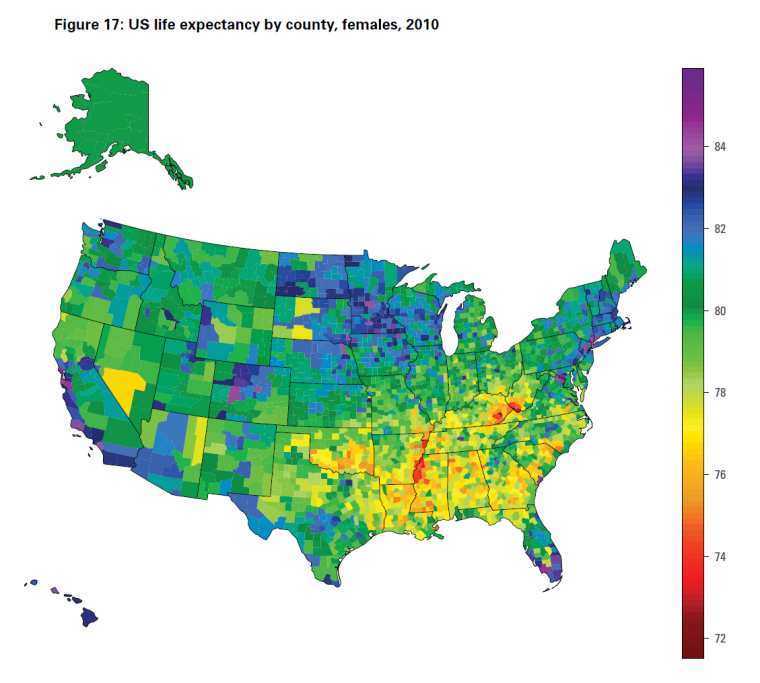 For example, women in Marin County, California, where the median household income is $89,605, have the highest life expectancy -- 85 years -- while women in Perry County, Kentucky, with median income $32,538, have the lowest life expectancy – just under 73 years.
Men living in wealthy Fairfax County, Virginia, median income $108,439, have a life expectancy of almost 82 years, while men in nearby McDowell County, West Virginia, where the median household income is $39,550, had the lowest life expectancy in the country – 63.9 years.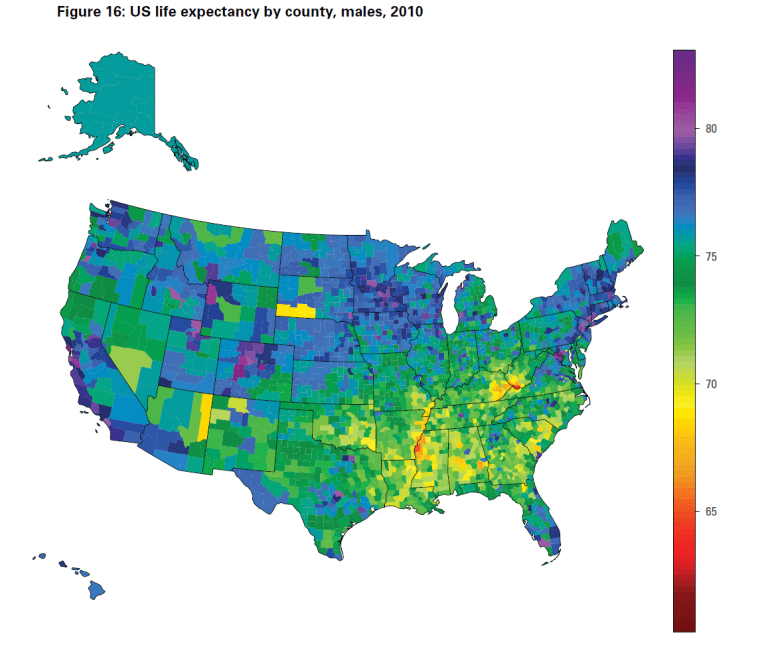 "That's about the same as a number of poor developing countries," Dr. Christopher Murray of the University of Washington, whose team did the study, told NBC News, and the report finds the gap between the U.S. counties with the highest and lowest life expectancies is only getting wider.
Obesity, a major risk factor for disease and disability, is most prevalent for men in Owsley, Kentucky and women in Issaquena, Mississippi; obesity rates for men are lowest in San Francisco and for women in wealthy Falls Church, Virginia.
NBC's Chief Medical Editor Dr. Nancy Snyderman calls the report "a scathing look at demographics," calling the findings "almost death by zip code."