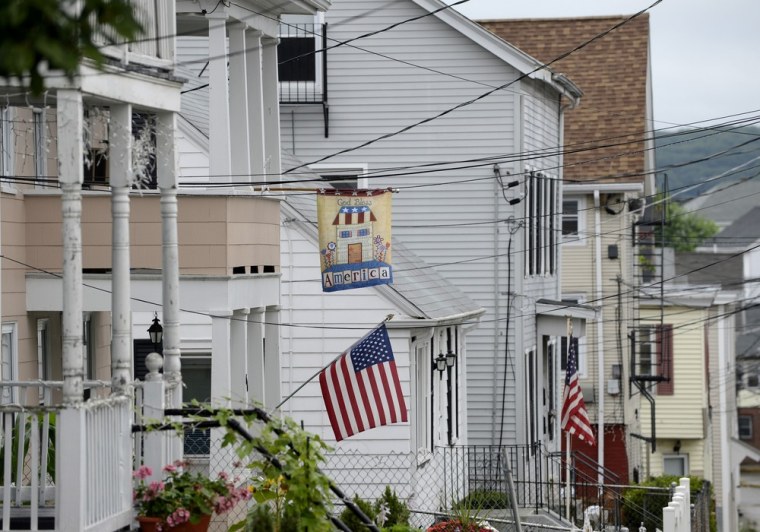 In a small mill town in New England, dozens of retired policemen and firefighters are feeling the pain of what they see as a broken promise, offering a glimpse into what could happen to thousands of public workers in Detroit facing massive reductions in pension payouts after the city's declaration of bankruptcy.
Donald Cardin became a firefighter at age 20 in Central Falls, R.I., a town just north of Providence that filed for bankruptcy in 2011. He was making $60,000 a year as a fire chief before retiring at age 42 in 2007 to take care of his wife Lana, diagnosed with thymic carcinoma, a rare cancer with extremely low survival rates.
The couple relied on Cardin's health insurance, which required no copay, to cover Lana's $8,000-a-month treatment. Cardin worked a part-time contracting job to make up the difference between his $34,000-a-year pension and his former salary.
But that all changed in 2011 when Cardin, and his fellow firefighters and policemen, were called to a meeting at the local high school, where state-appointed receiver Robert Flanders warned them that the city would not have enough money to survive if pensions were not cut. Weeks later the city would file for bankruptcy.
"After a lifetime of service, with the stroke of a pen, Judge Flanders changes the rest of our lives and doesn't care," said Cardin.
Bruce Ogni, 53, president of the Central Falls Police Retirees Association, won't forget that day, either.
"All of a sudden they dropped this on us. There was no real negotiation. Flanders came in and said the city is in big trouble, we need half your pension and your medical," he said.
'Like I've been robbed'
Beyond trouble covering medical bills and basic needs, former public servants say their golden years have been stolen from them. After a lifetime of working to save the lives of others, the ability to enjoy their own lives has vaporized.
Joseph Laurie, 62, who worked as a fireman for 35 years, said, "I feel like I've been robbed."
"We do nothing anymore," Laurie said. "We can't afford to go out and eat, we can't afford shopping, we have no hobbies, we can't travel. We're basically stuck in our house."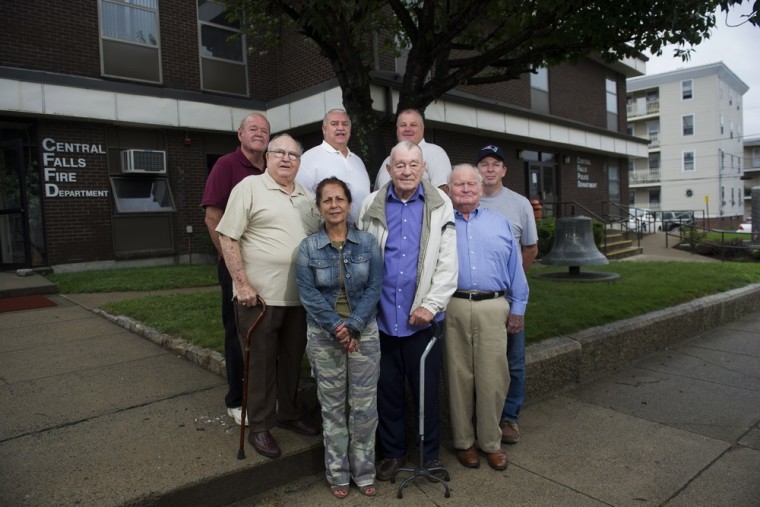 Central Falls' 19,000 residents are tucked into barely more than one square mile. The little city has coped with high poverty and crime and in 2011 found itself with a structural budget deficit of $6 million, along with $80 million in unpaid pension and health insurance benefits owed to the city's retired workers. 
Cardin believes that the city owes him and his colleagues the money they deserve, and that the services provided by him and his men should not be taken for granted.
City officials tasked with rescuing the city from financial oblivion said they had no choice.
"The city was running out of cash to meet its obligations and was literally going to be defaulting on obligations to run the city and take care of the retirees it was trying to pay," said Flanders, who is now a partner at the law firm Hinckley, Allen, & Snyder.
As a result, Flanders proposed cutting back on pension payments and health insurance for retired workers, asking former police and firemen to take a 55 percent cut to their annual pensions. During negotiations to avoid further litigation, the state agreed to allocate $2.6 million for pensions in Central Falls, allowing retired policemen and firefighters to keep 75 percent of their pensions for the first five years after the city filed for bankruptcy. In 2016, pensions will again be cut to 55 percent. 
"You have to figure out what we absolutely need to run the city. We have to have firemen, we have to have police, but we don't need open pools, and for those who are retired, we don't necessarily need to make those payments," Flanders said.
"It's painful to do this, but when you have to make hard choices like that, the choice is always going to be in favor of current services opposed to past obligations."
The cutbacks left retired police and firefighters feeling angry, betrayed, and scared for the future. 
Beyond learning their pensions would not be paid in full, the retirees were no longer protected by the labor union. They would have to get together and hire their own attorney if they wanted to challenge the city — an additional cost they would have to pick up.
With a wife and twin boys to care for, Ogni lost $1,200 a month and had to pay additional fees incurred by his wife's health insurance. Eight months ago, Ogni's wife was diagnosed with breast cancer, adding more medical bills to the family's worries.
"It's degrading to me as a man. I'm supposed to be the father in this family. We were doing OK with my pension, but losing 12 hundred a month and now her health, that's a lot," he said.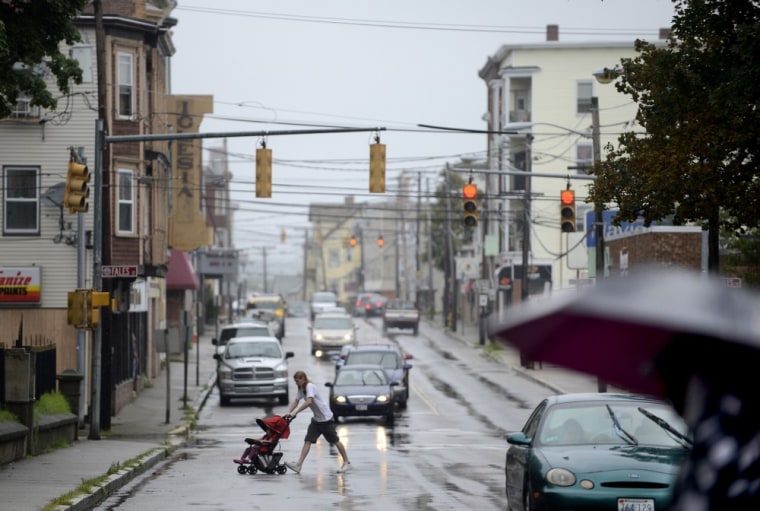 "I would love to give my children more than what I had. It's hard to sit here and tell my children if you do the right thing in life you'll be all set. I did the right thing. I did what I loved."
Ex-fireman Laurie and his wife, Kathleen, live off disability from social security (which he receives from previously working part-time jobs in addition to his service as a fireman) and a $19,000-a-year pension — down from $39,000 before the cuts.
The Lauries makes just enough money not to qualify for public assistance, but the $2,700 the family brings in each month barely covers their $2,300 in monthly bills.
"If anything comes up out of the ordinary, that's money we have to take out of our savings," said Laurie. He added that the family has already made a dent in their nest egg.
Another retiree, who out of respect for his wife and children preferred not to be named, had to voluntarily surrender his home to the bank.
After putting four children through private school, and with one daughter still in college, they made the choice to give up their three-bedroom home of 25 years, after the pension cuts.
"We took the best way that would create the least personal damage for us," the retiree said. "It was devastating."
A 'haircut' rather than a 'beheading'
Flanders said he did what he had to do to save the city, and that it was impossible to sustain a culture where people work for a while, retire and get a nice pension and generous health benefits that cover everybody and their survivors for life.
"The city was running out of cash. Something was better than nothing and a haircut looked a lot better than a beheading," Flanders said in regards to the city's retirees.
"He gave us a scalping, he didn't give us a haircut. There was no haircut. That's his famous line," the retiree who lost his home said, with a chuckle.
A little over a year after filing for Chapter 9, Central Falls emerged from bankruptcy.
"I think there's a new spirit of optimism that has engaged the city and I think most people there would say as painful as bankruptcy was it's put us in a better place to move forward and have a brighter future," Flanders said.
Despite the city getting back on its feet, retirees still wonder how they will survive with more cuts looming in 2016.
"In 2016, I'm done. I'm dead." Joe Laurie said. "I'll be on the street."