An 11-year-old Pennsylvania girl who received two double-lung transplants after her parents challenged the nation's organ allocation system is back at home, more than two months after the life-saving operations. 
Sarah Murnaghan left Children's Hospital of Philadelphia for the first time since February on Tuesday morning, arriving at her Newtown Square home to a crowd of well-wishers, balloons and welcome signs. She was carried to her family's porch later in the day, dressed in a pink top and flowered shorts, where she waved weakly and told reporters she felt: "So-so."
"Sarah's looking forward to being a regular little kid," her mother, Janet Murnaghan, said at a news conference Tuesday afternoon. "We're looking forward to Sarah having a nice long life."
The child with end-stage cystic fibrosis received the lung transplants in June after a federal judge intervened on her parents' behalf and allowed her to be considered earlier on the adult lung transplant list for her region. The move sparked a furious national debate about lung transplant allocation and changed the way the Organ Procurement and Transplantation Network considers cases of severely ill children waiting for the transplants. 

A first set of lungs failed, and Sarah received a second set three days later.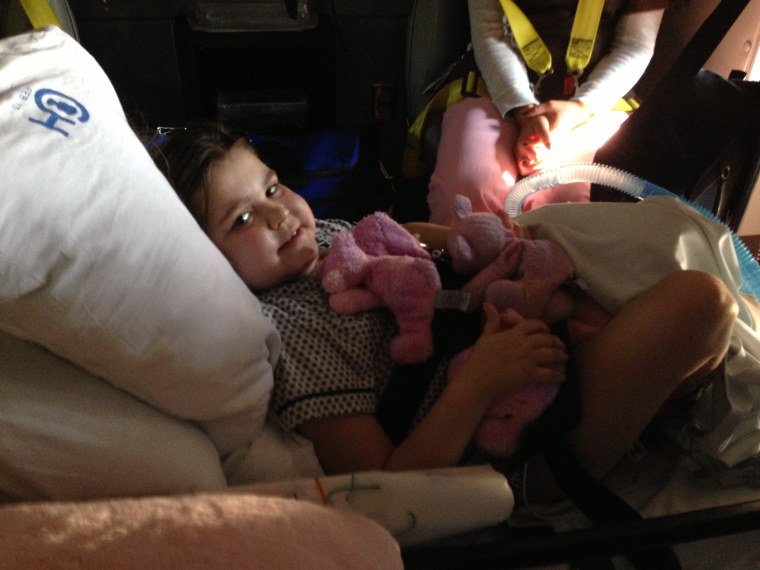 Sarah has improved enough to be free of oxygen for the first time in 2 1/2 years, though she still needs some help from a machine to breathe, she's walking short distances on her own and engaging in physical therapy to gain strength, according to her mother, who has posted updates about her daughter to Facebook. Tests of lung tissue showed no sign of rejection, the mother wrote. 
"The lungs look beautiful," Janet Murnaghan said. 
The family expects Sarah to continue to grow, to go to college, to marry, her parents said. In the near future, the fifth-grader will be schooled at home. 
The family of a second child, Javier Acosta, 11, also petitioned to be considered earlier on the adult transplant list. A spokeswoman for the family did not have an immediate update on his condition. 
Watch the live stream of the family's press conference.

In addition to Sarah and Javier, at least four other patients have applied for and received approval to be considered on the adult lung transplant list based on the severity of their illness, said Anne Paschke, a spokeswoman for OPTN. Sarah received two transplants after the approval. Two other patients each received a transplant from the original pediatric list and the three remaining children are still waiting. The option remains in effect until next June, Paschke added. 
As of Monday, there were 119,270 people on the waiting list for organs in the U.S., including 76,345 who are actively waiting, according to OPTN. (Some transplant candidates are temporarily classified as "inactive" by a transplant center because they are medically unsuitable for transplant or need to complete other eligibility requirements.) The overall figure includes 1,648 people waiting for lungs. Twenty-five of them are children aged 10 and younger. 
Sarah's parents, including her father, Fran Murnaghan, vowed to continue efforts to allow the sickest children to receive lung transplants first. 
"We're not letting go of this," Janet Murnaghan told a crowd of reporters and supporters Tuesday. "Sarah's not giving up and we aren't." 
The Murnaghans have three other children, Ella, 8, Sean, 7, and Finn 4. The family has declined to answer questions posed by NBC News about the costs of Sarah's care or how they paid for it. Supporters have donated nearly $18,000 to the family through the site GoFundMe.com. 
Sarah's parents took time to thank the two people whose deaths provided the child's lung transplants. 
"Without people like Sarah's donors, we wouldn't have any of this," Janet Murnaghan said. 
JoNel Aleccia is a senior health reporter with NBC News. Reach her on Twitter at @JoNel_Aleccia or send her an email.