Sheer boredom has been cited as a motive in the murders of at least four people in recent years, including Friday's fatal shooting of an Oklahoma college athlete, and leading experts on teen violence say that reason may be quite real in the minds of some youthful killers.
A handful of young homicide suspects and convicted killers have in recent years told authorities they were pushed by boredom to willfully take a random life -- and that state of listlessness may have ignited an urge for lethal excitement, said juvenile homicide expert Phil Chalmers, author of "Inside the Mind of a Teen Killer."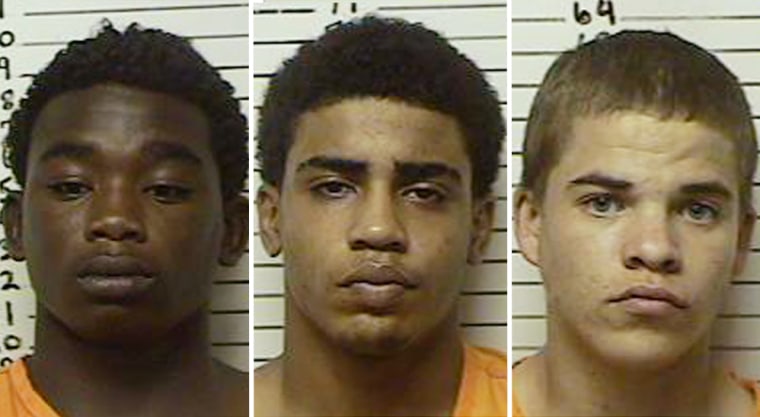 "I don't think it was an excuse. I think they are being honest about being bored," said Chalmers, who has interviewed more than 200 teen killers. "I would call (the latest attack) a gang killing by thrill killers," he said. "Thrill killing is killing someone to experience the act of murder. Just for fun." 
Christopher Lane, a 22-year-old Australian who was living in Oklahoma to play college baseball, was shot as he jogged during a visit to his girlfriend in Duncan, Okla. One of three teenagers being held in the case told police the suspects were "bored and didn't have anything to do, so we decided to kill somebody," Duncan Police Chief Danny Ford told The Associated Press. 
"They saw Christopher go by, and one of them said: 'There's our target,'" Ford told the AP. "The boy who has talked to us said, 'We were bored and didn't have anything to do, so we decided to kill somebody.'" 
On Tuesday, James Francis Edwards, 15 and Chancey Allen Luna, 16, were charged with murder. The third teenager, Michael Dewayne Jones, 17, was charged with being an accessory to murder after the fact and with firing a weapon. All were charged as adults, according to the Stephens County District Attorney's Office.

The possibility of a thrill killing is "very conceivable," agreed Dave Cullen, who has done in-depth research on the Columbine High School massacre, but he cautioned that because the statement released by police seems to have come from only one of the three suspects, it may not represent a true group decision. Gangs of three killers are "really uncommon," he said.

"It could be whoever the shooter was had vastly different motives of the other two," said Cullen, author of "Columbine," which explored the 1999 mass shootings by two teenagers.
Blaming boredom for the killing may also be masking a different motive, Cullen suggested.
"What I hear from that [boredom] statement is more like, 'People mean nothing to me,' or 'I enjoyed this.' What I hear is an extreme lack of empathy, an extreme callousness that people can't even conceive of, and then explaining it away by slapping boredom on there," Cullen said. 
After at least three other recent murders, the killers blamed their acts on boredom.
In 2010, six teenagers fatally stabbed 25-year-old pizza chef Mathew Chew in New London, Conn. They told authorities they did it because they were bored. All six were convicted and sentenced to prison.
In 2008, 22-year-old Jeromie Cancel suffocated Kevin Pravia, a Pace University sophomore, in the victim's Manhattan apartment by wrapping a plastic bag and cord around his head. Prosecutors said Cancel told them he murdered the college student because he was bored. Cancel later was sentenced life in prison.
In 2006, in the United Kingdom, 19-year-old Stuart Harling, 19, fatally stabbed Cheryl Moss after the nurse took a break from her hospital job to smoke a cigarette. Harling was sentenced to life in prison in 2007. A prison guard later testified that Harling had said he'd committed the murder out of boredom.
While the Oklahoma police initially pointed out the statement about boredom, a motivation which can make the shooting seem even more frightening due to its randomness, "there are hundreds of possible scenarios," Cullen suggested. 
"Maybe he couldn't really explain himself at all and wasn't really prepared to and so he thought he was going to at least act cool in the moment," Cullen added. "Maybe he didn't know what the hell else to say, so he just throws out something like that."