Editor's note: This is the first story in NBC's series "Quest for Care" exploring the shortage of health care providers as the Affordable Care Act rolls out. 
DEXTER, Ore. -- It's 8:15 a.m. on a warm July Wednesday and the parade of patients is already lining up for Mary Fey, a family nurse practitioner on the front lines of health reform in this rural community 100 miles south of Portland.
There's the 32-year-old guy with a Hobo spider bite and high blood pressure, the 61-year-old with a sore shoulder from a tractor accident, the 9-year-old with allergies, the 91-year-old with dementia.
They all come to Fey, the sole primary care provider for nearly 30 miles in this region where doctors are in short supply – and the January launch of Obamacare is expected to make it worse.
"I'm pushing 1,500 patients now and that's going to increase," said Fey, 58, who refers to the coming changes as "the onslaught."
Like nurse practitioners across the U.S., Fey is girding for the onset of reforms put in place by the 2010 Affordable Care Act, which offers some 32 million Americans new access to health insurance -- but no guarantee of access to care. 
"It will be better, but it's painful to get to something better," said Fey.
Experts estimate the U.S. is already short more than 9,000 primary care physicians, a number expected to rise to 65,800 by 2025, according to the Association of American Medical Colleges.
If newly insured Americans are going to get care under the federal health overhaul, it's Fey and her colleagues who will have to help fill the gap, analysts say.
'Huge, huge solution'
"To me, nurse practitioners could be a huge, huge solution to this problem of primary care shortage," said Dr. Thomas Bodenheimer, a professor of family and community medicine at the University of California, San Francisco, School of Medicine.
NPs, as they're sometimes known, are registered nurses who hold graduate degrees and can perform virtually all of the functions of front-line family doctors -- depending on the laws of the state they're in.
"They can do 90 to 95 percent of what the docs can do," said Bodenheimer, a medical doctor who practiced primary care himself for three decades.
More patients are recognizing that: Between 1998 and 2010, the number of Medicare patients treated by NPs increased 15-fold to more than 450,000 people, University of Texas Medical Branch researchers found recently.
But advocates say that many of the nation's 106,000 nurse practitioners, including about 56,000 who practice primary care, are hamstrung by state laws that limit their authority.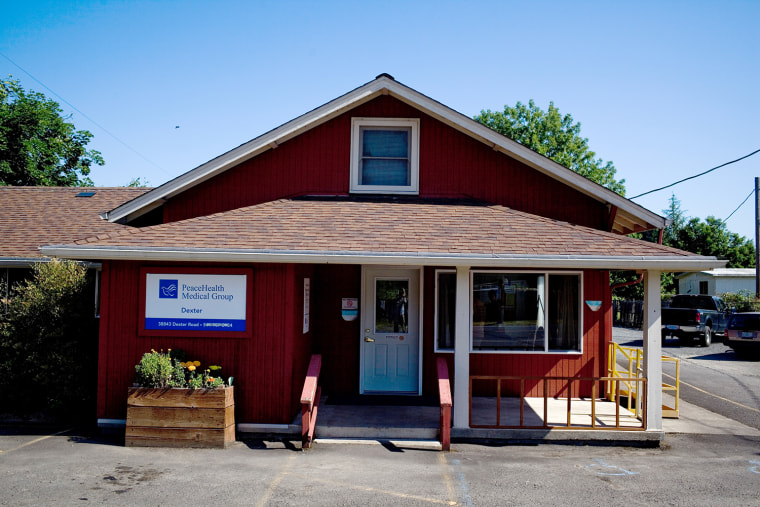 In at least 18 states, including Oregon, NPs practice independently, without the supervision of physicians. Fey, for instance, operated on her own for 25 years as the Lakeside Clinic in Dexter, working from the same small building she's now in. 
In 2010, she sold her practice to PeaceHealth Medical Group, a Catholic-run health system whose mission included continuing the rural clinic, said Mary Anne McMurren, an administrator. 
But in most other states, so-called "scope of practice" laws limit NPs' ability to diagnose, treat and prescribe medications without physician supervision.
Some physician groups, including the American Medical Association, have opposed expanding scope-of-practice laws, saying that close oversight of NPs helps guarantee patient safety and satisfaction.
"Nurses are critical to the health care team, but there is no substitute for education and training," Dr. Rebecca J. Patchin, a member of the AMA board of trustees, said in 2010, setting off a still-running debate.
Physicians have seven or more years of post-graduate education and more than 10,000 hours of clinical experience, Patchin noted. NPs have two to three years of postgraduate education and less clinical experience.
That argument bothers NPs like Fey, who jokingly chides patients who refer to her as a physician and says she never wanted to be a doctor: "I wanted to be something different."
Repeated studies comparing the primary care provided by both NPs and MDs show that patients of NPs do as well or better in terms of health outcomes and satisfaction. 
"I think we can provide primary care services to most people most of the time," Fey said.
That will be more vital than ever in a country where more than 65 million Americans live in primary care shortage areas, places where it can be difficult or impossible to obtain basic care from a doctor, Bodenheimer said.
It's gotten worse in recent years as fewer medical students – less than 25 percent, studies show – are choosing primary care, opting instead for the higher pay, enhanced prestige and better work-life balance of specialty medicine.
Of the more than 624,000 doctors in the U.S. who spend most of their time in direct patient care, only about one-third, or 209,000, are primary care specialists, according to a 2011 report by the Agency for Healthcare Research and Quality.
No one's sure yet how the health overhaul will affect the demand for primary care services – except that there will be a need for more, said Karen Daley, president of the American Nurses Association, or ANA. 
"It's really about making sure that nurse practitioners are practicing to the full extent of their licensing and their training," she said. 
But on this busy summer weekday, Fey is leaving those larger issues to the politicians. She's got her hands full with a patient load that's growing by the hour.
"When I started, I had eight patients for the day, but now I've had 10 for the morning," said Fey.
There's no hint of hurry, though, as she enters the rooms of patients like Garth Hiaasen, 32, a local bartender who had a run-in with a Hobo spider. His left ankle is red, hot and swollen to the size of a golf ball, but his real problem is his blood pressure. It's 160/112 -- and not for the first time. 
"You do not need to be a 32-year-old man with a heart attack or stroke," Fey lectured, giving him a prescription for medication -- and a hug. 

"Why can't you fix me, Mary?"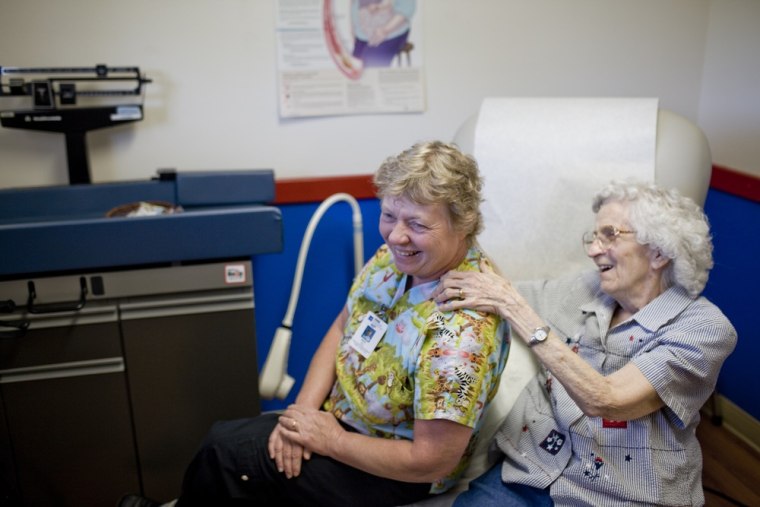 That's the same tough love Fey employs with all of her patients, from Jef Jalof, the 61-year-old hurt in a tractor accident to 91-year-old Willetta Ruth Cosby – friends call her "Okie" -- who has severe dementia and a bladder infection that may be making it worse.
She figures there are about 8,000 people in her coverage area, including many with common chronic ailments: diabetes, obesity, heart disease. She anticipates that expanded access to insurance will spawn a flood of new patients who haven't had health care in years.
"They have 12 things wrong and they save it up," she said. "Then they say, 'Why can't you fix me, Mary?'"
Come January, Fey's practice could jump as much as 40 percent and her patients likely will face longer waits. Instead of getting an appointment the next day, they might have to wait a week, she says.
That's a scenario that could be echoed across the country, said Dr. Atul Grover, chief public policy officer for the AAMC, which is tracking the doctor shortage.
He believes that nurse practitioners – and other health workers – must become part of a new kind of primary care team in that uses all types medical providers to furthest extent of their abilities.
In the meantime, it'll be a bumpy road as the nation lurches toward health care reform.
"It's going to take us a while to catch up," Grover said.
"How long? That's the million-dollar question."
JoNel Aleccia is a senior health reporter with NBC News. Reach her on Twitter at @JoNel_Aleccia or send her an email.