Mutations in a gene best known for raising the risk of breast cancer can also double the risk of lung cancer in smokers, researchers reported Sunday.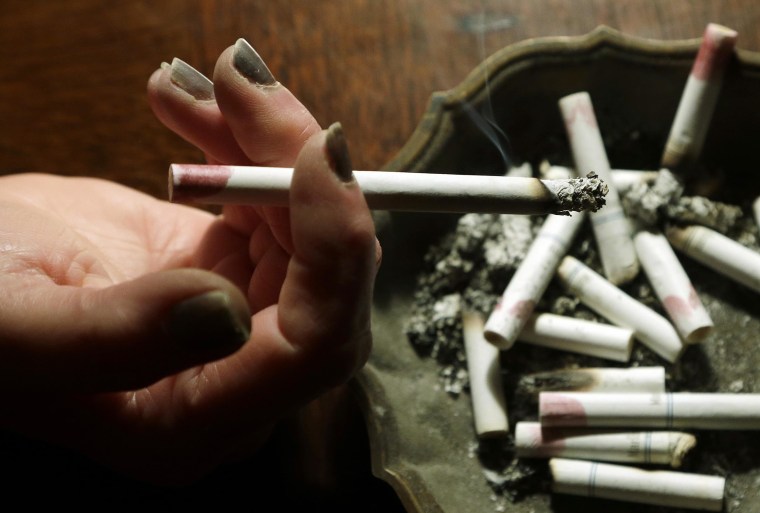 One in four smokers with the mutation in BRCA2 will develop lung cancer, the researchers report in the journal Nature Genetics.
The finding adds another cancer type to the list of cancers that BRCA mutations can cause. They already greatly raise the risk of breast, ovarian and prostate cancers.
Smoking tobacco causes a range of ills, from heart disease to stroke, emphysema and, of course, cancer. But any individual smoker has only about a 15 percent chance of developing lung cancer. The researchers wanted to see if there might be a genetic factor at work.
They were not looking for mutations in BRCA2, even though it is a well-known cancer-associated gene. They did what's called a genome-wide association study, which looks at all the known genes. There's a big international study going on and the researchers compared genetic data on more than 11,000 lung cancer patients and 15,000 people who did not have lung cancer.
They found 50 potential mutations of interest, and then homed in on some mutations in the BRCA2 gene. One mutation in particular, found in about 2 percent of people of European descent, really raised the risk.
"For a smoker carrying this variant (2 percent of the population), the risk of developing lung cancer is approximately doubled, which may have implications for identifying high-risk ever-smoking subjects for lung cancer screening," the researchers wrote.
It's "the strongest genetic association in lung cancer reported so far," they added.
Cancer screening for smokers is controversial, but experts say at the least high-risk smokers should be screened. It is not yet clear whether this finding raises the possibility of adding people with the genetic mutation to that group.
More important, say some experts, is that the discovery suggests that cancer drugs called PARP inhibitors might help lung cancer patients with this mutation. The drugs are increasingly being shown to help patients with other cancers showing BRCA mutations.
Cancer experts have been debating whether to screen for many cancers, but in the case of people with a strong family history, many agree that cancer screening is a good idea.
One company called Myriad Genetics once held patents on the most common tests for BRCA mutations, but the Supreme Court ruled they cannot patent tests based on human DNA in this way and other companies have jumped in, lowering the price and potentially making the tests more widely available.