Brittany Maynard's purposeful passing Saturday drove new dialogue on aid in dying, but her illness also reminded the world that science seems stuck in its bid to cure the most common type of brain cancer.
Maynard, 29 had glioblastoma, a fast-invading malignancy that, according to the National Brain Tumor Society, is "the most deadly, most prevalent form." Even after surgery and chemotherapy, the tumor typically kills people in about 18 months, the group says.
Then, on Sunday, Lauren Hill, 19, stirred cheers and tears by notching two baskets for her Ohio college despite playing with a brain tumor that doctors project could claim her in weeks. Like Maynard, Hill's tumor is in the glioma family. Her cancer is on the brain stem, which controls breathing and pulse, leaving surgeons unable to remove it while no drug has been found to effectively treat it.
They are two more casualties of a cancer that attacks the most sacred of all human flesh — an organ that that creates our identities and that remains utterly vulnerable to the most frequent class of malignancies to emerge there.
"Brain tumors, particularly but not exclusively the malignant ones … are in such an eloquent area of the body that surgical intervention may not be possible and other interventions such as RT (radiation therapy) may come with a fierce price," said Dr. Henry S. Friedman, deputy director of the Preston Robert Tisch Brain Tumor Center at Duke University Medical Center.
"They represent an orphan disease with so few diagnosed annually in the USA — about 20,000 primary malignant tumors — that research funds to push the field forward are not nearly as available as for the far more common cancers," Friedman added. "… We do not have enough weapons to deal with these tumors."
Why are most malignant brain tumors — particularly gliomas — so lethal, especially when the five-year survival rate for all cancers combined has increased to 68.3 percent from 48.9 percent in the mid-1970s?
"You don't want to destroy that patient completely. So you can't be as aggressive as you can be with other organs."
In short: There are few, good medical options for gliomas, said Carrie Treadwell, chief research officer at the National Brain Tumor Society, a nonprofit dedicated to helping Americans with the disease.
Surgeons can extract portions of cancerous clumps from the brain. But gliomas "are more like fingers" that creep into healthy tissue, Treadwell said.
"You can only do so much. You don't want to destroy that patient completely. So you can't be as aggressive as you can be with other organs because (if so), you're compromising the very essence of who they are," Treadwell said. "You're never going to get all of the (glioma) tumor. It is impossible to get every single tumor cell. Recurrence is inevitable."
Meanwhile, the hunt for effective brain tumor drugs has a poor track record.
The U.S. Food and Drug Administration has approved only four therapies to treat brain tumors, according to a 2014 report by PhRMA, an association representing leading biopharmaceutical and technology companies.
During human clinical trials spanning the past 17 years, 75 potential brain-cancer drugs were shown to be unsafe and or ineffective, while just three won FDA approval — a 25-to-1 failure ratio, PhRMA reported.
As cancer researchers often admit: "We have cured cancer in mice thousands of times already, but we've yet to do it in humans."
"Whatever we find is working in that mouse model may not translate well into humans," Treadwell said. "… We don't understand why we're failing."
The largest obstacle to a drug breakthrough is the blood-brain barrier, a natural wall that separates circulating blood from brain fluid to protect the brain from bacteria, Treadwell said.
"The very thing that keeps us healthy also prevents us from getting drugs to the tumors," Treadwell said. "Sometimes, in clinical trials, we don't even know if some of the drugs that we're putting in there are actually reaching the tumor."
Yet here's an equally terrifying fact: Researchers still can't pinpoint the cause of a vast share of brain cancers, Treadwell said.
"You pray it doesn't happen to you. But the reality is, it could," Treadwell said. "We do not understand — beyond a few genetic predispositions — why our patients are being diagnosed with brain tumors. So it's frightening because it could be any one of us that is diagnosed."
And then, there's the money spread.
During fiscal year 2013, National Cancer Institute funding totaled $4.7 billion. The NCI appropriated $176.8 million to research cancers of the brain and central nervous system — less than it spent for studying breast cancer ($559.2 million), lung cancer ($285.9 million), prostate cancer ($255.6 million), colorectal cancer ($238.3 million) and leukemia ($234.9 million), according to the NCI.
The raw number of deaths for many forms of cancer are far higher, however, based primarily on the incidence of diagnosis. In 2011, for instance, more than 156,000 Americans died from lung cancer, and more than 40,000 U.S. women died from breast cancer, according to the U.S. Centers for Disease Control and Prevention. About 14,000 Americans die from brain cancer each year, says the National Brain Tumor Society.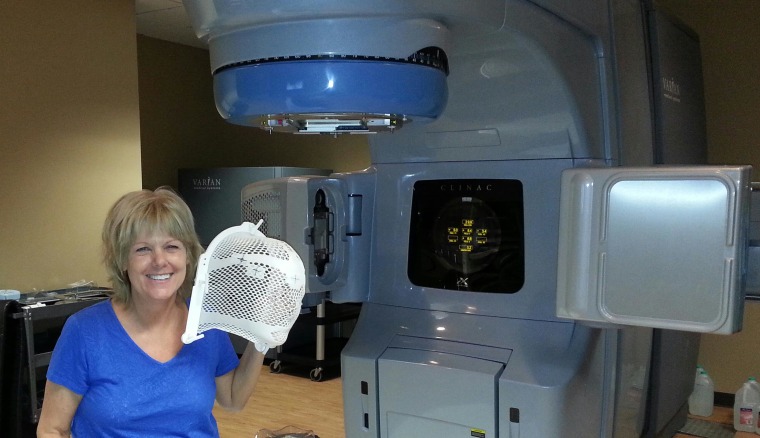 "We just finished October when everything is pink. I got really angry because everybody wants to save the boobies," said Cori Hatch, 56, diagnosed in July 2013 with level 4 glioblastoma. She underwent surgery one month later and takes oral chemotherapy pills five days a week.
"Brain cancer has a color, too — gray. I didn't even know it had its own dedicated color," Hatch said. "People with breast cancer live a long time. With brain cancer, most people are dead in three years, so they don't want to throw money at brain cancer because it's just seen as gloom and doom."
Aside from her disdain for funding priorities, Hatch has adopted a cheerful attitude about her diagnosis. Surgery to remove her tumor affects her speaking, and she had to relearn walking. But she lives fully, she said —recently driving an all-terrain vehicle near her Henderson, Nevada, home.
"I tell people: I'm not afraid to die. I feel blessed," Hatch said. "I have healed relationships. I feel loved. I appreciate every breath. Nobody gets promised another day."