She roams the hospital days and nights. Each morning, she applies her makeup. After dark, there's music until 2. In between, it's phone chats with her boyfriend, online schoolwork, bingo games with other patients — and pleas for freedom.
These are the rituals of confinement for Cassandra, C., as she's called in court papers. She's been held against her will for 92 days.
In January, the Connecticut Supreme Court ordered the 17-year-old to remain under guard at a Hartford hospital because she refused chemotherapy for her highly curable cancer, Hodgkin lymphoma. Since then, some things have changed. The chemo worked. The disease, she says, is no longer active. The guard outside her room was removed. And she now vows to complete her treatments in late April.
But Cassandra is fighting to go home.
"I can't go outside. I miss fresh air so much," she said in an interview with NBC News. "Mentally, I'm okay ... This is a really hard time in my life but being negative and miserable doesn't help."
Her life inside Connecticut Children's Medical Center is defined as much by what's banned as what's allowed, Cassandra said.
She can stroll to the cafeteria — if she's escorted by a nurse, patient care assistant or child-welfare official. Her list of authorized visitors contains "a few" family members, one close family friend, and one of her own friends.
That small group was "verified," she said, by officials with the Connecticut Department of Children and Families (DCF), which has temporary custody of the teen. The vetting process involves Cassandra giving DCF requested visitors' names, birthdays, and their relationships. DCF runs a background check and calls each one, she said.
"The problem is I've given tons of names of people to be verified, [but] it just doesn't happen," Cassandra wrote in an interview conducted via Facebook chat.
"I have not been allowed to see or talk to my mom since New Years, DCF is working on allowing visitation to start. My boyfriend has not been verified to come see me ... For the most part I don't get many visitors."
NBC News contacted DCF with questions about the visitation rules. A spokesman for the agency said: "We are choosing not to respond to Cassandra at this time."
"Some days," she wrote, "are longer than others, or at least that's what it feels like. ... I basically do what I want besides leave, of course."
A hearing on her status is scheduled for Monday in a Hartford juvenile court, said her lawyer. He will argue Cassandra's lack of disease means she should be allowed to finish chemo by commuting to the hospital from the home of her mother, who has supported her daughter's wishes.
Meanwhile, Cassandra's stance has elevated the 17-year-old within the bodily autonomy movement, which asserts, in part, that governments cannot infringe on the medical choices of individuals. A petition backing the teen's cause, posted at Care2.com, has gained more than 48,000 signatures, including names from Turkey, South Africa, Spain, and Singapore.
"We're just hoping Cassandra can be in charge of her own life and return to her mother soon," said Julie Mastrine, the social media manager at Care2 and who posted the petition. "We also hope her (state) representatives will ... perhaps not aggressively pursue cases where an individual is asking not to be forced to undergo medical treatment that they don't want."
But the teens' doctors and state justices argued she's not legally mature enough to make such decisions. Her survival odds are 80 to 85 percent with chemo but she will die without it, her doctors have said.
Bioethicist Arthur Caplan, who has followed Cassandra's case, looks squarely at the patient's age.
"Seventeen-year-olds do not have the right, in my view, to bodily autonomy. They are not legal adults," said Caplan, founding head of the division of bioethics at NYU Langone Medical Center and a frequent NBC News contributor.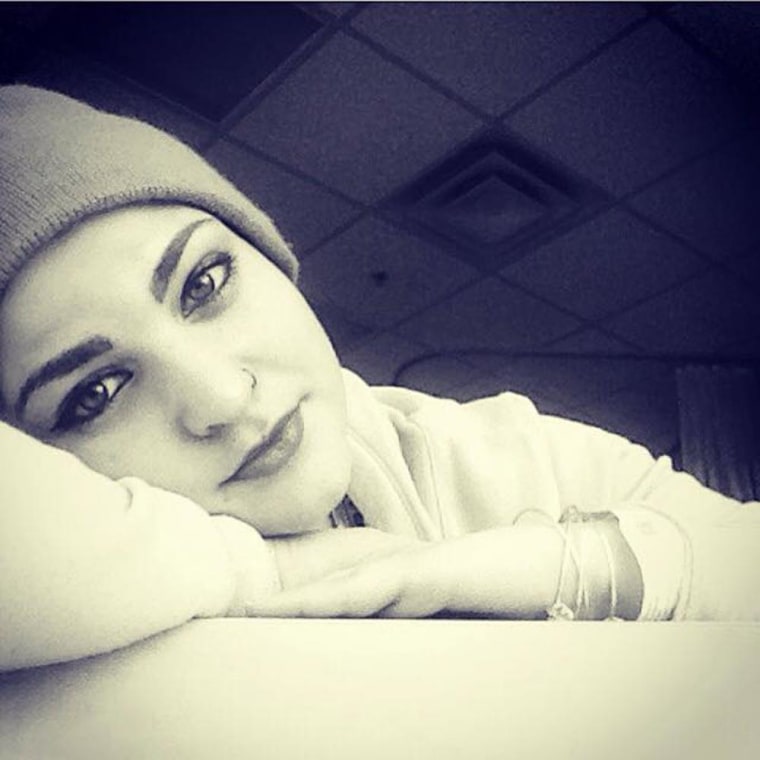 "True, the legal age for making health decisions is arbitrary. But if that is to be changed, it should be in a legislature not when a young girl wants to pursue so called alternative treatments," Caplan said.
That was Cassandra's plan — to a point, she said. She wanted to first seek "alternatives" to treat her cancer.
Before her September diagnosis, she knew her doctors suspected cancer. She then began researching chemotherapy, she said, noting possible side effects: hair loss, nausea, fatigue, fertility problems and weight loss.
"Those weren't the side effects I was concerned about. At all," she wrote in a Facebook message. "A great amount of people believe I didn't want chemo because I'd lose my hair, in no way was hair loss a concern for me ...
"My biggest concerns with the chemotherapy was #1, having a port placed in my chest; the idea of having an object placed inside of me disgusts me and still does to this day, I cannot wait to have it removed after my last cycle of chemo.
"And, #2, I was concerned about the more serious long-term health issues because of the chemotherapy such as organ failure, heart complications, digestive issues and the possibility of developing another form of cancer — issues that I still worry about to this day."
With her chemo proving effective, however, she said she's committed to fulfilling the prescribed, six-month cycle.
Chemo would have been her second choice — had alternative therapies not worked, she said.
"I would never [have] been willing to die."