Robin Andrews of Pedricktown, New Jersey, has been fighting an autoimmune disease and thyroid condition for the past three years, suffering severe dental problems, hair loss and other symptoms. All, she believes, are the result of exposure to drinking water tainted by a group of chemicals called PFAS, used widely for decades in products like Teflon pans, stain-resistant carpets, even cosmetics.
Known as "forever chemicals" because they don't break down easily in the body, PFAS increasingly have been linked to conditions experienced by Andrews, 65, as well as birth defects, cancer, obesity and diabetes. People have been exposed to the chemicals by direct contact and from polluted ground and surface water and soil. Potential liabilities associated with the chemicals — both environmental cleanup and ongoing healthcare costs — have been estimated in the tens of billions of dollars.
Now, however, there's a risk that Andrews and other people with illnesses linked to the chemicals could end up with no compensation for their health problems. That's because a major manufacturer, DuPont, recently unloaded its PFAS obligations to smaller companies that do not have the money to pay for them.
For decades, DuPont manufactured PFAS-type chemicals in a plant close to Andrews' home in this tiny South Jersey town on marshy land near the Delaware River. Her grandfather and father both worked at the sprawling plant, known as the Chambers Works, which covers 1,400 acres of riverbank in the shadow of the bridge to Delaware.
In 2017, after she developed unexplained high liver enzymes, her well water tested positive for PFAS; she now runs it through a large filtration system in her basement and has it monitored every three months.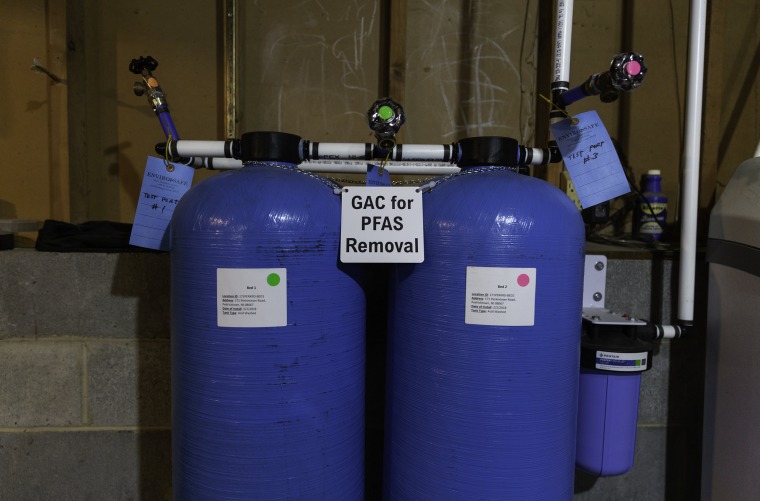 DuPont "could have been a great company and a very good thing for this area had they chosen to take care of people and to be responsible with the way they disposed of these toxins," Andrews told NBC News. "But they weren't. I believe it was an economic decision to put people at risk."
Jeff Tittel, senior chapter director of the New Jersey Sierra Club, has watched DuPont's moves with concern. "They are setting up other companies to take the fall on liabilities that won't have enough money, so even if people win lawsuits, they will get nothing or very little," he said.
PFAS are not regulated by the Environmental Protection Agency under the Safe Drinking Water Act and their side effects are still being understood by scientists and the public. In February, the EPA put out a proposal to regulate two of the most common PFAS chemicals found in drinking water and is asking for comment on how to monitor them.
On Wednesday, the EPA disclosed it "has multiple criminal investigations underway concerning PFAS-related pollution." The agency did not identify the entities being investigated and it could not be determined if DuPont is one of them.
Daniel Turner, reputation and media relations manager for DuPont, said the company had not received an information request from the EPA related to a criminal investigation.
Manufactured between the 1940s and the early 2000s, the chemicals have been associated with high cholesterol, increased liver enzymes, decreased vaccination response, birth defects, pregnancy-induced hypertension and testicular and kidney cancer, according to a 2016 EPA study. The National Institutes of Health concluded in a 2019 analysis that PFAS are in the blood of 97 percent of Americans.
A 2019 study by the Social Science Environmental Health Research Institute at Northeastern University and the Environmental Working Group, a nonprofit focused on the environment, identified at least 610 locations in 43 states that are known to be contaminated by PFAS, including drinking water systems serving an estimated 19 million people.
The DuPont spin-offs
In 2015, as problems associated with PFAS were becoming clearer, DuPont began a series of complex transactions that transformed the company's structure. As a result of the transactions, responsibility for environmental obligations associated with the chemicals shifted onto other entities.
The first shift by DuPont occurred in 2015, when it assigned the great majority of liabilities associated with PFAS to The Chemours Company, a new entity containing DuPont's chemicals business that was spun off to its shareholders.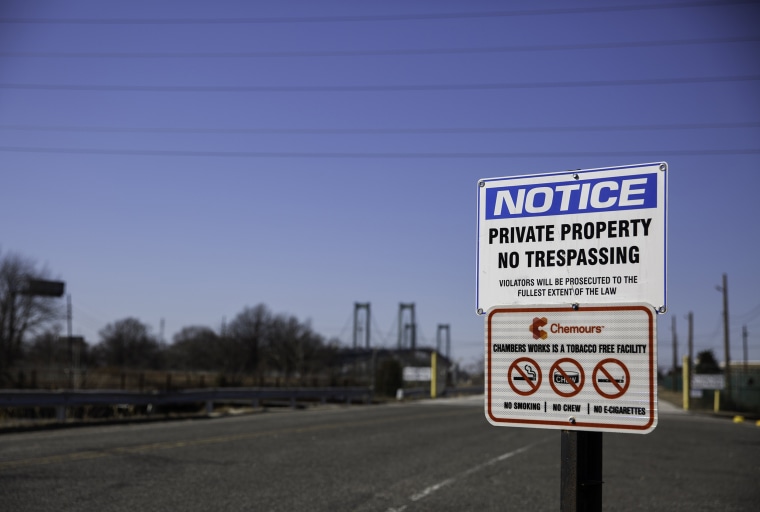 In a statement provided to NBC News, DuPont spokesman Turner denied that the Chemours spin-off was an attempt to evade environmental and legal liabilities associated with PFAS. "The reason for the spin-off," Turner said, was that DuPont "was seeking to transform itself into a higher growth, higher value company" and "saw more growth opportunities in its other businesses."
A second spin-off was Corteva Inc., in 2019, an agriculture science company that holds other legacy DuPont operations and some PFAS liabilities.
The third transaction occurred last June when so-called new DuPont was created. Formerly known as DowDupont, its businesses include electronics, transportation and construction. Because of the two other spin-offs, new DuPont is two steps removed from PFAS obligations.
Chemours, with primary responsibility for the estimated tens of billions of dollars in PFAS obligations, does not have anywhere near the money or assets to cover them. Chemours' net worth — its assets minus liabilities — stood at just $695 million as of Dec. 31, 2019.
If Chemours becomes insolvent, Corteva Inc. will be responsible, corporate filings show. Corteva does not have the funds to cover tens of billions in estimated PFAS costs either. Turner declined to say whether PFAS responsibilities would ultimately revert to DuPont if Chemours and Corteva are unable to pay them. A lawyer for Chemours declined to comment.
Corporate spin-offs like DuPont's that transfer liabilities associated with problematic businesses are becoming more common, analysts say, especially in the energy and chemical fields.
"You're seeing it again and again," said Clark Williams-Derry, an analyst with the Institute for Energy Economics and Financial Analysis. "Spinning off your legacy liabilities into a separate corporation and to some other responsible party appears to be part of the standard playbook in these industries."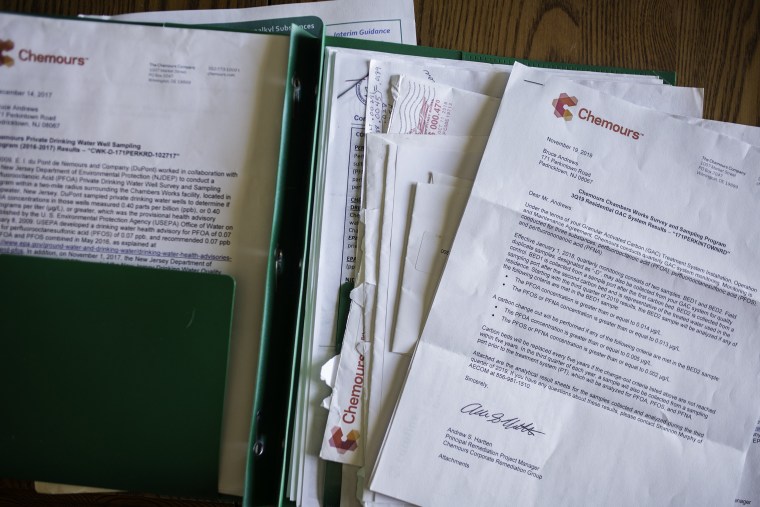 DuPont is not the only PFAS manufacturer under scrutiny. Another is 3M, headquartered in Minneapolis. Both companies stopped making PFAS over a decade ago. 3M is fighting the suits and says it is cooperating with government investigators.
DuPont and 3M both face lawsuits over problems allegedly linked to PFAS. But DuPont's shift of its PFAS liabilities to Chemours has drawn its own raft of litigation. In a complaint filed last year against DuPont by Chemours, it contended that the 2015 deal was fraudulent. DuPont knew and intentionally hid the scope of the liabilities when it dumped them into Chemours, the company alleged.
In response, DuPont says Chemours executives were well aware of the PFAS problems at the time of the spin-off and could not have been duped. Next up is the judge's ruling on oral arguments in the case.
$400 million in settlements
Pinpointing liability for ailments that may be linked to toxic products is never easy. Large manufacturers often disavow responsibility for health problems allegedly tied to their products, forcing consumers to bring lawsuits. Big PFAS suits brought in recent years by consumers have been settled before they went to trial. DuPont has paid at least $400 million in settlements related to the chemicals so far.
But with scores of PFAS lawsuits still pending against DuPont, potential liabilities are ballooning. Last year, in a suit against PFAS makers, the New Jersey Department of Environmental Protection contended, like Chemours, that DuPont's transfer of its chemical business was fraudulent and an attempt "to insulate itself from billions of dollars of legacy pollution liabilities" associated with the chemicals.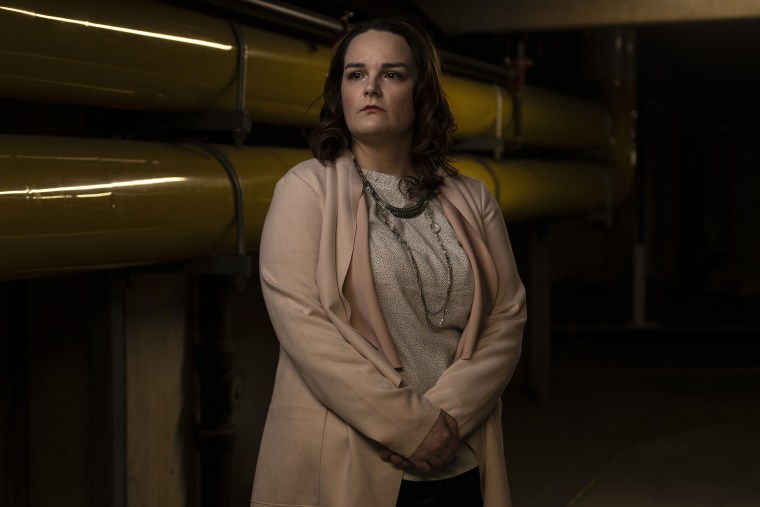 Tittel of the Sierra Club said, "My concern is DuPont walks out, people end up with toxic communities, Chemours goes bankrupt and there will be no money left to pay people for damages from health issues or cleanup. Then, cleanups end up on the taxpayers' backs."
Bonnie Smalley, 35, grew up near the DuPont facility in New Jersey and her father hauled waste from the company. A resident of Colorado, she is monitoring the PFAS matter closely. She believes her porphyria and dental problems are linked to PFAS.
"Everybody in my family has a different disease and I've been seeing specialists since I was born," she said in an interview. "Without DuPont, our towns would not exist. But there's a giant mess left over and they've downplayed it."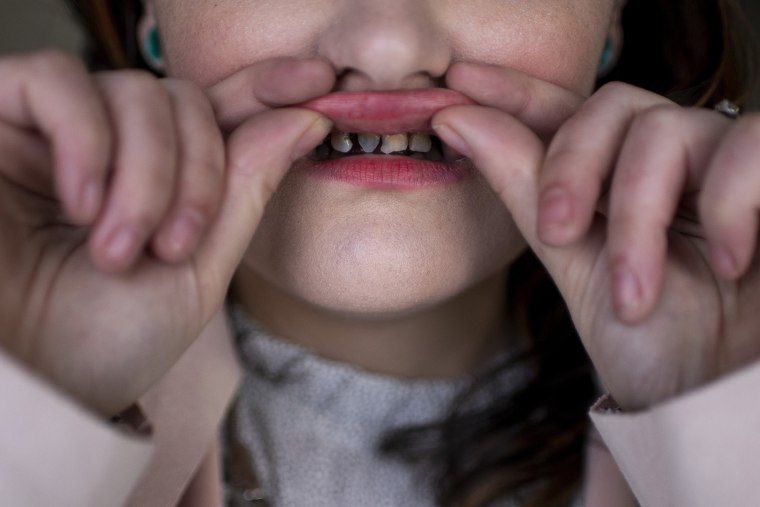 DuPont's Turner said that at the time of the Chemours spin-off, "there was no expectation of massive PFAS liabilities." Now that those liabilities are becoming clearer, "Chemours must act like an insurer and indemnify" DuPont for them, he said.
What did DuPont know?
Legal filings allege DuPont knew for decades that PFAS posed a threat to humans.
In early PFAS cases, lawyers for plaintiffs found internal, undisclosed DuPont documents showing toxicity in PFAS. While the company has acknowledged the findings in court filings, it argued that they were either inconclusive or applicable only to employees working with the chemicals, not to people drinking tap water near DuPont facilities.
The New Jersey lawsuit alleges that DuPont began to recognize toxicity in the most common PFAS chemical in the 1960s but did not tell the state or local communities about the problem.
DuPont has not answered the New Jersey complaint but in previous lawsuits, DuPont has denied that it hid PFAS risks. DuPont spokesman Turner declined to say how long DuPont knew about the toxicity of PFAS, but said the company has provided extensive information over the years to the EPA about potential harm related to the chemicals.
The New Jersey suit also says DuPont hid the results of a 1981 blood sampling study of pregnant employees who worked with the chemicals that found one-quarter had children with birth defects.
Turner declined to comment on the allegation that DuPont had hidden the results.
Responding to the allegations about a PFAS link to birth defects generally, Turner pointed to the findings of a science panel convened in 2005 when DuPont settled a West Virginia class action involving PFAS. That panel consisted of three epidemiologists assessing whether there were probable links between human disease and exposure to a type of PFAS called C8. The panel examined three studies and concluded in 2011 that there was not a probable link between the chemical and birth defects.
The Chemours lawsuit also contends that the terms of the 2015 spin-off by DuPont actually disadvantaged the new firm in favor of its parent company. While Chemours' shareholders received 19 percent of DuPont's total business operations under the deal, they received roughly two-thirds of DuPont's environmental liabilities and 90 percent of DuPont's pending litigation.
Turner did not dispute this arithmetic.
Chemours also alleges in its complaint that DuPont lowballed the potential costs associated with the PFAS obligations it took on. For example, DuPont estimated the maximum liability for 3,500 cancer and other claims related to a type of PFAS at $128 million in 2015, the Chemours lawsuit says. Less than two years later, however, DuPont agreed to settle that case for $671 million. DuPont paid half of that amount while Chemours paid the rest.
In another PFAS case in North Carolina, DuPont estimated the exposure for Chemours at $2.09 million in 2015; it will be over $200 million, the lawsuit says.
DuPont's Turner said Chemours' liabilities at the time of the spin-off were appropriately valued, "based on the facts that were known and the litigation that was pending and reasonably anticipated at the time." It's wrong, he said, to contend that DuPont should have valued PFAS liabilities based on "facts that occurred months or years later."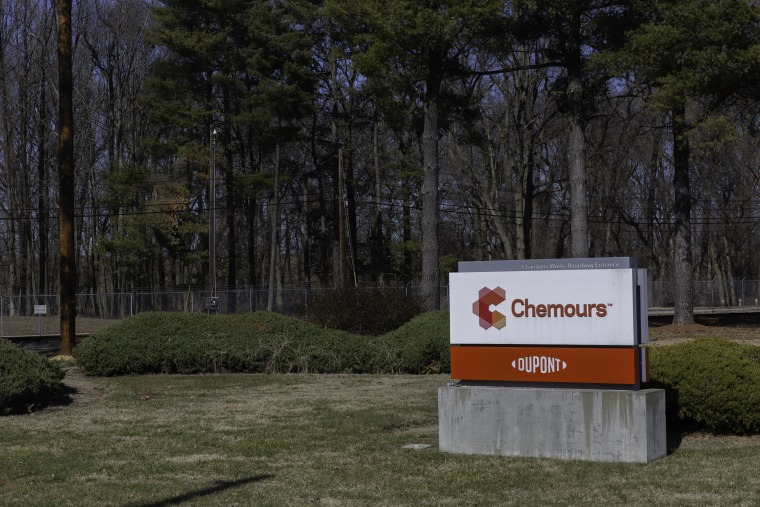 The potential that shareholders will take on undervalued liabilities is greater in spin-offs, merger experts say. That's because the kind of in-depth due diligence that a third-party buyer would do to to determine possible liabilities is not typically done by new owners in a spin-off. Those owners are essentially trusting the parent company to be forthcoming about the obligations.
Had DuPont instead sold its legacy chemicals businesses to another company, the buyer would have dug into the obligations associated with its PFAS production prior to the purchase. Any resulting deal would take those potential liabilities into account, resulting in either a lower sale price, an insurance policy or a right by the buyer to recover costs from DuPont later.
Because DuPont's existing shareholders took on the liabilities in the Chemours and Corteva spin-offs, that detailed assessment was not done. The Chemours lawsuit alleges that DuPont pursued the spin-off so it "could control the transaction structure and economics" after concluding that "no rational buyer" would accept the liabilities associated with PFAS.
DuPont spokesman Turner disputed this, saying that multiple firms submitted proposals to acquire Chemours before the spin-off. He declined to provide specifics about those companies, however, or their bids.
Back in 2015, when DuPont was preparing to spin off Chemours, the parent company made insufficient disclosures about the environmental liabilities to be shouldered by the new shareholders, the Securities and Exchange Commission found. The company had to provide more details, regulatory filings show.
Turner said requests from the SEC for more information are typical.
Ultimately, Chemours' 2015 filings estimated its environmental remedial cleanup obligations — excluding human health problems — at $295 million. But citing "considerable uncertainty" regarding those costs, Chemours filings said that "adverse changes in circumstances" could bring the total to just over $1 billion.
That estimate has turned out to be low. Two PFAS cases settled in 2017 and 2019 paid out roughly that amount.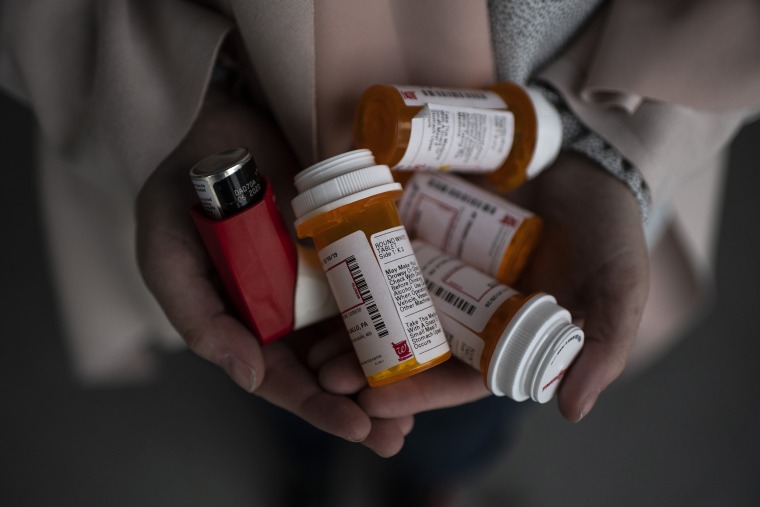 Corteva, which absorbed the old DuPont businesses that had not been spun off to Chemours, continues to maintain that PFAS liabilities will not be meaningful. While the company could incur liabilities related to PFAS, "any such liabilities are not expected to be material," it told shareholders in a February filing.
'A lot of people have it way worse'
The DuPont plant near Pedricktown where Robin Andrews' father and grandfather both worked is still active. The Chambers Works no longer makes PFAS chemicals, and it's no longer owned by DuPont. It's owned by the DuPont spin-off, Chemours, which now makes lubricants and other products there.
The company is still a dominant presence in this chunk of South Jersey. DuPont's headquarters are just 10 miles away, across the river in Wilmington. Andrews, who works at a local pharmacy, says she's not the only person in town with an elaborate filtration system on her water supply. She says she sees them being installed at other people's houses when she's out walking her dog.
She says she also sometimes runs into neighbors who question why she's making a fuss about DuPont's liability. But she says she believes PFAS chemicals caused her illness and she wants to hold the company accountable. "DuPont has not shown any desire to be responsible, only to escape taking care of people."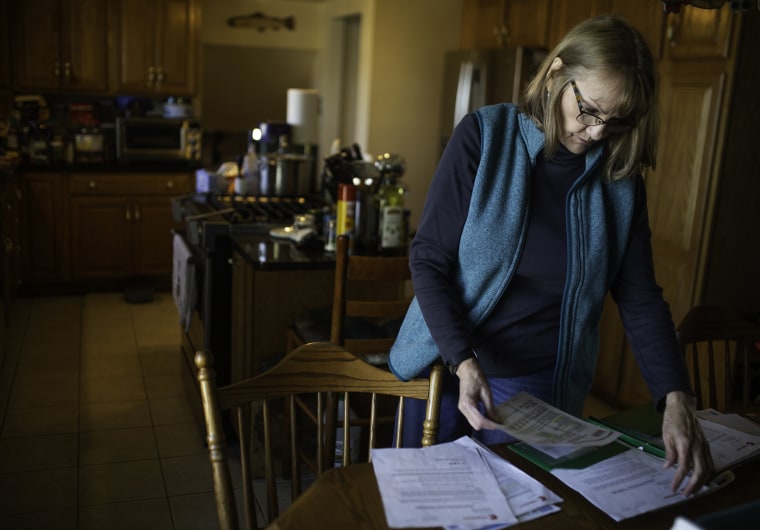 Said Robin, "My hair has started to fall out on the top. I take thyroid medicine every day, and I live at the dentist. The whole thing is very difficult. But a lot of people have it way worse."