A newly approved drug that gives the immune system a boost helped stall the spread of tumors in patients with advanced bladder cancer, researchers reported Sunday.
It's not a slam-dunk, but it's another piece of good news for the latest approach to treating cancer by harnessing the body's immune system.
The drug, called atezolizumab and sold under the brand name Tecentriq, works in a similar way to Keytruda — the drug credited with stopping former president Jimmy Carter's advanced melanoma.
In the study, the treatment stopped tumors from growing in 24 percent of the advanced bladder cancer patients, and shrank them by 30 percent, the team told a meeting of the American Society for Clinical Oncology in Chicago.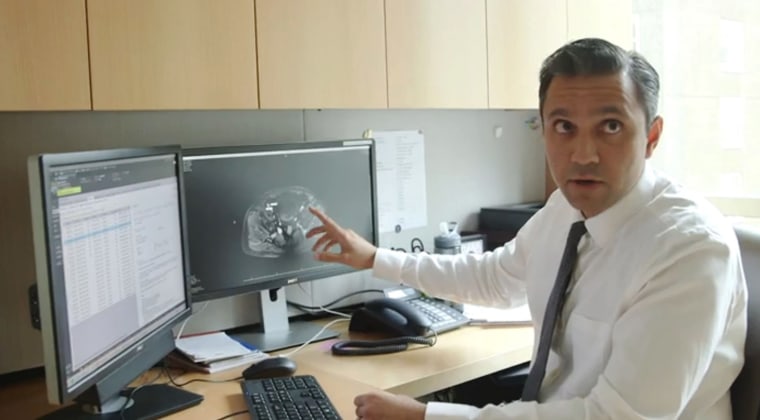 "Immunotherapy really treats your body's immune system so your immune system can fight the cancer for you," said Dr. Arjun Balar, an assistant professor at NYU Langone Medical Center who treated some of the patients.
Earlier immune therapy approaches to cancer involved revving up the immune system, but it did not always work very well and caused some unpleasant side effects.
Other, more successful approaches, involve training immune cells to recognize a patient's specific tumors, or finding and amplifying a patient's own tumor-specific immune cells. They're labor-intensive and don't work for everyone.
"Immunotherapy really treats your body's immune system so your immune system can fight the cancer for you."
The new drugs act directly on the immune cells that are supposed to destroy tumors. These monoclonal antibodies – very precisely targeted molecules – stop a genetic interaction that allows cancer cells to evade the immune cells. They're called checkpoint inhibitors.
Tecentriq won Food and Drug Administration approval last month.
Here's the tricky part. The drug is priced at $12,500 a month.
It's a price that drug makers say is fair, given how well it saves lives and given its cost of development, but the increasingly sky-high prices of cancer drugs has become controversial.
"Our new study results argue that atezolizumab represents a major advance in the treatment of bladder cancer," Balar said.
The researchers say 21 out of the original 119 patients treated starting in 2014 are still in remission and still taking the drug.
"Atezolizumab is the first therapy to be approved in more three decades for this disease, and it is the new standard of care for patients whose initial therapy with platinum-based chemotherapy drugs has failed," he added. "Indeed, it may be the only therapy some patients need."
As with most experimental drugs, Tecentriq had already been tested in patients who had tried all the best available treatments first. For this study, it was the first drug that patients got. They were not eligible to get the standard treatment for various reasons.
Related: Cancer Drug Keytruda Keeps Some Patients Alive for Three Years
Right now, the platinum-based cisplatin is the main treatment for advanced bladder cancer. But it can damage nerves and the kidneys.
"Most patients who received atezolizumab really had no side effects whatsoever," Balar said. Side-effects were mild and included fatigue, itchy skin, and diarrhea. But other research on checkpoint inhibitors suggest they can sometimes set off an attack on healthy organs, so researchers are testing them cautiously.
Balar wonders if the drugs might work even better if given to bladder cancer patients straight away, and to those with earlier-stage disease.
"Can we use this treatment earlier in the course of the disease?"
"Can we use this treatment earlier in the course of the disease?" Balar asked.
Other studies on similar drugs suggest that genetic tests can predict which patients will be helped by the checkpoint inhibitors, and trials are under way to see.
According to the American Cancer Society, 76,960 new cases of bladder cancer will be diagnosed this year – most of them in men. Bladder cancer will kill more than 16,000 Americans this year. "Bladder cancer accounts for about 5 percent of all new cancers in the US. It is the fourth most common cancer in men," the group says.
Virtually all patients diagnosed at the earliest stage, stage 0, survive. But stage IV bladder cancer, which means it has spread to other parts of the body, kills 85 percent of patients within five years.