It's time to admit that mammograms are not perfect and that doctors are treating women who don't need treatment for breast cancer, the American Cancer Society's top doctor said Monday after yet another study showed breast cancer screening leads to so-called overdiagnosis.
The new study found that as many as a third of women in Denmark diagnosed with breast cancer through mammograms either didn't have malignant cancer, or had slow-growing tumors that didn't need immediate treatment.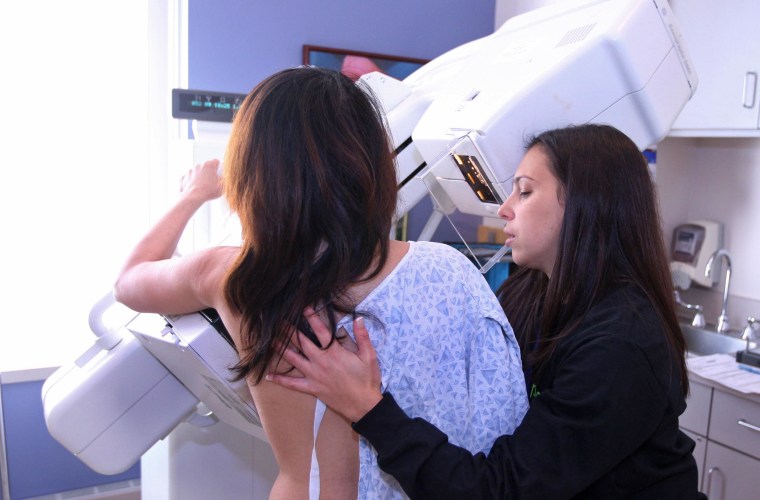 And regular mammograms did not catch more advanced cancers, the team wrote in the Annals of Internal Medicine.
"Breast cancer screening was not associated with a reduction in the incidence of advanced cancer," Dr. Karsten Juhl Jørgensen of the Nordic Cochrane Centre in Copenhagen and colleagues wrote.
"It is likely that one in every three invasive tumors and cases of DCIS diagnosed in screened women represent overdiagnosis."
DCIS, or ductal carcinoma in-situ, is a condition that many cancer experts argue shouldn't even be called cancer. Sometimes it's called breast cancer stage 0, although it's a well-known risk factor for breast cancer.
The numbers match those found in other studies that cast doubt cast doubt on whether mammograms actually reduce the risk of dying from breast cancer. A 2012 study published in the New England Journal of Medicine that found that as many as a third of cancers detected through routine mammograms may not be life-threatening.
Doctors and policymakers must accept that mammograms have not done what people assume they do – save lives because they are catching the most dangerous tumors before they can spread, said Dr. Otis Brawley, medical officer at the American Cancer Society.
"Some of those pea-sized lesions are not going to kill. Some of those pea-sized lesions are going to regress over time."
"Some of those pea-sized lesions are not going to kill. Some of those pea-sized lesions are going to regress over time," Brawley told NBC News. "We are curing people that don't need curing."
Assuming that every breast tumor is a killer is the equivalent of racial profiling, Brawley argued in a commentary on the study.
"I used the race analogy because I am one of the few people who get away with saying that," said Brawley, who is African-American.
"It is only by learning the limitations of mammography screening that we can learn how to apply it and save lives. That is not an argument against mammography screening."
What's needed are better genetic tests that differentiate between dangerous tumors and growths that won't hurt the patient, Brawley said.
"Even I would say that this article does not mean that people do not need to be screened," he said.
"My nightmare is a woman will hear this today and say, 'maybe I shouldn'to get treated'. The answer is that by treating everybody, we clearly save some lives even if we cure some people who do not need to be cured."
Related: Breast Cancer Study Raises More Questions
Breast cancer is a leading killer of U.S. women. Every year, it's diagnosed in 200,000 women and a few men, and kills around 40,000.
Research shows that treating a tumor early makes for easier, less invasive surgery and can save lives. So, mammograms have become an annual ritual for millions of American women.
For their study, the Danish and Norwegian team looked at records for 95,000 women diagnosed with breast cancer from 1980 to 2010.
"Denmark provides a unique opportunity to estimate overdiagnosis because only 20 percent of the population aged 50 to 69 years was invited to participate in a mammography screening program for 17 years," they wrote.
But there was little difference in terms of lives saved, they found.
"Seventeen years of organized breast screening in Denmark has not measurably reduced the incidence of advanced tumors but has markedly increased the incidence of nonadvanced tumors and DCIS."
Related: New Report Questions Value of Mammograms
The issue of mammograms is hotly debated in the U.S.
Just last October, at the Dartmouth Institute for Health Policy and Clinical Practice said overdiagnosis was causing women worry and treatment that may be more harmful that some of the tumors being removed.
"Even I would say that this article does not mean that people do not need to be screened."
American Cancer Society guidelines say women of average risk of breast cancer can wait until they're 45 to have a first mammogram and should have them every year until age 55, and then start having them every other year.
The U.S. Preventive Services Task Force says most women can safely wait until they are 50 to start getting mammograms and that they need only one every other year.
Congress has even intervened, passing legislation overriding the USPSTF guidelines and requiring that insurance companies cover screening mammograms at no cost for most women who want them.
Brawley said the issue should not be whether to skip mammograms, although he admits they are so unpleasant that many women do just that.
Related: American Cancer Society Issues New Mammogram Guidelines
And the bigger treatment issue is inequalities across the U.S. states.
"A quarter of all the women who should get radiation don't get radiation in the United States," he said. "Twenty percent of women who get chemotherapy don't get it dosed right."
The hope is, Brawley said, that better genetic tests will tell patients who needs immediate treatment, and who can watch and wait – similar to what's recommended with men who have prostate cancer.
"We know that treatment saves lives," Brawley said. "We are moving from a mid-19th century definition of cancer that involved just a biopsy to a 21st century definition that involves a biopsy but also genomics."