The Susan G. Komen Foundation has, once more, riled some of its base — breast-cancer activists, survivors and their families — this time by accepting $100,000 from an oil and fracking company that, in turn, produced 1,000 pink drill bits.
Martin Craighead, chairman of Houston-based Baker Hughes Inc., will hand that check to Komen founder Nancy Brinker at Pittsburgh's Heinz field on Oct. 26, before the Steelers play the Indianapolis Colts, the company announced.
The handoff comes near the close of the NFL's pink-hued celebration of national Breast Cancer Awareness Month. The pink bits are being distributed by the company to drilling sites worldwide "as a reminder of the importance of supporting research, treatment, screening, and education to help find the cures for this disease," the company said in a press release.
"I've had enough of the all-American sport of marketing pink to cover up poison."
But Komen's decision to take the money — its second donation from Baker Hughes in two years — has sparked anger and disbelief across the breast cancer community. Some advocates are furious because some scientists have linked chemicals used in fracking to cancer, though there are disputes about fracking's health impact.
"The fact that Komen is partnering with a company that shoves chemicals into the earth that contain known carcinogens is ludicrous and preposterous," said Angela Wall, communications director for Breast Cancer Action, a national advocacy group based in San Francisco. "It's hypocritical, and it needs to be called out."
"Companies that swath their brands in pink, claiming to care about breast cancer while producing or selling products that expose people to chemicals linked to the disease, are doing untold damage to efforts to prevent breast cancer," said Jeanne Rizzo, president and CEO of the Breast Cancer Fund, also headquartered in San Francisco. "I've had enough of the all-American sport of marketing pink to cover up poison."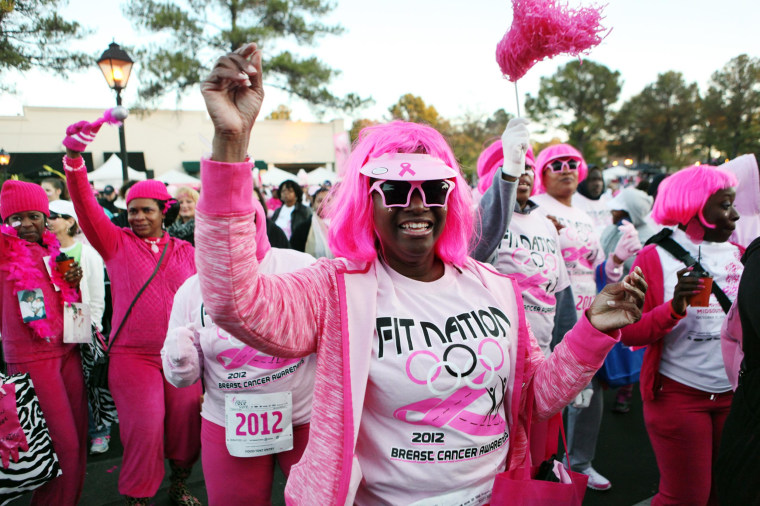 NBC News sent emails to and left voice mails with executives at Baker Hughes, seeking comment. So far, the company has not responded to those requests.
Komen faced a massive PR backlash in 2012 after it temporarily cut funding to Planned Parenthood. This week communications director Andrea Rader emailed a statement to NBC News, saying Baker Hughes employees have supported women and men with breast cancer for many years through participation in the nonprofit's famous "Race for the Cure" series.
"Last year, an employee (at Baker Hughes) suggested that the company paint its drill bits pink as a show of support for people with breast cancer and the company agreed to do so," the statement read. "… Baker Hughes makes a flat donation to Komen, not tied to sales of the pink drill bits or any other product. We appreciate the efforts of Baker Hughes employees to show support for women and men facing breast cancer."
The same statement was posted Wednesday on Komen's Facebook page, eliciting more than 170 comments, many not kind. The most popular reaction, with 60 "likes," was posted by Karrie Pietz Hockenberry: "Fracking causes cancer, so there's that ..."
In fracking operations, (also known as hydraulic fracturing), highly pressurized chemicals and liquids are delivered to deep, underground rock formations in order to crack them to extract natural gas.
A compendium on fracking findings and studies, issued in July by an affiliation of New York scientists and medical groups who oppose fracking, reported: "25 percent of chemicals known to be used in fracking fluids are implicated in cancer."
In late May, the Breast Cancer Fund and Breast Cancer Action were among 25 health and medical organizations that co-authored a letter to New York Gov. Andrew Cuomo, urging a fracking moratorium and warning the drilling method "would pose significant threats to the air, water, health and safety of New Yorkers."
"We don't have to make the perfect the enemy of the good."
One energy advocate - part of a group that promotes hydraulic fracturing in the United States - called the assertions raised by the cancer organizations "one of the most shameful and disgusting displays of political activism in recent memory."
"How much do you have to viscerally hate an industry to oppose its efforts to try to cure cancer?" asks Steve Everley, a spokesman for Energy In Depth, part of the Independent Petroleum Association of America, a trade group representing thousands of companies. "Most level-headed people would think that attacking a company for trying to raise awareness of an important issue is wrong – unless you're part of the fringe movement to ban fracking, for which apparently nothing is off limits."
How breast-cancer charities vet the companies from which they accept money can be tricky, medical-ethics experts acknowledge.
Should Komen, for example, accept money from Ford Motor Co., even though a study linked exposure to "traffic-related air pollution" to a higher breast cancer risk in women? Ford is a Komen partner.
Cancer charities "should try to be diligent and check when making their decision on whose money to take. You certainly wouldn't want to be taking money from tobacco companies," said Arthur Caplan, founding head of the division of bioethics at NYU Langone Medical Center and a frequent NBC News contributor.
"On auto emissions, what I'm looking for is: OK, are these car companies making efforts to reduce their emissions? That would be a good indication they're trying, and you're not going to disconnect from them," Caplan said.
Ford has reported it has cut carbon dioxide emissions by 37 percent per vehicle.
"We don't have to make the perfect the enemy of the good," Caplan said. "Yeah, I don't want to take money from people causing the problem, but I don't want to be such a purist that I can't take money from anybody (in the push to) get rid of breast cancer."
For Komen, however, that donor vetting needs to be extra tight, Caplan said, given the 2012 uproar and loss of supporters the nonprofit endured when it shut off funding to Planned Parenthood.
"Komen has got to got to be walking on ethical egg shells so they don't offend anyone," Caplan said. "The connection to the abortion issue made them a third rail in battling cancer. Clearly, people are on the lookout, watching closely for what they do."