To almost anyone who's cared for a child with cancer, it seems obvious: Sometimes the best medicine isn't a drug, it's a dog — four paws and a furry tail — that can make a kid feel better.
Doctors say they've known about the value of therapy pets in hospitals for years. Parents swear by them for soothing a scared or angry child. But such reports have been largely anecdotal — until now.
Backed by a nearly $1 million grant from veterinary health firm Zoetis, with matching funds from the Pfizer Foundation, the American Humane Association is launching what advocates say is the first clinical trial of the effects of what's known as animal-assisted therapy, or AAT, on young cancer patients and their families.
"It's really this crucial exploration of the child-animal bond and how that is a crucial path to healing," said Robin Ganzert, president and chief executive of AHA, who is scheduled to brief Congress on the "Canines and Childhood Cancer Study" Thursday morning.
The goal is to gather the first-ever clinical details about the physical and psychological effects of animal therapy on the child patients, their families and caregivers, said Amy McCullough, AHA's national director of humane research and therapy.
They'll also study the effects of treatment on the dogs through a grant from the Human Animal Bond Research Initative Foundaton.
"Obviously, we know that the children like to see the dogs, but the folks in risk management want some clinical data."
If the results show clear benefit, as expected, they could pave the way for far wider use of some 50,000 registered therapy dogs in children's hospitals nationwide.
"It all comes down to access," said McCullough. "Obviously, we know that the children like to see the dogs, but the folks in risk management want some clinical data."
Building on a small pilot study of six kids and six pets conducted last year, researchers have designed a randomized, controlled trial that will follow 100 children who are newly diagnosed with cancer, including 50 who receive targeted visits from therapy dogs, and 50 who will receive standard treatment.
Five children's hospitals have agreed to participate in the year-long study of kids ages 3 to 12 who get regular chemotherapy in outpatient clinics. The study will track blood pressure, heart rate and psychological responses in the kids, their families and the caregivers, McCullough said. It will also test the effect on the dogs, measuring the level of the stress hormone cortisol in the animals' saliva before and after visits.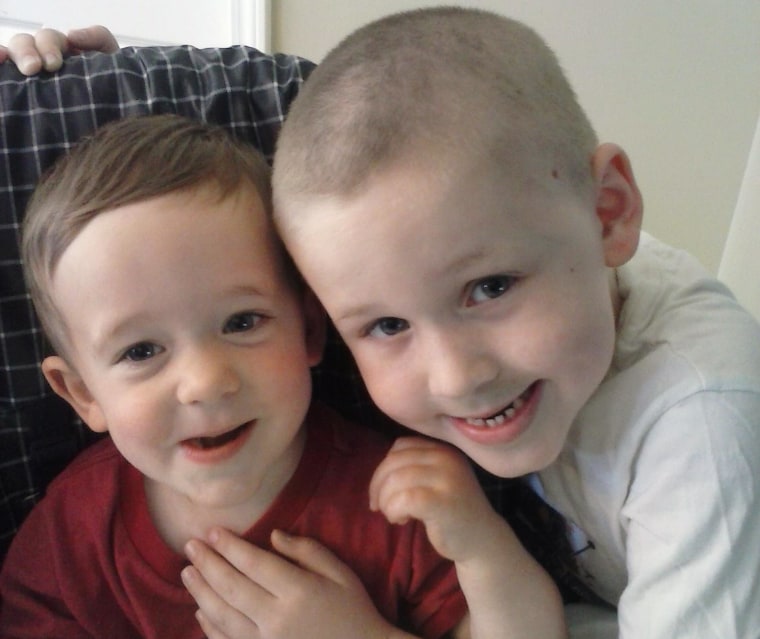 It won't take them long to document the benefits, said Jenny Greenwell, 34, of Murfreesboro, Tennessee. Her 6-year-old son, Bryce, was diagnosed with acute lymphoblastic leukemia in December and was one of the early patients to participate in the pilot study.
"It's amazing they would actually have to do a study on it, in my opinion," said Greenwell, whose son is being treated at Monroe Carrell Jr. Children's Hospital at Vanderbilt University.
When Bryce met with Swoosh, a 6-year-old Pomeranian therapy dog owned by Michelle Thompson, the effect was immediate. During one visit, his measured heart rate was high at the start, but quickly fell in the presence of the dog.
"He has a high anxiety level as it is," Greenwell said. "The thought of the unknown makes him anxious. But meeting with Michelle and Swoosh was comforting."
That view was echoed by John Harris, 44, of Lebanon, Tennessee, whose son, Bobby, now 7, was diagnosed with a rare brain cancer. Bobby saw Swoosh most Tuesdays last year during a difficult bout of chemotherapy and radiation.
"Swoosh would get in Bobby's lap and he'd stay there until Bobby felt better," Harris said. "Bobby was in a lot of pain and had a lot of nausea. He really needed the distraction."
"Bobby was in a lot of pain and had a lot of nausea. He really needed the distraction."
The benefits of therapy dogs are also clear to Scott Baggett, 60, of Tampa, Florida, who has been taking his trained Golden Retriever, La Vie, to area hospitals for a decade.
"I could sit and literally run off to you 100 different scenarios of when I know for a fact that my Golden made a difference for a child," he said. "But they're anecdotal stories. We need real, concrete information."
Therapy dogs are not just ordinary pets, noted Baggett, who is a licensed evaluator and certifier for Pet Partners, a large AAT agency. They have to pass rigorous tests for obedience and they have to be scrupulously clean and free of disease. But the dogs also have to have an extra quality.
"Does that dog enjoy meeting people? Does that dog like to engage?" said Baggett, who will participate in the study at St. Joseph Children's Hospital in Tampa.
The results of the study, expected in a year to 15 months, will be welcome, said Dr. ZoAnn Dreyer, a pediatric cancer expert at Texas Children's Hospital in Houston, which is not part of the trial.
"I think this is a spectacular idea," she said. "I'm surprised that we haven't thought of this sooner."
Her hospital allows a range of animals — including dogs and miniature horses — to comfort cancer patients. But she said it will be helpful to have clear clinical evidence to back up what doctors already know about the benefits of therapy pets for cancer patients.
"I think it plays a huge role. If they're happy and they have a good outlook, they're much more likely to tolerate their medicines," she said. "A clinical trial that will no doubt be beneficial to the kids gives a lot more credence for hospitals around the country to use it."