Breast cancer may be killing black women at a higher rate than whites because they are sicker to start with, researchers reported on Tuesday.

Doctors and policymakers have known for years that African-American women are more likely to die of breast cancer than white women. Studies have offered all sorts of clues – there may be genetic differences, there may be disparities in getting medical care, black women may get inferior treatment, and blacks may simply avoid doctors more.
This latest study, done using a new method, shows not only that the differences are still there, years after experts first began to notice them -- it also shows that black women are in poorer shape overall than whites when they are diagnosed.
"They come in sicker, with more advanced disease and more chronic conditions," says Dr. Jeffrey Silber of the Children's Hospital of Philadelphia, who led the study published in the Journal of the American Medical Association. "The disparity looks to be unchanged over the past few decades."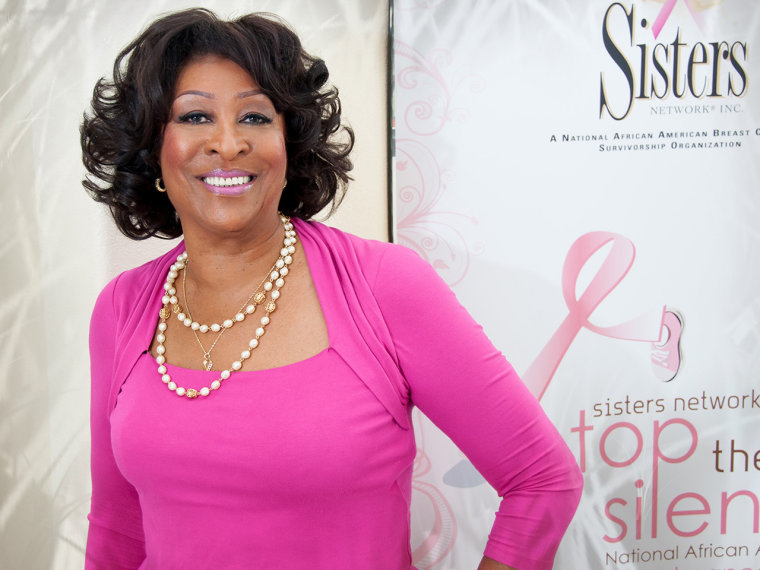 The findings don't surprise Karen Jackson, founder and CEO, of Texas-based Sisters Network Inc., which tries to educate and motivate African-American women about breast cancer. "After 20 years, I have seen this over and over again," Jackson, who was treated for breast cancer 20 years ago, told NBC News.
"We know what the solutions are. Our initiatives are geared to early detection."
Black women often fear a cancer diagnosis, and are afraid that they are doomed to die anyway, she said.
Jackson, who felt a lump for years before she was diagnosed, says she's living proof that treatment works. But women have to actively seek care and they have to be vocal about getting the right kind of care.

Many experts have suspected that a combination of mistrust and difficulty in getting good medical treatment underlie many of the disparities seen in health. Blacks are more likely to die of a range of diseases, from diabetes to prostate cancer.
Silber's team, armed with a grant from the Agency for Healthcare Research and Quality, set out to show what the differences really are.
They set up a very large study looking at women over 65 who are covered by Medicare. They compared 7,375 black women 65 and older who were diagnosed between 1991 to 2005 to three different groups of 7,375 white patients.
"We matched white patients to black patients," Silber said. The first group lived in similar places, were the same age and diagnosed in the same year. The white women lived three years longer than the black women, on average.
Then the team matched the black patients to a group of white women who were not only the same age and diagnosed in the same year, but who had similar tumors – the same stage, the same aggressiveness and the same type – and who also other similar conditions, such as diabetes and heart failure. "When we found whites who looked like like blacks on all those presentation factors, the three-year disparity went down to just a one-year disparity," Silber said in a telephone interview.
Finally, they added in a third layer. They found white patients who were the same age, in the same socioeconomic group, who lived in similar neighborhoods, who had similar types of cancer and who also got the same type of treatment as the 7,300 black women – drug type, same type of surgery and same type of radiation therapy. The differences in life expectancy fell to just three months.
"The disparity in treatment, though real, is not accounting for very much," Silber said. He says this shows the problem is that black women are showing up sicker in the first place.
"They are not getting the preventive care they need," he said. "They are not coming in early enough."
Jackson agrees, but she says her case shows it's more than just a matter of seeing a doctor. She knew she had a high risk of breast cancer because two aunts had it. She started having mammograms at 35, and when she felt a mass in her breast a few years later, she asked again and again about it. "The doctors said, 'Don't worry - you're young'," Jackson said. Her mammograms were clear.
But when she was 50 and still felt the lump, she insisted on an ultrasound after yet another mammogram showed nothing. The ultrasound showed a tumor, and Jackson, now 70, had surgery, chemotherapy and radiation.
"I went from furious to proactive," says Jackson, who lives in Houston and who was covered by her husband's private health insurance plan. "I had insurance. I had mammograms, and I still fell through the cracks. And I thought, what about women who aren't getting mammograms?"
So she started Sisters Network Inc.
Many African-American women are afraid when they find a lump or other possible symptom of breast cancer, Jackson says. "When you are in a fearful state, you are not accessing things that are available to you," she said. "That fear of dying immobilizes you. We understand this."
Many women also don't realize they need regular mammograms – not just one, Jackson says.
The study also suggests that black women are not getting other care they need. They were less likely than the white women to have had a recent colon cancer screening or a cholesterol test, Silber says.
"We need to make certain that everyone in this country has access to adequate medical care, and not just at the time they develop a cancer," Dr. Len Lichtenfeld, Deputy Chief Medical Officer for the American Cancer Society, said in a telephone interview.
"We do need to reach out into communities and educate," Lichtenfeld added. "We do need to make resources available. We as a nation have to make the decision that this is simply not acceptable. When people get angry about situations like this, things will happen."
Dr. Laura Kruper, who helps direct the breast cancer program at the City of Hope cancer center in Duarte, Calif., says other factors matter, too.
"Can a woman take time off work to get this done? Is she close to a facility?" Kruper asks.
"I see lot of patients in my office who present with advanced cancers and they ask, 'Oh, I was supposed to get a mammogram every year?'"
Cultural differences also matter, Kruper says. "I do have women who come in and say 'God is going to heal me,'" she said.
Better doctor-patient relationships would help, Silber says. "Efforts to increase mammography, efforts to increase and improve communication between primary care physicians and patients would be useful," he said.