Women often skip recommended mammograms after they get a false-positive result: a reading that looks like cancer at first but that turns out not to be.
A study published Thursday confirms this and shows just how often it happens.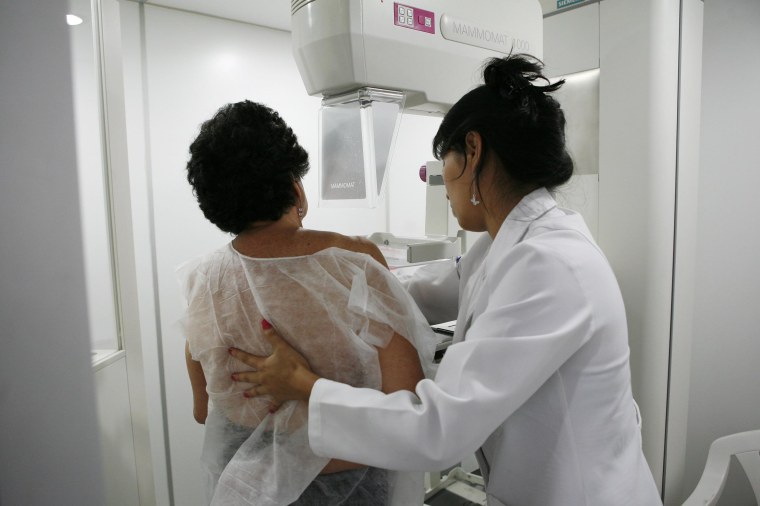 The report, published by the American Association for Cancer Research, found that 85 percent of women who got a clean bill of health on a mammogram came back as scheduled the next time, compared to 80 percent of women who got a false positive.
Related: Mammogram Scares Leave lasting Fears
It's not surprising, said the researchers, led by Dr. Firas Dabbous of the James R. & Helen D. Russell Institute for Research & Innovation in Park Ridge, Illinois. Getting a false-positive is stressful. It means a woman has to come back for a follow-up, and she may often have to pay the cost out of pocket.
"There is a strong visceral response when you get a callback from your doctor about your mammogram reading and that doesn't go away until the patient gets that benign result," Dr. Nila Alsheik of Advocate Lutheran General Hospital in Oak Ridge, a colleague of Dabbous who did not work on the study, told NBC News.
Related: New Report Questions Value of Mammograms
Patients at the very least have to schedule time to come back for another mammogram, often an ultrasound, too. They may also need a painful biopsy. And while the first screening mammogram should be cost-free, some insurance plans charge women for all or part of these follow-ups.
"There are a variety of ways to check for a false positive mammogram like with a biopsy or ultrasound. This process can be very stressful for women, causing anxiety and also has economic burdens," Dabbous said.
"There is a strong visceral response when you get a callback from your doctor about your mammogram reading."
The team looked at the records of 261,000 women who had 740,000 mammograms.
They found that about 12 percent of the mammograms — a type of x-ray — produced a false positive.
"Women with a true negative result were 36 percent more likely to return to screening in the next 36 months compared with women with a false positive result," the team wrote.
That translated to a higher risk that the women would have late-stage cancer when they did come back, although the risk was not very high — less than one-half of one percent. About 0.4 percent of women who had a false positive were diagnosed with late-stage breast cancer over the next four years, compared to 0.3 percent of women who got negative mammogram readings.
Related: One in Three Diagnosed Wrongly With Breast Cancer
Newer technologies may help reduce the rate of false positives, said Dr. Laura Shepardson of the Cleveland Clinic, who was not involved in the research.
"One example is a breast tomosynthesis, which takes a series of images, kind of like CT scan or like 3D imaging, and can helps reduce the likelihood of callbacks," Shepardson said.
Research has shown that women who had false positives were more likely to actually develop breast cancer down the road.
The National Cancer Institute's breast cancer risk calculator includes it as a risk factor. Other risk factors include:
age
race
whether she has had radiation treatment to the chest
when and whether she's had children
when she reached puberty
whether she has close relatives with breast cancer
"This process can be very stressful for women, causing anxiety and also has economic burdens."
How often women should get mammograms is a controversial topic and not every tumor is a killer.
Just last October, at the Dartmouth Institute for Health Policy and Clinical Practice said overdiagnosis was causing women worry and treatment that may be more harmful than some of the tumors being removed.
Last month, American Cancer Society chief medical officer Dr. Otis Brawley argued that not every breast tumor is a killer and shouldn't be treated as such.
American Cancer Society guidelines say women with an average risk of breast cancer can wait until they're 45 to have a first mammogram and should have them every year until age 55. After that they should start having them every other year.
The U.S. Preventive Services Task Force says most women can safely wait until they are 50 to start getting mammograms and that they need only one every other year.
Some studies have cast doubt on whether mammograms actually reduce the risk of dying from breast cancer. A 2012 study published in the New England Journal of Medicine that found that as many as a third of cancers detected through routine mammograms may not be life-threatening.
Related: Breast Cancer Study Raises More Questions
Breast cancer is a leading killer of U.S. women. Every year, it's diagnosed in 200,000 women and a few men, and kills around 40,000.
Research shows that treating a tumor early makes for easier, less invasive surgery and can save lives. So, mammograms have become an annual ritual for millions of American women.