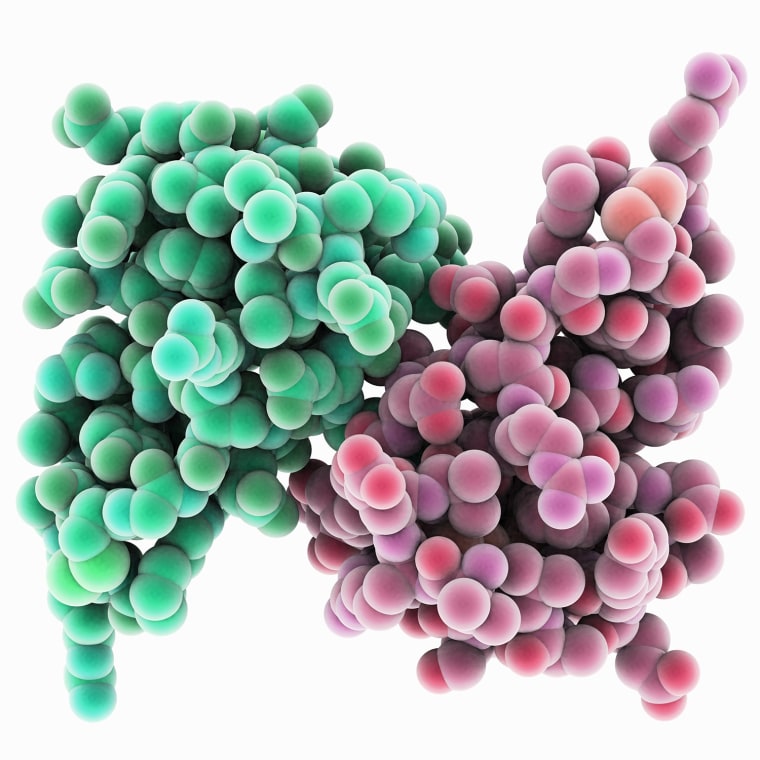 High levels of "good" HDL cholesterol and low levels of the "bad" LDL kind are not just helpful for your heart, they're better for your brain as well, a new study finds.

In fact, the wrong levels of the two types of cholesterol are associated with more of the protein deposits in the brain associated with the onset of Alzheimer's disease.
That's according to the first study to look at the relationship between specific cholesterol levels and brain amyloid deposits in living humans, not just autopsy patients. It's published Monday in the journal JAMA Neurology.
"Unhealthy patterns of cholesterol could be directly causing higher levels of amyloid known to contribute to Alzheimer's, in the same way that such patterns promote heart disease," said Dr. Bruce Reed, a professor of neurology at the University of California, Davis, Alzheimer's Disease Center.
Reed and his team studied brain scans of 74 patients in stroke clinics and senior centers using Pittsburgh Compound B, or PIB, a tracer dye that highlights amyloid in the brain. The patients were, for the most part, normal and free of any symptoms of dementia, Reed said.
But when the scientists measured the cholesterol in their blood, and teased out the two types, they found that patients with high levels of low-density lipoprotein or LDL cholesterol and low levels of high-density lipoprotein or HDL cholesterol showed higher PIB levels.
That means that the good and bad effects of the two kinds of cholesterol may occur long before people develop Alzheimer's symptoms, perhaps offering a new chance for early intervention.
The American Heart Association has long said that keeping levels of HDL "good" cholesterol up — above 60 milligrams per deciliter of blood — and levels of LDL "bad" cholesterol — below 100 mg/dL — can prevent heart disease. But this new study underscores the benefit for the brain, Reed said.
"There's been some recent research questioning whether the low HDL levels are bad for the heart," he said. "But when you look at the biology of this, HDL seems really important to the brain. It's another reason to stick with this goal of getting HDL up and LDL down."
That means that as many Americans ponder New Year's resolutions, there's yet another reason to focus on cholesterol. Dr. Charles DeCarli, director of the Alzheimer's Disease Center and a study co-author, called the work "a wake-up call."
"If you have an LDL above 100 or an HDL that is less than 40, even if you're taking a statin drug, you want to make sure that you are getting those numbers into alignment," he said. "You have to get the HDL up and the LDL down."