Federal regulators have signed off on a new type of flu vaccine with a booster in it, with the hope of better protecting seniors from the virus.
It's the first flu vaccine to include what's called an adjuvant — a compound that helps stimulate the immune system so that a vaccine is more effective.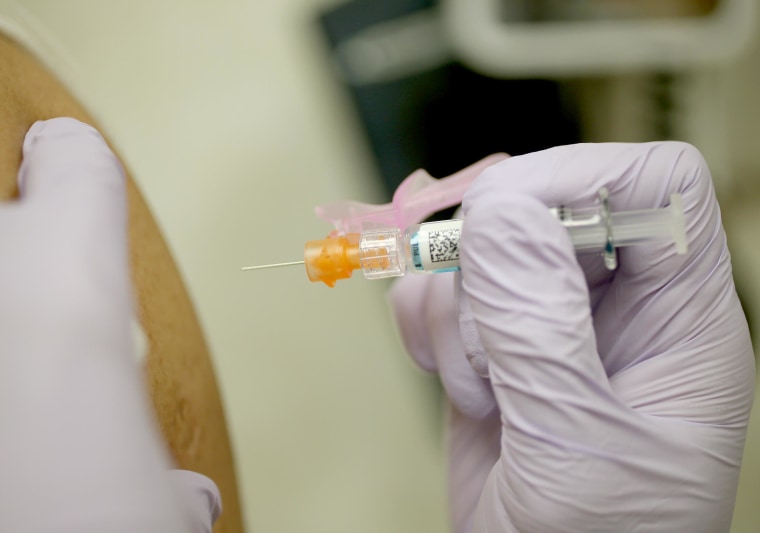 It's aimed at people over 65, who typically have a poor immune response to vaccines.
"Immunizing individuals in this age group is especially important because they bear the greatest burden of severe influenza disease and account for the majority of influenza-related hospitalizations and deaths," said the Food and Drug Administration's Dr. Karen Midthun.
Fluad contains MF59, an oil-in-water mixture that includes squalene, an oily nutrient produced by the liver, and some preservatives. It's not clear why but when mixed with vaccines it increases the number of immune system cells that are stimulated.
It should be available next year, Seqirus, a newly formed company that makes the vaccine, told NBC News. Drug giant Novartis sold its flu vaccine business to another flu vaccine maker, CSL, this summer and CSL renamed the business Seqirus.
U.S. government officials have been very cautious about using MF59 in vaccines because so many Americans are fearful of vaccines — and especially of new ingredients.
But they are widely used in Europe and Canada. Fluad has been in use since 1997 and the FDA says it's been shown to be safe.
Tests show Fluad works at least as well as a vaccine already on the market, and may boost a senior's protection from H3N2, one of the currently circulating strains of influenza.
The Centers for Disease Control and Prevention doesn't count how many adults die from flu each year, because it's so high — it's anywhere from 4,000 to 49,000 a year, and usually most are over 65.
CDC said that by mid-November, about 133 million doses of flu vaccine had been distributed. CDC projects that between 171 and 179 million doses will be available. That's far short of how many doses would be needed if virtually all Americans got vaccinated, as recommended, but not everyone does and every year some unused vaccine gets thrown out.
Last year, about 148 million doses of flu vaccine were distributed.
Six companies make flu vaccines for the U.S. market. They include shots with either three of four flu strains included, a nasal spray, a high-dose shot for seniors and shots made both with and without chicken eggs.
There are two reasons flu vaccines often don't work well. One is when the vaccine formulation doesn't match the current circulating flu viruses, which mutate often and unpredictably. That happened last flu season.
The other is if people have a poor immune response to the vaccine.
Adjuvants can also help stretch out flu vaccine supplies, because people often need a lower dose of vaccine if an adjuvant is added. U.S. officials considered using MF59 when the H1N1 swine flu hit in 2009, and vaccine supplies were short, but decided not to because they wanted people to be vaccinated without fears about a new ingredient.