Performing weight-loss surgery on obese patients with type 2 diabetes effectively reversed the disease, allowing most of them to stop using insulin and many to require no medication to treat the condition three years later, researchers reported Monday.
Patients who received gastric bypass and sleeve gastrectomy weight-loss operations also reduced their need for drugs to control high blood pressure and high cholesterol and boosted their overall quality of life compared with patients who received only medical weight-loss therapy alone.
"People who had surgery were able to feel less body pain, they were more functional, they had a better quality of life, and their general health was better," Dr. Sangeeta Kashyap, an endocrinologist at the Cleveland Clinic and one of the study's lead researchers, told NBC News. "People were happier and healthier as a result of having the bariatric surgery."
Laura-Beth Shoup, 33, reversed her diabetes and had a dramatic improvement in her life after weight-loss surgery. One reason: Her almost 1-year-old daughter, Kinzley.
"I couldn't have kids before, and as soon as I had the surgery, five months later I'd become pregnant," she told NBC News.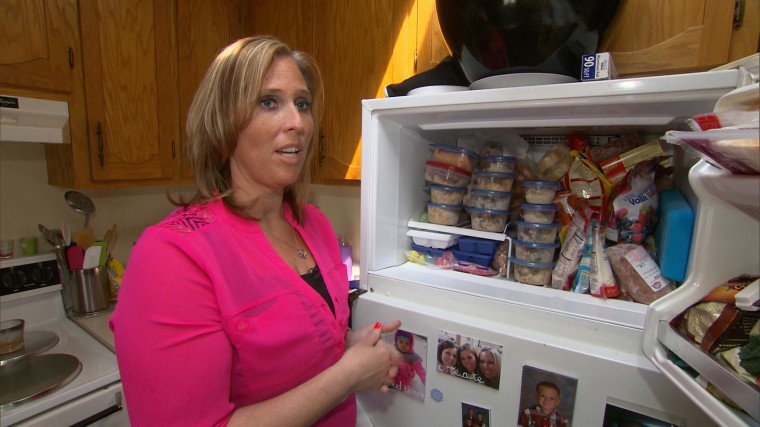 Shoup, who was not involved in the study, had weighed 381 pounds at her heaviest, and had tried pills, exercise and a personal trainer. Her weight ballooned after a car accident to the point that she was out of breath just getting in and out of bed. "Your knees hurt, your back hurts," she said.
After the surgery, her diabetes was reversed and she said she had more energy and became "a totally different person," jogging and socializing and getting her life back.
Researchers at the Cleveland Clinic had previously reported that some in the study of 150 obese patients reversed their symptoms within weeks or even hours of the surgery, long before they lost weight. The data on the patients at the three-year mark was presented at the American College of Cardiology on Monday and published in the New England Journal of Medicine.
The study followed three groups of patients with poorly controlled diabetes who received either gastric bypass surgery, sleeve gastrectomy, or intensive medical therapy. After three years, more than a third of people who received gastric bypass surgery no longer needed diabetes medicine, and almost a quarter of those in the sleeve gastrectomy group were also able to stop taking insulin or oral medications.
Virtually all of the surgery patients who had been taking insulin were able to stop, Kashyap said. Only 5 percent to 10 percent of them were using insulin at the three-year mark, compared with 55 percent of those in the medical group. In that group, only 5 percent of patients were able to have normal glucose control, despite taking more medication.
"There isn't any therapy that can rival bariatric surgery in terms of weight loss and controlling diabetes."
"There isn't any therapy that can rival bariatric surgery in terms of weight loss and controlling diabetes," Kashyap said.
Dr. Michael Jensen of the Mayo Clinic, who was not involved in the study, said the results are impressive but that weight-loss surgery should still be seen as a last resort for patients who are not controlling their diabetes and responding to medical treatment. Surgery costs about $50,000 and fails in many cases, and there is a risk of complications, including death.
Current medical interventions are also better than those available at the start of this trial, he noted. "So those would always be our first options with surgery being really the last option when we're desperate," Jensen said.
About 26 million people in the U.S. have Type 2 diabetes, according to the Centers for Disease Control and Prevention, and experts expect that number will continue to grow. It is a leading cause of heart disease and stroke, and the seventh leading cause of death in the United States, the CDC says.
Americans spent nearly $250 billion in 2012 on diabetes alone, up 40 percent since 2007, according to the American Diabetes Association.
Patients who got the weight-loss surgery lost an average of 50 to 55 pounds, or almost a quarter of their body weight, at the three-year mark, Kashayp said. Those who had gastric bypass surgery fared slightly better than the sleeve gastrectomy group, "but both groups had five to six times more weight loss than in the medical arm," Kashyap said.
But the most remarkable finding, Kashayp said, was the improvement in the patients' quality of life.
Shoup, the mother of Kinzley, is a perfect example, but she emphasizes that surgery is not a quick fix. She works out every day and restricts her diet to keep losing weight. So far, she has lost 181 pounds and given birth to a healthy girl.
"I had the surgery, I had my daughter, and I just bought my first home, and a 33-year-old can't ask for more," she said. "I'm very blessed."
NBC News Medical Producer Jane Derenowski and NBC News Channel health reporter Erika Edwards contributed to this report.