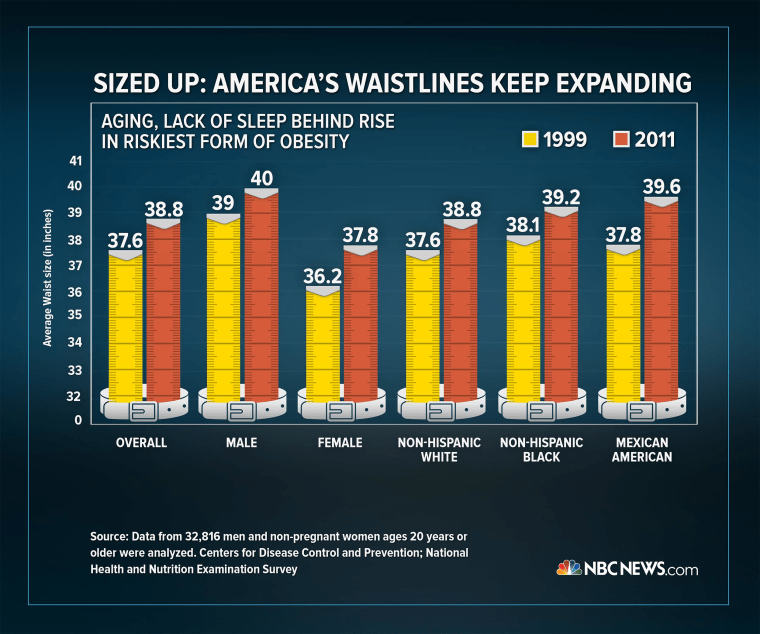 American adult waistlines are still spreading, a new study finds. While body mass index, a key measure for obesity, has stabilized, our bellies have increased an inch over the last decade — to a circumference of almost 39 inches. That's bad news, researchers say.
"[Waist circumference] has kind of been picking up year after year [while] BMI flat-lined a little bit," says Dr. Earl Ford, a medical officer at the Centers for Disease Control, and an author of the report published in the Journal of the American Medical Association Tuesday.
CDC researchers looked at 32,816 people older than 20 from 1999 until 2011-2012, using National Health and Nutrition Examination Survey (NHANES) data to assess weight. Average age was 45. During this time, waist circumference increased from 37.6 inches in 1999-2000 to 38.8 inches in 2011-2012. Overall women's waists increased by 1.5 inches to an average of 37.8 inches. African-American waists increased by 1.6 inches to 39 inches, while Mexican-Americans saw an increase of 1.8 inches to 39.6 inches.
Abdominal obesity is defined as a waist circumference greater than 40.2 inches in men and greater than 34.6 inches in women.
It's unclear why waistlines are still expanding while BMI hasn't changed, which is based on weight-to-height ratio, has stabilized. It might be the aging population, says David Heber, director of UCLA Risk Factor for Obesity Clinic. As we age, heavy muscle is lost and we gain more fat, says Heber.
The CDC researchers also included sleep problems, certain medications and lack of exercise as possible causes.
Experts agree that extra belly fat is dangerous. People with excess belly fat are at greater risk of heart disease, high cholesterol, sleep apnea, and diabetes.
In-Depth
The Whole World is Getting Fatter
If You Think We're Fat Now, Wait until 2030