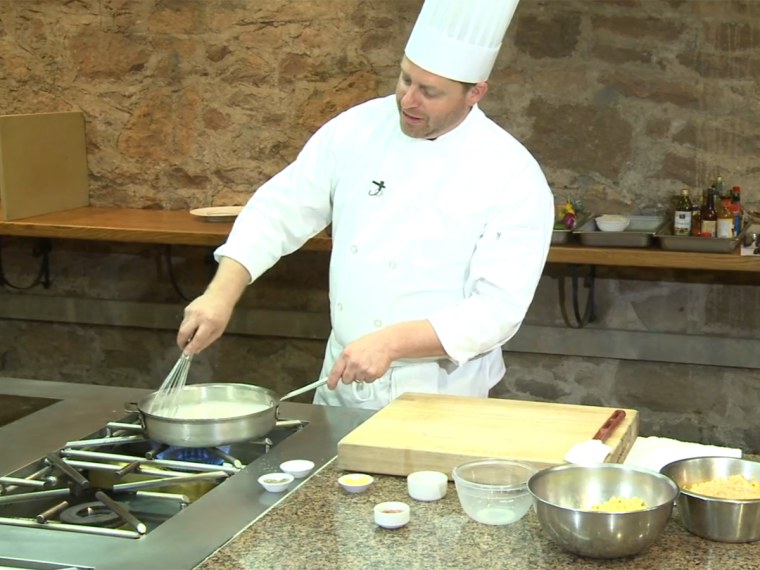 Carbs are great, the creamier the better. Fresh, juicy vegetables and fruits are good, too.
New research released Tuesday as part of a project on cancer nutrition shows not only what turns patients' stomachs, but what they will find appetizing.
Anyone who has undergone chemotherapy or radiation for the disease knows it can ruin your appetite, make your mouth burn, and alter your sense of taste and smell so much that you don't know what you can eat.
So cancer specialists, hospital chefs, a catering company and a private foundation have launched the Cancer Nutrition Consortium, a project with a goal of helping cancer patients and people who cook for them come up with recipes they can stomach.
"The most important thing is that they prevent weight loss and that they eat a balanced healthy diet, and that is hard to do," says Kathy McManus, a registered dietician who directs the nutrition department at Boston's Dana-Farber/Brigham and Women's Cancer Center, which is part of the new consortium.
"Over the years, I have watched many of my patients struggle with eating and proper nutrition when they are undergoing cancer treatment," said Dr. Bruce Moskowitz, a West Palm Beach, Fla., internal medicine specialist whose private foundation helped lead the effort. "I finally decided I need to do something about it and engaged some of the best and brightest minds to focus on this important area."
Potatoes became the go-to food for Wendy Watkins of Orchard Park, N.Y., when she was being treated for her breast cancer. Like many cancer patients, Watkins couldn't tolerate strong-tasting foods, just as her body needed nutrition to help fight the disease and recover from the harsh treatment.
"My mouth — if you have ever had a canker sore or cold sore, when you are going through chemo your mouth explodes with those," says Watkins, who's in her mid-40s. "It made it hard to chew. Acidic foods and spicy foods were really hard to tolerate. You couldn't eat a potato chip."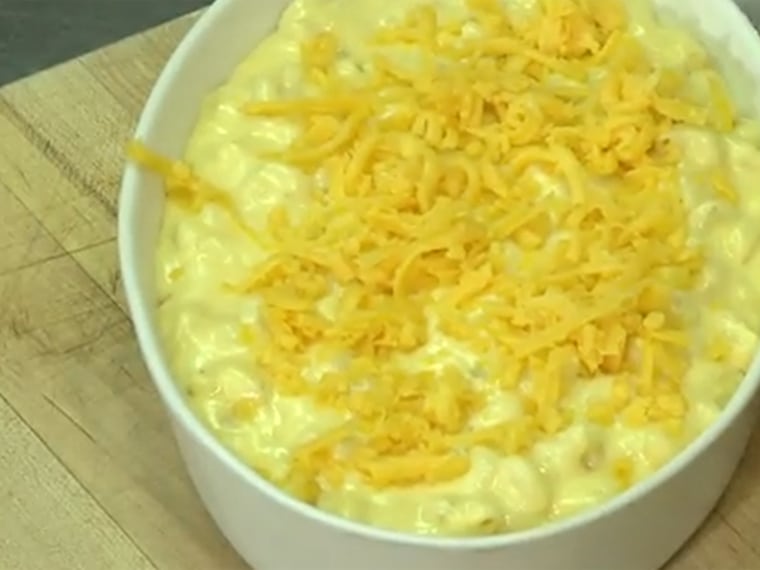 Watkins, who went through six months of chemotherapy and six weeks of radiation treatment for her triple-negative breast cancer in 2010, said she craved comfort foods. 

"Potatoes became my staple. I had potatoes every which way you could have potatoes — mashed potatoes, potato soup. When you are going through it, you are just trying to find things you can get down. Taste becomes secondary."
A survey of 1,200 cancer patients released at the launch backs this up. It found that 84 percent have some sort of symptom, including poor appetite, constipation or fatigue, which makes it hard to cook meals.
"When you are going through chemo you are tired," says Watkins, who works at Delaware North Co., a food service company taking part in the consortium. "The last thing you want to do is spend two hours on a meal."
About 40 percent said they lost their appetites and 30 percent said they had eaten less after starting treatment. Nearly half — 45 — percent said they lost weight.
People varied in what put them off food, but 52 percent said they avoided greasy or fried foods, 44 percent stayed away from spicy foods and 31 percent couldn't tolerate acidic foods such as citrus. Nearly a third said they dumped Mexican, Indian and salty foods.
"They did tell us that they still enjoy fruits and vegetables. They liked soups. They were looking for more carb-heavy foods, comfort foods," she says. "Things like smoothies and puddings were other big favorite items."
Moskowitz said he got the idea when treating a patient who had cancer and who complained she lost her appetite. "Oncologists and nutritionists offered her medicine for nausea, which was not her problem," he said. "No one had a solution for her altered taste and smell."
So the team had chefs from cancer centers and the Culinary Institute of America submit recipes and McManus and other nutrition specialists checked out the ingredients. They've published 100 recipes that cancer patients should enjoy and that offer comfort while packing in the nutrients.
"They taste amazing," McManus says. "We have this wonderful avocado cucumber soup that's just delightful."
Or how about a bean and lentil stew made with gentle herbs — basil, thyme and oregano — a low-salt broth and fresh tomatoes? An easy-to-make crock pot chicken pot "pie" can be made using packaged chicken thighs, frozen peas and cut-up potato, carrot and onion. There's a video here showing how to make macaroni and cheese from scratch.
Although cancer patients may believe they need to add certain nutrients, or avoid certain foods, McManus says it's not really that complicated. "Whether you are undergoing chemotherapy or not, one thing to avoid is any added sugar in products," she says. Natural sugar, found in fruits, isn't harmful, she adds.
Patients may want to avoid too much meat and go for plenty of fresh fruit and vegetables, as well as whole grains. Processed foods can add to constipation issues and are not terribly nutritious.
She hopes the website can help offer not only some good food, but a sense of empowerment. "Patients undergoing treatment really want to try to do everything that they can," McManus says. "They have lost control of their lives in some ways and food is something they can control."
Related story: Her mission: Help cancer patients rediscover joy of food