Fat Zero sounds like a safe, natural product, containing bee pollen and other ingredients like green tea and lotus seed. But it also contains sibutramine, a prescription diet drug that was so dangerous it's been pulled off the U.S. market, the Food and Drug Administration says.

The FDA issued warnings about a batch of similar slimming products – all claiming to be natural, and all containing not only sibutramine, but phenolphthalein, a laxative that's also been pulled out of pills because it might cause cancer.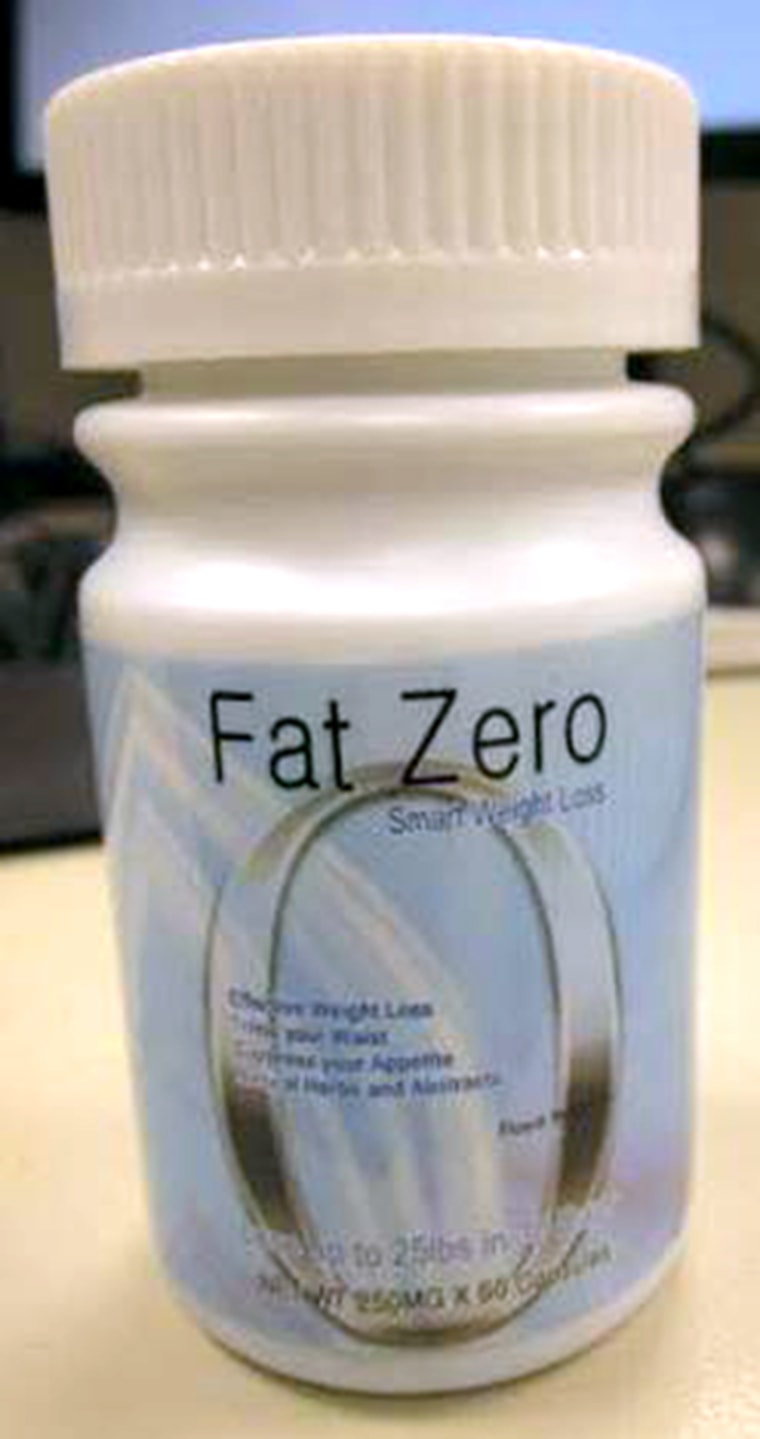 "Fat Zero will give your body the jump start it needs to lose those unwanted pounds," the maker's website promises.
It sure will, says the FDA. But not because of its so-called natural ingredients. The sibutramine in it can damage the heart.
"Sibutramine is a controlled substance that was removed from the market in October 2010 for safety reasons," FDA says in a notice to consumers. "The product poses a threat to consumers because sibutramine is known to substantially increase blood pressure and/or pulse rate in some patients and may present a significant risk for patients with a history of coronary artery disease, congestive heart failure, arrhythmias, or stroke. This product may also interact, in life-threatening ways, with other medications a consumer may be taking."
Other products tagged by the FDA Tuesday include Fruit & Plant Slimming, which also contains sibutramine and phenolphthalein and Extreme Body Slim, which tests found contains sibutramine.
Sibutramine affects several brain chemicals, including serotinin and norepinephrine. Scientists don't quite understand how it causes weight loss – but in some people in can actually increase appetite.
FDA also issued a warning on Tuesday about a different "natural" product that contains a prescription drug ingredient. This one, Royal Dragon Herbal Tonic Balls, is sold for sexual enhancement and contains vardenafil, the active ingredient in the erectile dysfunction drug Levitra. "This undeclared ingredient may interact with nitrates found in some prescription drugs, such as nitroglycerin, and may lower blood pressure to dangerous levels," FDA cautions.
"Consumers should stop using this product immediately and throw it away. Consumers who have experienced any negative side effects should consult a health care professional as soon as possible."
Unlike prescription drugs, supplements and herbal products are not regulated by the FDA before they are sold. So long as makers don't make specific healthy claims, they can sell products made with ingredients that are "generally recognized as safe". But the FDA can test these products and if prescription drugs or other potentially dangerous ingredients are found, it can warn the public.