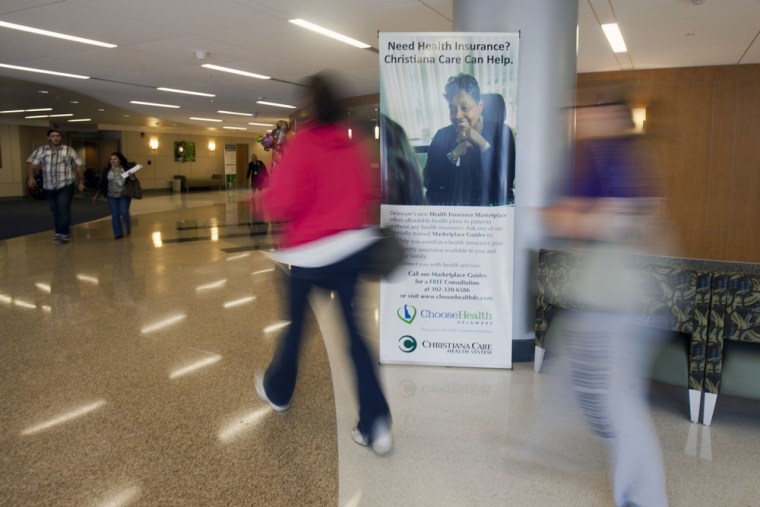 The new health insurance websites got off to a predictably glitchy start Tuesday morning. Both the federal site and Maryland's site for enrolling people crashed almost immediately. More ups and downs are anticipated during the enrollment process. 
Supporters and opponents alike of the health care reform law, known widely as Obamacare, say to expect more. Opening "as planned" doesn't mean enrollment will go smoothly.

Even before Tuesday there were problems, from a computer jam in Washington, D.C.'s exchange to a delay in the plan for small business enrollment. It's one of the reasons the federal government has set a six-month enrollment period. It isn't going to be easy.
Even without glitches, the process will be cumbersome and won't be something to undertake on your coffee break. 
That's why Amy Ball has been chatting with every patient she sees at Christiana Care Health System's hospital in Wilmington, Del. Not only are most patients unaware that they can buy health insurance on the new online exchanges for the first time, but they are almost certainly going to need help doing so.

"I'm here to educate," says Ball, a community educator at Christiana. "I know it's overwhelming with the plans but I tell them what to expect. For some of our individuals, this is the first time they will have health insurance."
Ball has a spreadsheet, and will start calling uninsured patients one by one to get them signed up over the next three months. "I think people are excited they can get health insurance because some of their employers don't offer health insurance," she says.
Christiana — a nonprofit hospital system named for a nearby town — is doing the enrollment and counseling on its own. But the Obama administration has been working with hundreds of groups, large and small, to set up a network of "navigators" who will walk people through what's likely to be at least a 45-minute process.
Not only do new customers have to choose among various levels of coverage — from just-the-basics to platinum-level wall-to-wall plans — but they also have to provide details of their income, household, job status and whether they are legal residents. 
The new website connects to a system that immediately checks this information with the Social Security Administration, the Internal Revenue Service, Department of Labor and Homeland Security.

There are lots of decisions to make, Health and Human Services Secretary Kathleen Sebelius told NBC's Nightly News. "Do you want a higher deductible and lower premiums? Do you want less out of pocket and pay a higher monthly premium?" Sebelius said.
If it works as planned, it will not only calculate the premiums, but also calculate the subsidies people can get from the federal government to pay them. "We think about 90-plus percent of this market will qualify for some financial help," Sebelius said.

The White House has named 900 different groups, from the American Nurses Association to local pharmacies and advocacy groups such as the Lupus Foundation of America, that are helping people get through the sign-up process. 
"We are trying to reach any uninsured person in Delaware," says Lauren Pendergast, who coordinates the nine marketplace guides who work at Christiana's system of clinics and hospitals. She says the not-for-profit hospital system views signing people up for health insurance as part of the mission.
Ball has been able to grab many patients as they sign up for the state's Community Healthcare Access Program (CHAP), which helps them find and pay for medical services. 
After re-enrolling 47-year-old Linda McCray in CHAP, Ball adds another round of questions.
"Right now we are just going to enroll you in CHAP. But what I want to talk to you about is the health marketplace," Ball says to McCray, who gets no health insurance through her job working at a preschool. "This is actual insurance. Right now, you don't have insurance. If you go to the pharmacy, you have to pay full price."
McCray nods, pointing out that she doesn't qualify for Medicaid, the joint federal-state health-insurance plan for people with low incomes. "They tell me I make too much," she says.
McCray had health insurance once, but it's been five years. Nonetheless, she's been working hard to take care of her health and knows the value of health insurance. She just cannot afford it. "It costs too much," she tells Ball. "I am thinking about rent."
She takes pills for high blood pressure. Her mother died of breast cancer when she was just 54 and McCray knows she needs to watch her health carefully. "Every year I get a mammogram," McCray says. 

If she buys insurance on the new exchange, the 2010 Affordable Care Act requires the insurance company to pay every cent of the cost of McCray's mammograms and other preventive services she might need.
Ball turns her computer screen so McCray can see it. Delaware is one of the states running its own health-insurance exchange. 
"This site is ChooseHealthDelaware dot com. There are lots of plans — you have 19 to choose from …You'd have to pay a fee monthly," Ball says. McCray will have to pony up a co-pay for most doctor visits and most treatments, an amount that varies depending on what type of plan she chooses. She'll likely qualify for a federal government subsidy that will greatly reduce her monthly premiums.
McCray doesn't have a computer or Internet access. "You can make an appointment with me to enroll," says Ball. "If you enroll by Dec. 15, you can start using your health insurance by Jan. 1."
McCray looks uncertainly at the computer screen. "Do you want me to reach out to you to make an appointment?" Ball asks.
"Yes," McCray answers. "Because I need better medication."
McCray is one of 90,000 people in Delaware who don't have health insurance. Nationally, about 15 percent of people don't have health insurance and the goal of Obamacare is to get them covered. Most experts expect about 7 million people will sign up this first year.
Wanda Perry, 48, says she she'll enroll at home, where she has Internet access.
"I'll probably try and do it on my own. It looks easy enough," says Perry, who is unemployed and whose self-employed husband also lacks health insurance.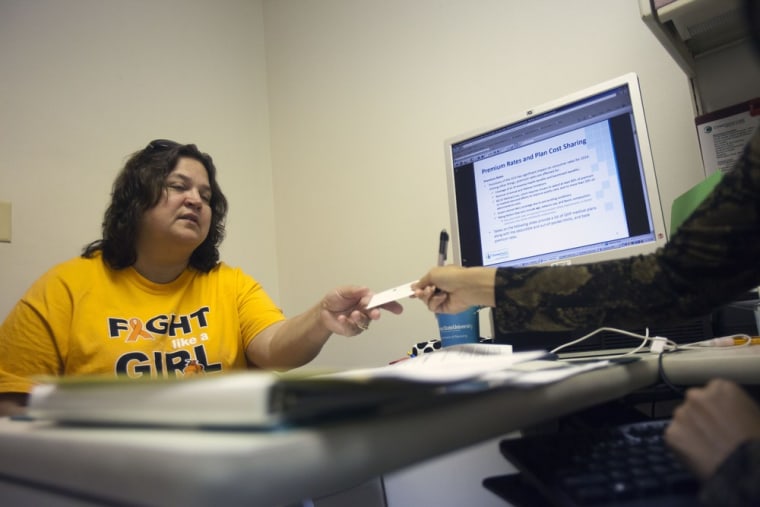 "I can help you if you want me to," Ball gently prods.
Even if the site works perfectly for Perry and others, it's not going to be quick or easy. "You have got to fill out a whole attestation form, an eligibility form, you have to give all your demographic information," Michael Dowling, president and CEO of North Shore-LIJ Health System, told CNBC.
Opponents of the Affordable Care Act say the bumps in the road mean the system can't and won't work. White House officials have said they know there will be problems, and they say they can fix them as they come up.
For instance, Spanish-language websites are not quite ready. "Well, actually, we want to make sure we do this the right way," Sebelius said. "Starting on the 21st of October, at the end of Spanish Heritage Month, we will actually have a week-long re-launch of the Spanish website," she added.
In the meantime, Spanish-language speakers can continue to window-shop on the exchanges. "They will have the toll-free call-in number. They will be able to access a paper version of the application entirely in Spanish and get help," Sebelius said.
For Dr. Robert Laskowski, Christiana's CEO , problems are to be expected.
"There is a lot of complexity in the Affordable Care Act," Laskowski said. "It's not perfect."
But, he says, it just makes sense to help people get health insurance. "You can have the best health-care services, but if people don't have access to them, it's no good," he says. "This was not a big decision for us to make …This is truly one of the most important times in health care in our country."
Related: