About 9.2 million people signed up for private health insurance on the Obamacare exchanges for 2017, a little down from last year, the federal government said Friday.
Health policy experts and even staff at the Health and Human Services Department had not been sure the Trump administration would release the final signup numbers, given President Donald Trump's hostility to the program.
But the figures came out right on schedule Friday, albeit in a dryly worded news release far different from the usual excited language seen under the Obama administration.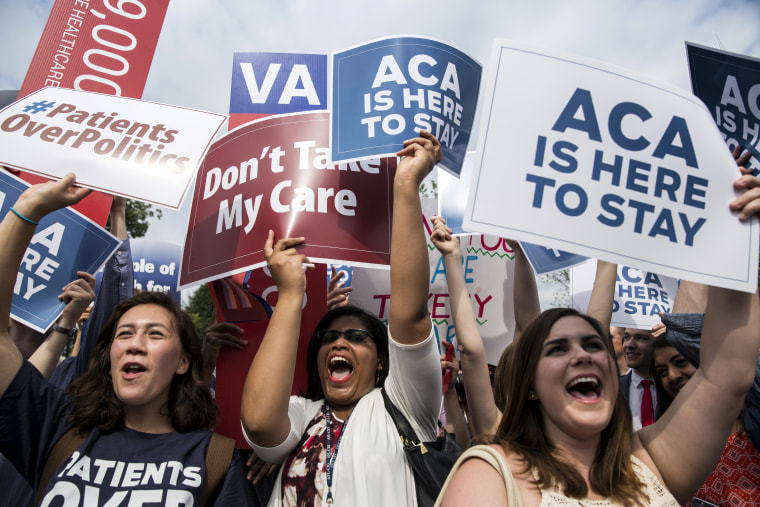 The numbers are down from the 9.6 million announced at the end of open enrollment last year, even though enrollments had seemed to be slightly above the year before until Obama left office.
"Obamacare has failed the American people, with one broken promise after another," HHS spokesman Matt Lloyd said in a statement.
Trump's administration had at first pulled, and then partly restored the planned advertising campaign that had become normal for the last weeks of the open enrollment period. Former HealthCare.gov chief marketing officer Joshua Peck had accused the Trump administration of deliberately slowing enrollment.
Related: On Obamacare's Last Signup Day, Its Fate is in the Balance
"On January 31, 2017, Open Enrollment for 2017 coverage ended with more than 9.2 million plan selections in states that use the HealthCare.gov eligibility and enrollment platform," the Center for Medicare and Medicaid Services (CMS), which administers the Obamacare health policies, said in a statement.
"People may be enrolled, but that doesn't mean Obamacare is working."
"Those selections were made from a market that experienced a 25 percent increase over the previous year in the average premium for the benchmark second-lowest cost silver plan as well as a 28 percent decline in the number of issuers participating over the past year."
The well-publicized premium increases were mostly offset by federal subsidies but customers have complained as insurance companies pulled out of the marketplaces, leaving people in some counties with a single plan to choose from.
"Of the more than 9.2 million consumers who selected a plan through the HealthCare.gov platform, about 3 million are new consumers, which means 33 percent of all plan selections were from new consumers," CMS said.
"In addition to the approximately 3 million new HealthCare.gov consumers, about 6.2 million were returning Marketplace consumers."
More details will come in March. Details from the states that operate their own exchanges will come separately.
In 39 states, customers can buy private insurance on HealthCare.gov, the federally run website, while the other states and Washington D.C. run their own online exchanges. Enrollment closed on Jan. 31 for 2017.
On Thursday Washington state's exchange said more than 225,000 people had signed up for plans on the marketplace by the deadline, up 13 percent over last year.
Obamacare opponents played down the numbers.
"People may be enrolled, but that doesn't mean Obamacare is working," said House Energy and Commerce Committee Chairman Greg Walden, a Oregon Republican.
"We have a new class of uninsured patients under this law – one where folks are priced out of actually using their coverage because of sky-high premiums, deductibles, and other out-of-pocket costs."
But Peck said people were eager to sign up.
"Last year, we saw about 700,000 people enroll during the final week of enrollment — the bulk of whom signed up in the two to three days before the deadline," Peck blogged.
"This year, a combination of factors including more targeted and efficient outreach and a letter from the IRS to people who paid the penalty, led us to believe we'd see an even bigger surge in the days before the final deadline. Keep in mind, through January 14th, the final enrollment snapshot under the Obama Administration, enrollment was tracking ahead of last year," he added.
Peck said his team had hoped for 1 million new signups in the final week.
"But interference from the Trump administration — notably pulling millions of dollars in TV and online search advertising undoubtedly drove this number down," he said.
"Based on the performance analysis we did earlier this year, I'd expect that about 35 percent of that enrollment or about 350,000 people were lost due to Trump shutting down the bulk of the outreach budget days before the deadline."
Related: Nearly 13 Million Sign Up for Obamacare on 2016
The Republican-led Congress is debating whether to repeal the 2010 Affordable Care Act in full, or just to change parts of it.
"There has also been tremendous uncertainty and confusion around the future of the ACA, which has likely affected enrollment as well," said Larry Levitt of the Kaiser Family Foundation, which analyses health policy.
Historically, people usually wait until the last minute to sign up, and that is an important opportunity for outreach.
"There is no doubt that enrollment would have been even higher if not for the uncertainty caused by political attacks on the law."
"Since taking office, the new Administration reduced television advertising before the deadline by more than 75 percent, stopped all digital advertising, threatened other outreach efforts, and created additional uncertainty about key consumer protections - meanwhile, Congressional Republicans have rushed to put in place a fast track process for repealing care without a replacement," Protect Our Care, a coalition of groups that support Obamacare, said in a statement.
Polls have indicated that voters want to keep much, if not most, aspects of the law.
"There is no doubt that enrollment would have been even higher if not for the uncertainty caused by political attacks on the law, and the Trump Administration's decision not to provide consumers with all of the resources and support available to help them enroll," Enroll America, a group that actively supports enrollment, said in a statement.
"But the fact that in the face of opposition and controversy, millions of Americans continued to enroll is an incredible testament to the importance of Affordable Care Act coverage to families all across the country."