The American Medical Association joined a growing list of medical groups rejecting the Republican plan to replace the Affordable Care Act Wednesday, saying it will hurt patients.
The AMA said not only is the proposed American Health Care Act being rushed through Congress, but it's loaded with unacceptable provisions from cutting Planned Parenthood funding to repealing a vital public health fund.
"That just won't do," Dr. Andrew Gurman, president of the AMA, said in a statement posted to the association's website.
"While the ACA is imperfect, the current version of the [American Health Care Act] is not legislation we can support," Gurman added. "The replacement bill, as written, would reverse the coverage gains achieved under the ACA, causing many Americans to lose the health care coverage they have come to depend upon."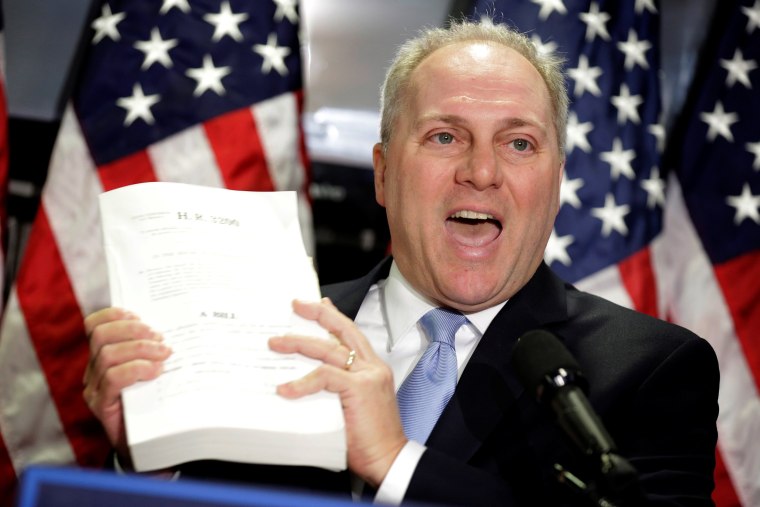 The AMA, which lost several thousand members when it backed the ACA in 2010, had previously spoken in support of President Donald Trump's health and human services secretary, Tom Price. The AMA said new plan will cost people more money and gut CDC funding for killer diseases in addition to cutting insurance coverage for millions.
Related: Many Experts Say the GOP Plan Won't Work
In a letter sent to the bill's House Republican sponsors, AMA executive vice president and CEO Dr. James Madara outlined specific concerns surrounding "the proposed rollback of the Medicaid expansion under the ACA" and the provision blocking patients from seeking care at Planned Parenthood.
Two House committees were going through the proposed legislation Wednesday even as conservative groups rebelled, saying the AHCA doesn't go far enough. Liberals said it would destroy all the gains made by the 2010 law.
Five other groups representing half a million doctors have also spoken out against the proposal.
"We are concerned that by rushing to a mark-up … in the Energy and Commerce and Ways and Means Committees, there will be insufficient time to obtain non-partisan estimates of this legislation's impact by the Congressional Budget Office, or for medical organizations like ours and other key stakeholders in the health care community to offer substantive input on the bill," the American Academy of Family Physicians, American Academy of Pediatrics, American College of Physicians, American Congress of Obstetricians and Gynecologists: and the American Osteopathic Association said in a joint statement.
Related: Health Care Bill Cuts Crucial Disease Prevention Fund
The American Lung Association also panned the Republican proposals, especially those that would limit federal funding of Medicaid, the state-federal joint plan for insuring low-income people.
"Americans who meet the eligibility for Medicaid expansion desperately need preventive services to improve their health," CEO Harold Wimmer said.
"This population smokes at higher rates and is more likely to be at high risk for developing lung cancer. They need vital services including lung cancer screening for those considered at high risk to reduce their risk of dying from lung cancer, as well as tobacco cessation. Prevention must remain at the heart of any proposal aimed at improving the health of Americans," Wimmer added.
Hospitals have also piled on.
"We are deeply concerned that the proposed Medicaid program restructuring will result in both the loss of coverage for current enrollees as well as cuts to a program that provides health care services for our most vulnerable populations, including children, the elderly and disabled," the American Hospital Association, Association of American Medical Colleges, Catholic Health Association of the United States and other groups said in a joint letter.
"Additionally, maintaining deep provider reductions while dramatically reducing coverage will reduce our ability to provide essential care to those newly uninsured and those without adequate insurance."