As the coronavirus was rapidly spreading across the continental United States last week, a person living thousands of miles away in American Samoa developed what appeared to be symptoms of the virus.
Health officials In the U.S. territory located deep in the South Pacific rushed to determine if its first potential COVID-19 case would turn out positive. But they had one problem: they couldn't analyze the samples.
"There's no way for us to test whether we have a case," Iulogologo Joseph Pereira, executive assistant to the American Samoa governor and the head of the territory's coronavirus task force, told NBC News.
Without a certified lab to handle testing, American Samoa tried submitting the samples to the nearest public health lab in Hawaii, some 2,300 miles away, officials said. After the patient didn't meet that state's testing criteria, the health department turned to its second quickest alternative — sending them more than 6,500 miles away to be examined by the Centers for Disease Control and Prevention in Atlanta. Six days later, the territory still doesn't have the results, officials said.
The difficulties in getting test results for possible COVID-19 patients, experts say, underscore the vulnerability of the U.S. territory, home to 55,000 people who are largely cut off from mainland America.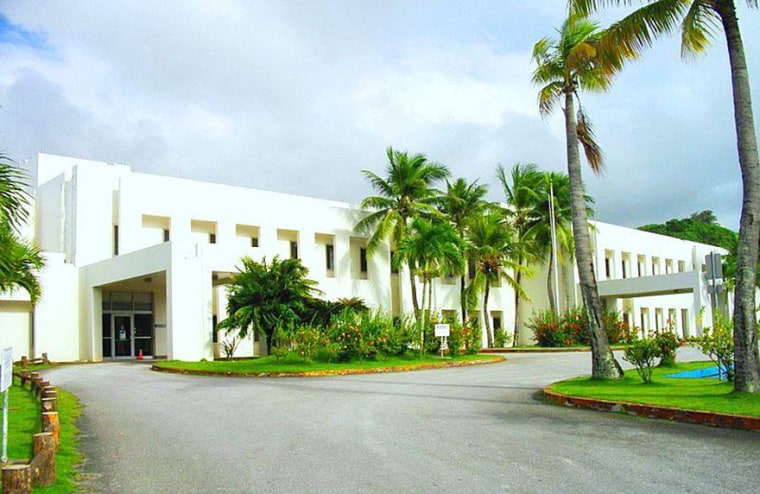 "If they can't get fast testing, they need to rely on other measures such as social distancing," Karen Levy, a microbiologist and epidemiologist at Emory University, said. "It makes social distancing that much more important for them."
American Samoa is one of only two jurisdictions among the nation's 50 states, the five inhabited territories and the District of Columbia, that does not have the ability to test its own samples. It and the Commonwealth of the Northern Mariana Islands -- another U.S. territory in the Pacific Ocean -- must send their samples by commercial airline to labs in other parts of the mainland. But as air traffic decreases and case counts accelerate elsewhere, the territories worry delays could mean virus detection comes too late.
"In the absence of testing, any signs of fever or other symptoms associated with COVID-19 like cough and shortness of breath should be taken extremely seriously and should be immediately followed up by contact tracing and isolation," Levy said.
Only two of the five U.S. territories - Puerto Rico and Guam - are able to test for COVID-19 in their public labs. The U.S. Virgin Islands, currently sending its samples to the CDC, is expected to begin local testing next week. Northern Mariana Islands and American Samoa must depend on overseas labs for the foreseeable future.
American Samoa is working on equipping its only hospital - the Lyndon B. Johnson Tropical Medical Center - to conduct local testing. But the upgrade won't be completed anytime soon.
"We are looking at about eight weeks," said John Faumuina, chief executive officer of the medical center. "Once we get certified by CDC, then they would be able to send us the test kits."
The hospital can currently accommodate only 10 coronavirus patients in a special quarantine facility. Health care workers are troubled by the prospect of even a single confirmed case.
"One is too many for us," Faumuina said.
Both American Samoa and the Northern Mariana Islands have declared a state of emergency and taken protective measures to combat the virus. Travelers arriving on the territories from affected countries are subjected to a screening process and a full quarantine. Public schools have been closed. The Northern Mariana Islands' government offices and nonessential government functions have also been shut down.
On March 13, the American Samoa leadership sent a request for assistance and an action plan to combat the pandemic on its shores to the U.S. Department of the Interior, Vice President Mike Pence and other public health and government officials. In his letter, Gov. Lolo Moliga highlighted that the territory would struggle in coping with a highly contagious disease such as the coronavirus.
"There is great fear that our healthcare service delivery system could collapse if the projections and estimates on the percentage of people who will be infected in any community hold true," Moliga wrote.
With a population similar in size to American Samoa, the Northern Mariana Islands also has a single hospital, with a smaller capacity -- just 86 beds total. While it has no positive cases yet and has only tested four patients, authorities are preparing for what could be a devastating outbreak.
"The biggest challenge out there is we're far away from the continental U.S. Everything comes by ship," said Warren Villagomez, the head of its coronavirus task force. The territory requested supplies such as masks and other protective equipment from the strategic national stockpile, but has to wait for them to arrive. "It's 15-17 days of shipping for anything to get here."
Preparing for an emergency, the territory has set up triage tents outside the one hospital and taken precautions such as screening travelers arriving in the islands. But that may not be enough.
"With only four ICU beds for the entire CNMI, preexisting nursing shortages, and a supply chain that's strained by airline route closures, COVID-19 could readily overwhelm our scarce resources," said Doctor Alexandra Pulst-Korenberg, an emergency physician at the territory's hospital, the Commonwealth Health Care Corporation.
Already, the U.S. island territories face higher rates of chronic diseases, health risk factors and premature death, compared to other U.S. population groups. American Samoa faced a measles outbreak late last year, prompting dozens of health care workers from Hawaii to flood the territory and the CDC to send a shipment of the measles vaccine. The territory has a much higher rate of obesity and the Northern Mariana Islands has more than double the rate of high blood pressure as the 50 U.S. states and D.C.
Those health risks, combined with their distance from the rest of the country, weaker public health infrastructure, technology limitations and small, dispersed populations, could make the territories' populations more vulnerable to COVID-19.
"As a tropical island in the middle of the Pacific Ocean, it would only take a few extra critically ill patients to put us in crisis," Pulst-Korenberg said.
Update: The CNMI confirmed its first two positive cases on Saturday, March 28 after it received test results from the Guam lab. The samples were sent to Guam two days earlier.