The Cleveland Clinic went into damage control mode Monday after the director of its Wellness Institute questioned the safety of vaccines in a blog post that blew up on social media.
Dr. Daniel Neides questioned whether preservatives in childhood vaccines are safe for infants—despite decades of evidence showing that they are.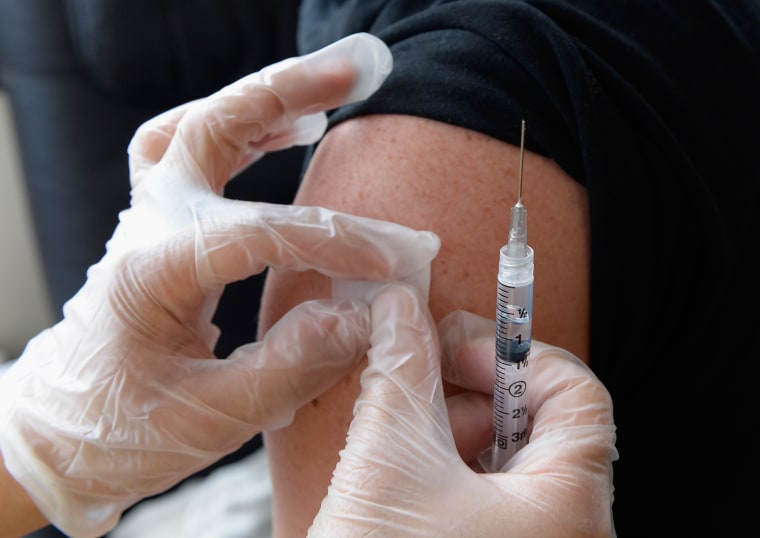 The post infuriated other medical doctors but heartened and emboldened the small — but extremely vocal — community of vaccine doubters.
"I'm impressed. Neides is in family practice and he's not buying all the official denials," wrote Anne Dachel, a blogger at the Age of Autism site that often raises the debunked question of whether vaccines cause autism.
Although the Centers for Disease Control and Prevention, American Academy of Pediatrics, the National Academy of Medicine (formerly the Institute of Medicine) and countless other medical groups have said there is no link between vaccination and autism, the vaccine doubter movement jumps eagerly onto any evidence of dissent.
"Anti-vaccine Cleveland Clinic doctor just made our jobs so much harder," tweeted Dr. Kevin Pho, a medical doctor who blogs and writes about social media.
The Cleveland Clinic said it would take disciplinary action against Neides, but said little else.
"Harmful myths and untruths about vaccinations have been scientifically debunked in rigorous ways," it said in a statement.
Related: Experts Have Found the Truth About Vaccines - Over and Over
"We completely support vaccinations to protect people, especially children who are particularly vulnerable. Our physician published his statement without authorization from Cleveland Clinic. His views do not reflect the position of Cleveland Clinic and appropriate disciplinary action will be taken."
Neides did not immediately respond to requests for interviews from NBC News. The Cleveland Clinic said nothing more would be said for now.
There's no medical debate over the safety of vaccines. But with more than 900,000 practicing physicians in the United States, according to the Kaiser Family Foundation, there can be a diversity of opinions.
"When a doctor at a mainstream organization like the Cleveland Clinic writes something like this, it's very harmful and it's hard to contain," said Glen Nowak, former spokesman for the CDC who now manages the Center for Health and Risk Communication at the University of Georgia.
Related: Roald Dahl's Plea to Parents: Don't Let This Tragedy Happen to You
Pho agreed.
"Having the name of a world-renowned institution to validate his claims makes it even more difficult for primary care doctors to dispel. Already, anti-vaccine sites are citing his post, with the added gravitas of the Cleveland Clinic," he told NBC News.
Pho said the incident will add to time he and other physicians have to spend talking to patients.
"When fake news is retracted, people often can't tell the difference between the truth and the myth."
"Time is at a premium, and having to spend that time dispelling fake health news only adds to the pressures primary care physicians face in a 15-minute office visit," Pho told NBC News.
And the news coverage isn't helping. Communications researchers have found that people often believe the debunked assertions more than they do the debunkers.
"When fake news is retracted, people often can't tell the difference between the truth and the myth," Pho said.
Related: 7 Vaccine Myths Debunked
In fact, vaccines are among the safest medical interventions known, doctors say. They include independent academic scientists from universities, and medical centers that are not affiliated with either the federal government or the pharmaceutical companies.
The World Health Organization estimates that measles vaccines save 1 million lives a year. In contrast, just 57 claims of deaths due to measles vaccines have been filed through the U.S. Vaccine Injury Compensation Program, a no-fault system set up to compensate people injured by vaccines. The program doesn't say how many of those claims were actually allowed.
The independent Institute of Medicine looked at the question so many times that it issued a final report in 2001 saying these studies were using money that could be better spent elsewhere to find the causes of autism, and then another in 2005 saying there really, really is no link between vaccines and autism but said doctors and public health experts were doing a poor job of explaining this to people.
Yet doctors often say they feel pressured. In 2015 a survey found that nearly all pediatricians and family doctors have been asked at least once by parents if they could "space out" the vaccines their children get and most have agreed to do so at some point.
The main reason given was that pediatricians were afraid of losing their patients.
Related: Doctors Say Get your Kids Vaccinated
So what did Neides say that was so inflammatory? He said he asked for a flu shot that did not contain thimerosal, a mercury-based preservative that frightens many people but that vaccines experts say is not only safe, but important for keeping vaccines clear of contamination.
"It's easy to get people to have a visceral reaction to words like chemical or toxin."
"Why would any of us want to be injected with mercury if it can potentially cause harm? However, what I did not realize is that the preservative-free vaccine contains formaldehyde," Neides wrote.
"My anger actually stems from a constant toxic burden that is contributing to the chronic disease epidemic.
Because we have to wake up out of our trance and stop following bad advice. Does the vaccine burden - as has been debated for years - cause autism? I don't know and will not debate that here. What I will stand up and scream is that newborns without intact immune systems and detoxification systems are being over-burdened with PRESERVATIVES AND ADJUVANTS IN THE VACCINES."
Nowak says the research shows that infants are not, in fact, overburdened by preservatives or adjuvants – which are immune system boosters that help vaccines work more effectively.
"There has been a lot of discussion in the past couple of years about (whether) physicians get enough training about vaccines and immunizations. This highlights the importance of provider education," he said.
"It's easy to get people to have a visceral reaction to words like chemical or toxin," Nowak added.