Angry constituents confronted Republican lawmakers at separate town halls in California and Florida, fearful of the GOP promise to repeal former President Barack Obama's health care law without a comprehensive alternative.
In California, Rep. Tom McClintock faced tough questions on Saturday about health care and President Donald Trump's agenda and had to be escorted by police after his hour-long event. Protesters followed him, shouting "Shame on you!"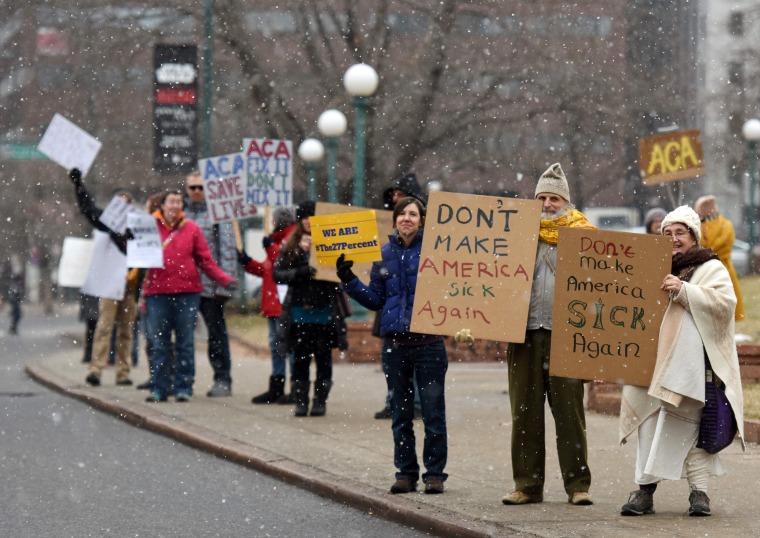 In an equally conservative district in Florida, Rep. Gus Bilirakis answered questions from frustrated town hall attendees who worried about the loss of insurance and higher premiums if the law is repealed.
The events captured on Facebook, the Saint Peters blog and other news organizations echoed the angry town halls that Democrats faced in 2009 as Obama pressed for passage of his sweeping law. With the Trump administration support for scrapping the law, the Republican campaign to overturn it is no longer a political exercise to be stopped by Democrats and Obama but rather a reality.
Republicans have repeatedly said the law is a costly disaster with rising costs. Democrats say the GOP effort will threaten health care's availability and raise rates, angering the 20 million people who gained insurance under the law and tens of millions of others who benefit from the statute's coverage requirements.
Related: It's Still Repeal, Paul Ryan Says
Last week, at a GOP retreat in Philadelphia, McClintock raised concerns about the GOP steps.
"We'd better be sure that we're prepared to live with the market we've created," McClintock was quoted as saying in a secret recording obtained by The Washington Post and elsewhere. "That's going to be called 'Trumpcare.' Republicans will own that lock, stock and barrel, and we'll be judged in the election less than two years away."
On Saturday, McClintock was constantly interrupted and booed as he defended his party's national agenda during the hourlong event at a theater in downtown Roseville, the population center of his sprawling congressional district, the Sacramento Bee reported.
Hundreds of protesters stood outside chanting "Vote him out," while those inside the theater held signs that read "Resist," ''Dump Tom McTrump," and "Climate change is real."
"Remember that there were many people in America who disagreed with and feared Barack Obama just as vigorously as you disagree with and fear Donald Trump."
"I understand you do not like Donald Trump," McClintock said. "I sympathize with you. There have been elections where our side has lost ... Just a word of friendly advice: Remember that there were many people in America who disagreed with and feared Barack Obama just as vigorously as you disagree with and fear Donald Trump."
Related: 9.2 Million Sign Onto Obamacare Exchanges for 2017
A video posted on the newspaper's website shows a demonstrators chanting "Shame on you!" as they follow McClintock who walks to a waiting car surrounded by police officers.
Trump supporters also attended the town hall. David Ramsey said he volunteered for McClintock's 2008 campaign and voted for Trump in November.
"President Trump is doing what he said he was going to do," Ramsey said. "I like what he's talking about - securing our borders and vetting immigrants. Hopefully, he'll lower taxes, and reduce big government and regulation."