The da Vinci surgical robot is so precise, promotional videos show it carefully peeling a grape.
It's so popular that most so-called "keyhole" hysterectomies are done using the machine, and it's used in four out of five operations to remove the prostate, according to the non-profit ECRI Institute.
But a series of lawsuits threaten to burst da Vinci's high-flying bubble, claiming that a very low-tech problem – wear and tear – can spoil the benefits of using a remote, automated system, injuring patients and forcing the invasive surgery they were trying to avoid.
It all boils down to microscopic cracks in the protective covers insulating some of the tools that da Vinci uses, which could possibly allow electricity to leak out and burn patients. What's at issue is whether anyone's actually been burned and whether it's the company's fault.
The cases promise to be complicated and difficult to sort out. The lawsuits allege that da Vinci's maker, Intuitive Surgical, hasn't done nearly enough to correct the problem or to warn hospitals and doctors. But the company told NBC News it's tested its devices over and over and not found a serious problem, and at least one team of doctors who flagged the problem say they haven't seen much evidence that patients are being harmed.
By many accounts, Intuitive Surgical's da Vinci Surgical System is an effective option for anyone eligible for minimally invasive surgery for a range of problems, from prostate cancer to fibroids. It's made the company hundreds of millions of dollars, sent its stock soaring and changed the look of many surgical suites. The company says it has sold more than 2,580 systems to more than 2,000 hospitals, despite its nearly $2 million per unit cost.
The system is a remote-control robotic device, operated by a surgeon who can see the action on a magnified screen. It's a next-generation version of an endoscope, a device with both camera and snippers that can be sent into the body via a tiny incision for surgery.
What surgeons like about da Vinci are its precise controls that allow them to use four robotic arms that bend and twist like their own hands and wrists – only steadier.
The system also employs some fairly common technology, using an electrical current to cauterize as it cuts tissue, and it's here that some lawsuits allege it has caused some substantial injury. They say microscopic cracks in the casing holding the scissors attachment can let electrical current leak out and, potentially, burn tissue – just as holes in the insulation on an extension cord can burn carpets and cause fires. While these devices are only supposed to be used 10 times before they are thrown out, the cracks may develop quickly, testing shows.
The part of the arm that is prone to the cracks is out of the magnified view of the surgeon, so he or she may not see tell-tale sparks or evidence of the tissue being burned centimeters away, according to several research studies published on the issue.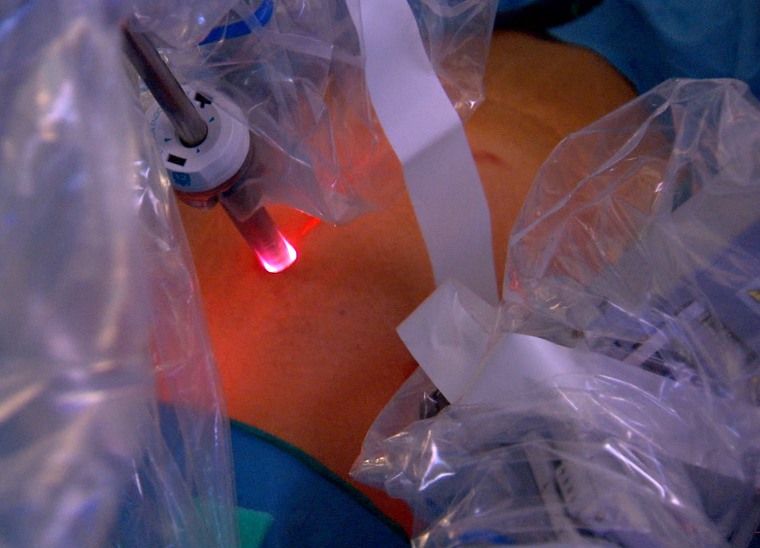 "You can have a surgeon operating with this arm that might have been used five times, and without the surgeon seeing it … you could have an injury to the bowel," says Dr. Francois Blaudeau, a gynecologist in Alabama who has been trained on the da Vinci and who is the lead plaintiffs' attorney.
"That patient could be sent home ... and two days later could come back and have a bowel perforation," Blaudeau added in a telephone interview. "We have cases from all over the country."
On May 8, Intuitive issued an "Urgent Medical Device Notification" to its customers about the Monopolar Curved Scissors (MCS) or "Hot Shears" – one of the devices deployed on one of the four robotic arms. "The MCS may develop micro-cracks near the scissor end of the shaft, which could create a pathway for electrosurgical energy to leak to tissue. The micro-cracks result from variations in the manufacturing process of the shaft and first appear after users reprocess the instruments," the company said in a statement.
"To date, in over one million surgeries with these instruments, the Company has no confirmed evidence of patient injury attributable to this issue. "
The notification says Intuitive has received "only one complaint of an injury associated with the use of an MCS (monopolar curved scissors) instrument that was later found to have micro-cracks; however, laboratory testing did not detect any energy leakage from this instrument."
The company says it told the U.S. Food and Drug Administration, which has been investigating the reports of problems. Intuitive gives instructions for how to avoid injuries and advises that all surgeons check out the whole area after performing an operation to make sure no tissue got burned or otherwise damaged.
In August 2012, the company also recalled the tip covers for the scissors.
A spokeswoman for the FDA could not comment on the issue, but said the agency was aware of two Class II recalls by Intuitive – these are recalls of products in which the "probability of serious adverse health consequences is remote." The FDA cautions that a report of an adverse event does not necessarily mean that the device complained about caused the injury.
A spokeswoman for Intuitive, Angela Wonson, told NBC News the company will ship replacement devices to all da Vinci owners over the next two to four weeks.
"Why did you wait until after you got the lawsuit to replace it?" Blaudeau asks.
Intuitive's Curet responds: "We are always looking at our system and our instruments to see how we can improve the safety. I wouldn't say we changed anything based on these lawsuits."
Blaudeau points to several studies done since 2011 that suggest there could be a problem with the devices.
Dr. Mario Leitao of Memorial Sloan-Kettering Cancer Center in New York and colleagues published a study in the journal Obstetrics and Gynecology detailing the cases of three women burned by cracked robotic instruments. "Intuitive Surgical is currently evaluating a new and improved silicone scissors tip cover to address this issue," they wrote.
In another study, Dr. Mercedes Espada and colleagues at Hospital Quiron in Madrid, Spain studied both robotic and conventional laparoscopic equipment used at the Mayo Clinic in Arizona. They found insulation failure in 32 percent of robotic instruments and 13 percent of conventional laparoscopic instruments. They said insulation failure – meaning cracks that let the electrical current escape – were common in all laparoscopic procedures.
"They are associated with a high mortality rate because of subsequent intestinal perforation and delayed recognition," they wrote in the American Journal of Obstetrics and Gynecology.
But the robot seems safer, they said.
"Because robotic instruments are discarded after 10 uses, they have a lower potential for insulation failure than reusable laparoscopic instruments," they added.
Dr. Rosanne Kho, a gynecologic surgeon at Mayo, said the leaks show up in the lab but not in actual surgery.
"We have operated on close to 2,000 patients now with the robot since 2004," Kho said in a telephone interview. "As best we know, there is only one possible case where this may be the cause [of complications]. But we don't know for sure."
The one case, which involved a patient whose bowel was damaged, prompted the review, Kho says. "It seems that outside of the surgical arena we found multiple insulation failures but it does not seem to translate to clinical outcomes," she said.
She says all surgeons who use the electrified equipment know, or should know, about the issue. "We are very aware of this possible complication," Kho said. "We are not currently thinking that the robot would inflict more complications compared to the laparoscope."
Dr. Myriam Curet, chief medical advisor at Intuitive, said the company took note of the studies.
"We repeated some of the testing and could not demonstrate some of the issues," Curet said in a telephone interview.
"We did extensive testing," she added. In one test, if the surgeon mistakenly lifted the instrument away from the tissue and then accidently touched a bit of nearby bowel, the bowel tissue did become discolored, as if burned. So the company issued the May 8 warning.
"We felt that the risk was very low but nonetheless wanted to let our surgeons know about it," she said.
At least two of the cases against Intuitive have been settled out of court. Blaudeau handled one, filed by Patricia Mayfield of Butler, Ala., who alleged she developed a painful abscess after having a hysterectomy done using a da Vinci device in 2010. Mayfield, then 43, had to have additional surgery.
Her suit alleged that Intuitive knew she could be burned by the device but didn't warn patients or surgeons and over-promoted the device.
Three other cases are pending, two in Alabama and one in California, says Blaudeau. Gwendolyn Jones of Ethelsville, Ala., says she was permanently injured during a hysterectomy, while Charles Whitlow of Cusseta, Ala., says he was permanently and seriously injured while having his prostate removed by the device.
Michelle Zarick of Sacramento had a hysterectomy in 2009, when she was 37, and says she didn't start feeling ill until five weeks after the surgery. Her intestines spilled out of a hole in her vagina and she required extensive surgery. Blaudeau says no trial date has been set in that case.

Intuitive is contesting all of the lawsuits, disputing it is liable for the injuries. Like most companies that get sued, Intuitive isn't commenting directly on the litigation.